SU Community Members Deal with Outbreak of Anti-Asian American Violence
Incidents of violence against Asian-Americans have been increasing on a nationwide scale, including several major instances in Seattle. According to a report conducted by The Center for the Study of Hate and Extremism (CSUSB), the surge in hate-crimes against Asian-Americans spiked by almost 150% in 2020. This coincides with burgeoning tensions that can be traced back to the earlier stages of the COVID-19 pandemic. 
This trend has continued on into the new year, as there have already been charges filed for ten separate hate crimes occurring in Seattle in 2021 alone. 
Seattle University's Vietnamese Student Association (VSA) advisor Trung Pham is an active member of the Asian American Pacific Islander (AAPI) community as a chaplain of the Vietnamese Eucharistic Youth Movement. 
He sees this violence as a result of "cumulative rhetoric" egged on by former President Donald Trump's time in office. For Pham, these disturbances have been brewing under the surface for a long time in the form of the administration's implicit xenophobia.  
"I think it has been building up to this point. This is the expression of four years of Trump's administration. I see this outbreak [of violence] and it's horrible. It's always existed, but now it's become legitimized and it's scary," Pham said.
During President Trump's tenure, he often used anti-Asian hate speech in an effort to deflect and distance himself from mounting criticism of his response to the COVID-19 pandemic. The former president's rhetoric has elicited plenty of criticism, as it was quickly linked to increased harassment of Asian communities and has been associated with racism against AAPI.
Third-year digital design major Maggie Chao splits her time between her membership in Japanese Student Association (JSA) and Chinese Student Association (CSA). Even with the support offered by her cultural clubs and the Seattle U community, Chao noticed the startling divide between how she and her close AAPI friends have approached the world since the start of the pandemic.
"My Asian friends have become a lot more protective of each other," Chao said. "[We watch] out for each other and if we have problems, we can talk to each other about [them]."
Sheera Tamura, a third-year social work major, is the vice president of Seattle U's JSA. Tamura's feelings of uncertainty and tension also converged during the beginning of the pandemic when she was sick with a common cold at the height of Trump's anti-Chinese sentiments. Tamura felt concerned for her own safety during this time. 
"In the beginning, I felt scared to be out in public as a Chinese-American myself, especially when COVID-19 first emerged. I felt scared to just go outside sometimes. I was actually sick when COVID-19 started,  so whenever I would cough, people would look at me like I was a threat," Tamura said.
Yet, these practices of anti-Asian rhetoric and xenophobia have even deeper roots that arise from historical inequities throughout the entire nation as a whole. Past discriminatory immigration policies worked to limit the number of Asian immigrants entering the U.S., which were enforced on a national level. The most prominent piece of legislation supporting these practices, the 1882 Chinese Exclusion Act, prevented Chinese laborers from immigrating into the U.S. and becoming naturalized citizens for a period of ten years.
Jessica Kimm, a third-year Kinesiology student, reflected on the deep roots of anti-Asian discrimination in the U.S.. 
"It's always been there, it's just that it was never addressed," said Kimm.
These unaddressed manifestations of institutional racism include the hatred and contempt historically faced by Asian-Americans in multiple facets of their personal and professional lives. Inequitable hiring practices and job discrimination were used to bar Asian-Americans from working in certain fields and limit their options to low-wage, dangerous jobs well into the 20th century. 
Many Asian-Americans were used as scapegoats in the face of economic downturns, and this often bubbled over as violence in the form of physical attacks. In 1942, following the bombing of Pearl Harbor, President Franklin Delano Roosevelt's (FDR) issued Executive Order 9066, which forcibly interned thousands of Japanese-Americans―an action that left a mark on the national consciousness. All of this only added to a racist legacy that turned a blind eye toward the violence and suffering of AAPI.   
The rising rate of hate-crimes against Asian-Americans prompted current president Joe Biden to release a statement Jan. 26 that condemned the xenophobia and "increasing acts of intolerance," Asian-Americans have been facing throughout COVID-19. 
For third-year student Madeleine Magana, majoring in public affairs, this was the first step forward after a year of tweets and interviews filled with negative rhetoric. 
"Media has played such an important factor in giving permission to people that had anti-Asian sentiments. It gave people permission to act on those racist feelings," Magana said. "In [Trump's] administration, racial slurs were just so normalized…it's up to this administration to destigmatize that rhetoric and heal the nation." 
The Biden Administration faces a complicated and urgent national crisis of anti-Asian hate crimes.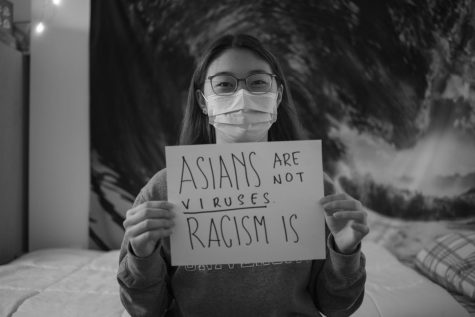 Suspect Robert Aaron Long brought anti-Asian sentiments directly into the spotlight March 16 when he attacked and killed eight people at three different spas in what were later called the Atlanta spa shootings. Six of his victims were Asian women. Investigators are currently looking into whether these deliberate acts of violence were racially motivated, though the shootings have not yet been labeled a hate crime.
In the wake of this event, Tamura attended the candlelight vigil meant to commemorate the victims of the shooting. Though she had experienced a similar rage last summer, during the height of the Black Lives Matter (BLM) movement, Tamura now felt completely unmoored.
"I felt really numb," Tamura said. "It's different when it hits your own identity and it's different when it hits your own culture."
The vigil gave her the necessary opportunity to finally process her emotions about the deliberate targeting of her community. 
"It took me a little while to comprehend my feelings," Tamura said. "It wasn't until I went to the Chinatown vigil that… I really got to feel the mourning and the hurt that our community felt."
At the vigil, Tamura listened to various activists speaking about the importance of supporting racial equality. After enduring pressure and division through the course of the pandemic, she found this event to be a refreshing demonstration of unity in the face of violence.  
"It was sad, but it was also really empowering. You could tell that they hurt, but also they wanted to advocate for change, and I think their voice just really, really stood out to me because they were so passionate about what they were saying," Tamura said.  
Many are working to cope with and protest the rising violence. CSA member Mayme Krueger, a second-year student majoring in global business, believes that taking responsibility is one of the best strategies to support the community.
"It all boils down to three things: listening, education and accountability. Listen to your AAPI loved ones and hear their experiences. Educate yourself on the history of anti-Asian sentiment in the US. Hold yourself and others accountable for your words and actions," Krueger said.
In addition to all people becoming more educated on racial justice issues, Kimm called for camaraderie and communication between AAPI and other people of color.
"In the last two years there's been a lot of change all at once with the virus, politics and race and how they all combine. Minorities need to stick up for each other," Kimm said. 
Similarly, Pham advocates for taking action in the face of racism, rather than falling to the bystander effect.
"You see Youtube videos where there [are] bystanders. They don't act. They don't know how to respond. There are steps we can take to learn how to prevent this situation," Pham said.
He refers to teachings from online seminars for supporting anti-racism against Black communities, adapting them for the current-day violence facing Asian-Americans. Pham believes the technique "Delay, distract, delegate, document or direct," is especially effective, because it urges bystanders to act in the face of preventable hatred.
As of March 13, Magana put her degree to work in planning out a rally in Hing Hay Park. As part of the Asian American Pacific Islanders (AAPI) Organizing Coalition Against Hate, she and a group of friends met five separate times throughout Dead Week to create their event. With guidance from community members, older activists and connections to other volunteer organizations, the rally organizers saw a turnout of hundreds of people.
This would become the first of what would be several rallies held in cities around King County in Newcastle, Federal Way, Maple Valley, Tacoma, Kent and Bellevue. 
"I don't think the movement will ever stop," Magana said. "The next step is taking the reaction from the streets to the chamber, coming up with community-based solutions — real actions that we can demand of our elected officials — and getting the votes to support [those] initiatives."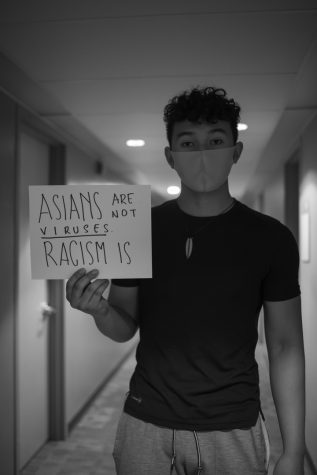 Leave a Comment