"Dracula" at the Act Is a Feast for the Living and the Dead Alike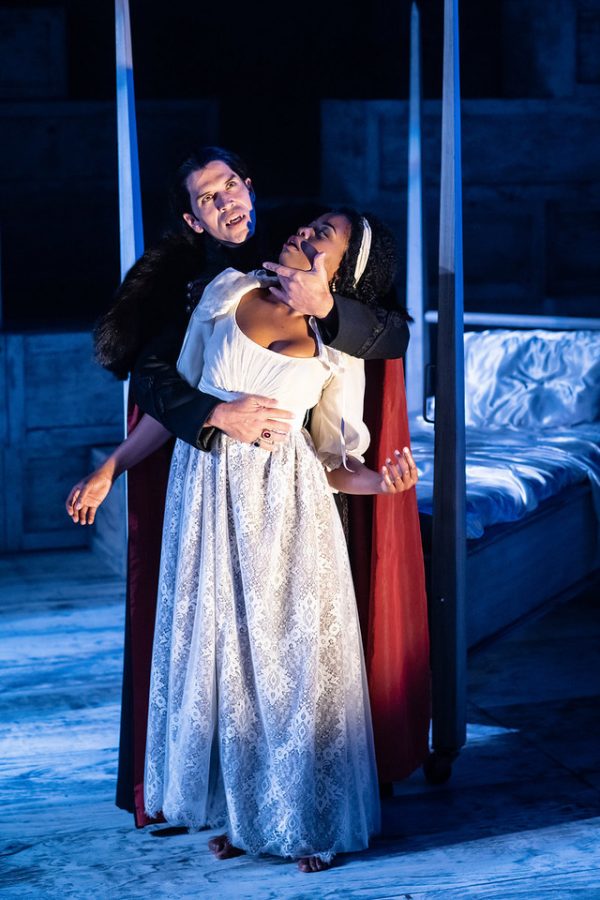 It's the Halloween season, and the ACT Theatre is going all-in with a production of Steven Dietz's new adaptation of "Dracula."
Dietz, a prolific playwright who has a great relationship with the ACT, has consistently proven his ability to construct intelligent plays, captivating audiences with their fair share of dry humor. In this new adaptation, he does so again with the aid of show director John Langs.
Vampire stories—more than most narratives—are tied to the past as much as the Count himself. Generations of great writers have all rendered their own versions of the figure. "Dracula" at the ACT doesn't reinvent the wheel—but it doesn't have to.
This production doesn't depart too far from its source material, but borrows themes and imagery from several versions. Bella Lagosi can be found in the powerful fury of Brandon O'Neill's performance as the titular bloodsucker—yet the sleek, sexy tension that defined Christopher Lee's unforgettable rendition bares influence in the profoundly erotic encounters between Dracula, Mina and Lucy.
Mina, though a central character, has little agency in the original tale. She is now the protagonist of a daring reincarnation of one of the most prolific horror mythologies.
The production reverently pays tribute to the past while possessing its own charm. Little restraint is exercised in maintaining consistency between all of these elements, which is exactly why it is so entertaining.
Dietz's trademark wit is on full display, aided by a director who is a craftsman in his field. The cast takes daring risks, throwing themselves into increasingly volatile movements and tics, all of which pay off to the story as a whole.
The play, while boasting its fair share of horrific elements, sparks genuine laughs. Arjun Pande as Johnathan Harker maintains the stuffy British pomp readers have come to know through the novel, but flirts with an obvious talent for comedy as he hurries around the stage. He deftly navigates a script that calls for characters to violently change emotions in an instant.
Basil Harris as Renfield is a perverse treat for those in the audience who take great pleasure exploring the tortured cells of his mind. Harris is a talented performer who manages to walk the tightrope between insanity and relatability, allowing viewers to feel his pain and revel in his misfortune.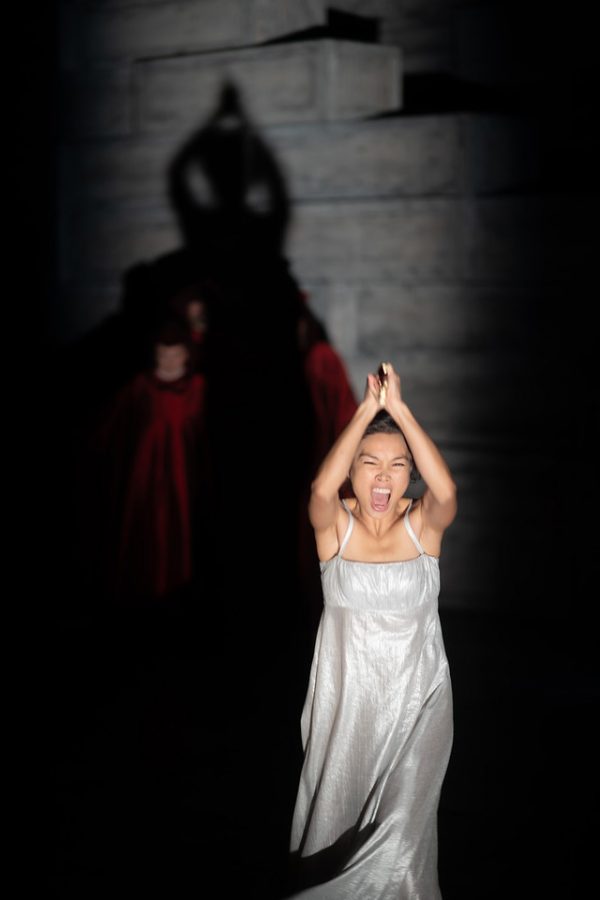 Mina, played by Khanh Doan, is compelling and assertive. Her banter with Lucy, played by Claudine Mboligikpelani Nako, is a joy to watch. There are few things better than a packed theatre full of people laughing and recoiling together. Mina and Dracula, the two drivers of the show, play the audience like a cello.
If there are any awkward trips or slightly rushed lines, they are overshadowed by the performers' passion and the immense speed at which the play moves. Clocking in at a brisk 90 minutes with no intermission, "Dracula" only gives the actors and audience enough time to taste the performances and scenery before it is rushed away in a haze of deep rumbling and fog.
The stage design and effects are worthy of the impressive narrative and give the audience plenty of blood, thunder and fog. Dracula's voice is always magnified with bassy timbre, making his tonality evoke transcendental terror. In later scenes, characters who become infected with vampirism also gain striking patterns of speech. The plethora of tiny elements that comprise the masterful use of the stage bring the play as close to its Victorian setting as possible.
One of the production's most delightful secrets is its use of puppetry. Combining techniques reminiscent of both puppeteer Jim Henson and the Grand Guignol Parisian horror theatre, the ancient, monstrous Dracula of the early plot is brought to life in a haunting manner. As he hovers about the stage, his limber, imposing frame sends chills down the spine. The utmost praise is deserved of those who crafted and portrayed the Count in his state of starvation.
"Dracula" indulges the lust for terror that horror, drama and literature connoisseurs all feel around the Halloween season. It is always a privilege for residents of the Emerald City when a playwright chooses to bring their new script to one of our stages. It is a joy when one of those plays proves to be reverent in retelling a classic story.
The ACT is a contemporary theatre. While Bram Stoker's Dracula may have been published over one hundred years ago, Dietz, Langs and the entire cast and crew of this new telling translate the play for the modern era. Closing on Nov. 17, audiences are in for a bloody good time at the ACT theatre production of "Dracula."
The editor may be reached at [email protected]
Leave a Comment