The University of Washington, having become the first university within the state of Washington to have a dedicated esports arena earlier this year, hosted an event open to the public over the weekend. Free to all attendees, the event highlighted esports players and their potential.
Professional esports players can earn upwards of $15,000 a month without factoring in the large sums of money earned through tournaments. Additionally, many colleges have begun offering substantial scholarships to esports players.
Colleges have also encouraged esports by hosting events, supporting clubs, and building state-of-the- art gaming facilities, like the Huskies' HUB Esports Arena & Gaming Lounge.
The Husky Gaming Expo invited dozens of artists who cater to the gaming community. The Artist Alley lined the halls, offering a variety of gaming-related prints, buttons, stickers, and more. This allowed many small artists the chance to reach potential customers with similar interests, a unique experience outside the digital platform.
---
---
Senior Cornish College of the Arts student Grace Rigoni was one such artist to attend the event, complete with her very own booth.
"A lot of these artists are small businesses or local, so coming down here to support them would be beneficial to everyone," Rigoni said.
The opportunity is one that Rigoni hopes other local artists will take advantage of, offering others advice who are looking for a similar chance.
"I would look it up as early as you can and plan ahead. Definitely do your research and prepare, be looking on Facebook for events like this," she said.
Meet and greets as well as panels were set up with well-known gamers such as BoxBox and PewPewU, who have won hundreds of thousands of dollars in prize money from gaming events and have billions of views on platforms such as Youtube and Twitch. These professionals offered advice to other gamers in panels including "Breaking Into the Esports Industry" and "Lessons From a Decade in Gaming."
A fan favorite, Super Smash Bros, was also available to attendees in tournament form for Smash Melee and Smash Ultimate.
Game developers and technology exhibitors were also at the event, giving businesses a chance to reach gamers directly and take their playing to the next level.
The main event of the expo was arguably the Apple State Cup for Overwatch, Rocket League, and League of Legends, which was open to schools across the state.
Participating schools included host University of Washington, Seattle University, Washington State University, Western Washington University, Gonzaga University, and Oregon State University.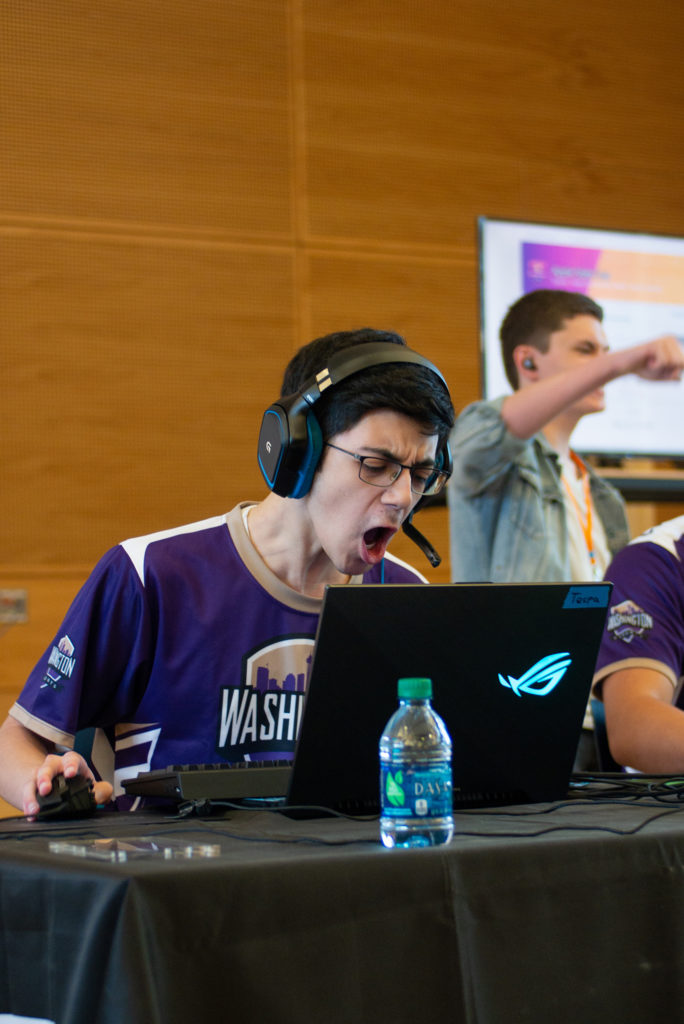 UW player, StealthNinja, gets excited as the UW team gets the final capture for the match, starting off the first of three rounds with a win.
Seattle U was invited to compete in both the League of Legends tournament and the Overwatch tournament. Despite putting up a great fight, the teams were unable to take home a win.
Apple State Cup Coordinator Eric Cohen played an essential role in the creation of the event, as this was the first year of the Apple State Cup being a part of the expo.
"This is our pilot year; A lot of mistakes and things going wrong, but it did end up being very successful. I'm really happy about the turnout," Cohen said.
Cohen also mentioned that the event itself was started to create a sense of community for gamers and officially bring esports to the collegiate level.
"This event was done to try and promote collegiate esports and make them more well known. It's a growing community," Cohen added.
However, putting on this event has been the culmination of hard work from various angles. Multiple clubs at the University of Washington reached out to other schools, professional gamers, artists, and businesses to create the event.
"Having this scene, the industry leaders are coming to us and asking us to put on these events," Cohen stated.
Cohen hopes this event serves as a lesson to others, encouraging other students and gaming enthusiasts to put on events of their own to further support the community.
"There was nothing before I was here. It just takes one person; and that one person can be you," Cohen said.
Kristen may be reached at
[email protected]