Softball wins 3 out of 5 games in first tournament
The Seattle University Softball team came out on top, winning three of their five games from their tournament last weekend in Arizona. They began the first day of the Kajikawa Classic on Friday, Feb. 9 with a loss against Notre Dame in a close score of 4-3. On the same day, the Redhawks fought fiercely against Stanford, winning 13-9.
"We had a tough loss in the morning," coach Geo Hirai said. "To come back at night and beat a Pac-12 team showed a lot of maturity and growth."
"Going back to back against all new teams, we just need to stay within ourselves and not worry about who we're playing," junior captain Kaylee Ree said. "Whether they're a top team or a bottom team, we have to stay consistent with who we are and how we've been raised to play with our coach."
Although Seattle U scored nine times in the fifth inning, the game started with Stanford having a 4-0 lead in the opening frame. The Redhawks then eased into things as junior Andie Larkins pitched a perfect second inning. Although Stanford gained a three-run lead in the h inning, Seattle U red back by scoring nine times, including Ree hitting a grand slam at the end of the fifth.
"We do as much as we can in January to prepare our players for any type of scenarios that could happen during a tournament," Hirai said.
The next day, the Redhawks won two games in extra innings against California State University Northridge and Western Michigan. The day began against CSUN with a 4-0 lead, but the Matadors soon caught up with Redhawks, tying the score 4-4 in the in the seventh inning. After going into extra innings, the game ended when Susanne Morris hit the ball over the center eld fence, allowing Seattle U to carry a two- game victory streak.
---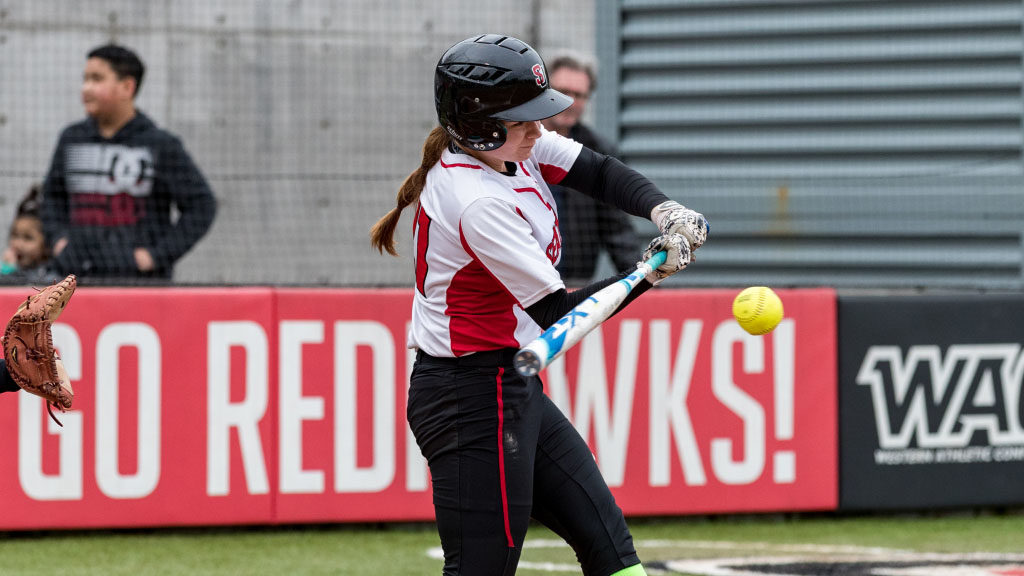 Susanne Morris hit a home run against California State University Northridge to win the game in extra innings.
---
The success continued against Western Michigan after a slow start, with both teams entering the third inning with 0-0. The Redhawks gained momentum in the third where they added a 2-0 lead against Western Michigan. After the Broncos fought to gain a 7-3 difference, the Redhawks pushed through in the top of the seventh with Ree hitting to center and Cathcart hitting a double.
The two teams continued to go head to head until the bottom of the 10th, where Carley Nance earned a groundout and a strikeout and Maddy Kristjanson red the final out with the ending score of 11-8.
"I think what contributes the most to our victories is that we are all so close and we pick each other up, especially when other people are down," Ree said. "Other people step up and we work hard every single day together, and I think that gives us the confidence knowing we're going to give it all we got whatever is thrown our way."
Sunday morning, the team faced its final opponent of the tournament, Nebraska, where they came up short with a score of 3-2. The Redhawks fought as the Husker's put up three runs in the bottom third, with the team responding with a base hit from Nicole Bolasky and Ally Choate hitting an in field single. This led to Ree's groundout to second a er another groundout, and Morris hitting a single through the leftside plating both runners, ending the sixth with a double play. Nebraska then ended the game with a pair of strikeouts, defeating the Redhawks by one run.
"The main take away from the tournament is that we need to keep working, that's our starting point and we are not settling for a victory the first weekend," Ree said. "We're never settling. We're going to keep going forward and keep moving up."
Despite the two losses, the players and coach Hirai see the tournament as a success.
"The main thing we need to improve on is staying focused pitch by pitch," Ree said. "We need to own every moment, never take a pitch off and just keep our focus on the prize and our goals and stay consistent with who we are."
"Everyone had their energy up and gave it their all even in the last game," Bolasky said. "We can improve on not letting things get to us and keep moving forward stay mentally tough."
"We have to tighten up some things technically and just get a little more detailed oriented," Hirai said. "Overall it was a great weekend for Seattle U softball."
The team will head off to Las Vegas on Friday, Feb. 16 where they will face off against Utah State, Hawaii, South Dakota, Nevada and University of Nevada, Las Vegas in a Marucci Classic.
"We know we can beat all the teams face, we just need to come out strong against the teams we know we can beat and compete," Bolasky said.
The editor may be reached at
[email protected]
Leave a Comment