From the outside it looks like any new store, nestled near the Amazon headquarters downtown. However, as any enthusiastic Amazon Go store employee will tell you, this is not your average shopping experience. It's done with an app, a bunch of surveillance and tech-savvy e ciency to ensure there are no lines.
The Amazon Go store preps all their food on location, with fresh ingredients utilized by cooks working in the kitchens. They showcase this to customers through large windows on the outside, allowing them to see the process from prep to pick- up. Also, there's places to leash your dog outside. Amazon really thought of everything.
---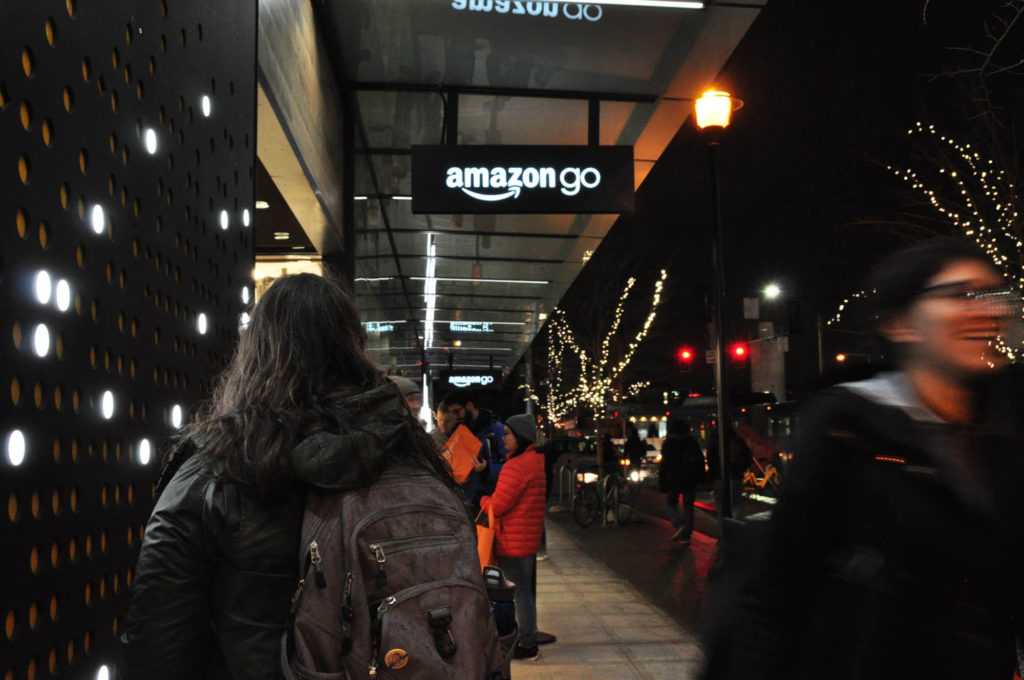 The Spectator's Jacqueline Lewis explored one of Seattle's newest additions: Amazon Go.
---
During the first week, Amazon team members in orange jackets assembled outside to hand out Amazon reusable grocery bags and answer any inquiries from apprehensive passersby or interested first-time shoppers. By downloading the free Amazon Go app and logging into their Amazon account, customers can tap their individualized account barcode on the turnstiles and walk into the store. One account can be used for multiple shoppers by tapping for each guest entry. Whatever each guest picks up, Amazon tracks it.
The space is about the size of a gas station, but like a hip and clean gas station with tiny snack-sized let mignon and brown-boxed prep-meals for two. Looking at the ceiling, it's reminiscent of a dystopian warehouse, or a Hollywood movie set. Flat rectangular cameras are mounted above the shoppers to track their every move, putting whatever they pick off the shelf into a virtual cart and charged to their Amazon account minutes a er they walk out of the store. If they put it back, it's taken off their virtual cart.
Anyone picking up a lot of groceries is going to find it difficult and expensive to stock up. Yeah, the grab- n-go meals are pretty cool, and perfect for the modern Seattleite on the go.
But it seems to be a pretty random array concerning the groceries they choose and don't choose to stock on the shelves, which makes the appeal of the store more so ready-made meals and less so actual groceries, but they don't provide a lot of options.
It seems that people come for the Amazon Go no-line technology, and Amazon capitalizes on their inventiveness.
Inside, branded mugs and other Amazon "Just Walk Out" merchandise are stocked on the shelves. It's like the store is not a full grocery shopping experience, but an advertisement for Amazon, with the products on the shelves being a sort of corporate sponsorship rather than serving as a useful variety of options.
---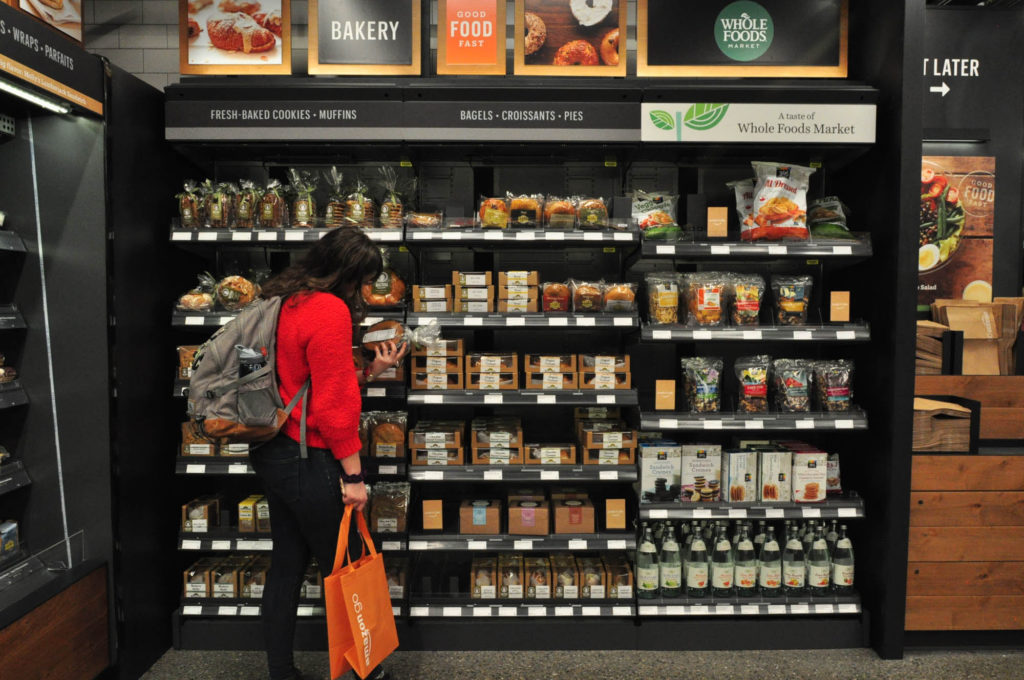 The Spectator's Jacqueline Lewis took an adventure into Amazon's latest take on "grab and go" food.
---
For Seattle U student Michael Nghien, who stopped by the store days after it opened, the space left some things to be desired. "I saw it on every newspaper website, and I had curiosity. I am disappointed because it's kind of small compared to what I expected," Nghien said.
While Amazon attributes its size to allow "busy customers [to] get in and get out fast," in the opening weeks the store was an underwhelming size with overwhelming crowds.
But come on, it's a fancy robot store, crowds are expected. Braving the mass of people might be worth it for a fresh take-and-bake baguette that you can already smell baking at home as you pick it up off the shelf.
It makes sense that the store caters to the busy professional. For the past year Amazon Go has been tested by Amazon employees on their lunch breaks and post-work pick-me-ups. The store opened up to the Seattle community, the first of its kind, on Monday, Jan. 22.
The grand opening was met with a line around the block, as hundreds of people waited to enter. If you were to stop by now, you would be let in right away or within minutes. All the more reason to give Amazon a "go."
Jacqueline may be reached at
[email protected]