Bon App Prepares to Raise Prices Following Soda Tax
Wait, how much is that soda?
We all reach for a fizzy drink every now and then. So will the new soda tax pop your bubble and make you think twice before you buy?
As of Jan. 1, the City of Seattle imposed a 1.75 cent per ounce tax on sugary beverages, such as Pepsi or Coke. The tax applies to all beverages with a caloric sweetener like sugar, sucrose or dextrose.
Seattleites should expect to see sodas, energy drinks, sports drinks and juices affected by the tax in restaurants and grocery stores. The tax excludes 100 percent fruit juices, alcoholic beverages and milk-based drinks. So yes, your Starbucks is safe.
Seattle University students should not worry, at least not yet, about the prices on campus. Bon Appétit, Seattle U's food retailer, is still deciding how much of a price increase they will be putting on their products.
"We're working with the university on the price increases," said Jay Payne, the general manager of Bon App. "We have not yet raised our prices and are awaiting a determination from the school. The tax is handled by the distributor and they have raised their prices for us accordingly."
For Seattle U students, that 20 ounce soda for $2.20 will stay the same, for now. Prices on campus are already higher than those at the local QFC. However the new tax has them rivaling stores with the new price. An added fee could mean a 20 ounce soda for around $3. Most students who have a meal plan choose to buy their soda at the Cave, the small convenience store in the basement of Campion Hall.
"I am not sure how much our drinks [in the Cave] are going to go up, or if they will go up. It's not going to change probably till next year though. We set our prices with the school for the year in around August," said Jeremiah Beckwith, retail manager for the Cave. "I think people will keep shopping because it's just easier."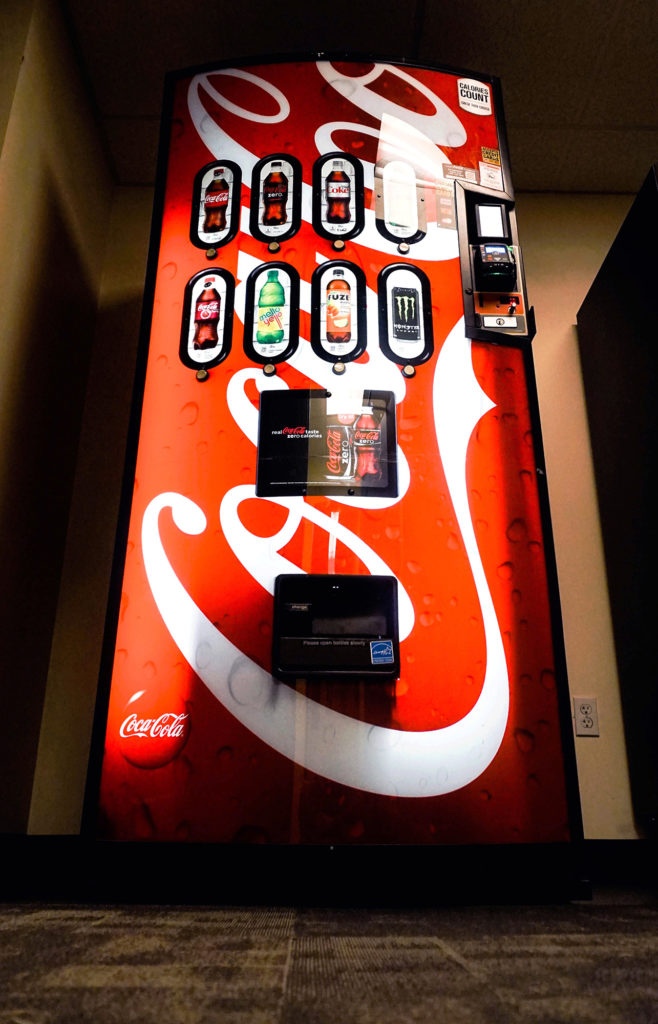 All of the beverages in this vending machine face an added tax with the exception of the Coke Zero and Diet Coke, which use artificial sweeteners.
A quick walk across Jefferson street from Campion Hall brings you to the small, mom-and-pop grocer, Southsea. At Southsea, the price of an average 16 ounce soda was $1.99, and is now $2.49. The owner, who wishes not to be named, says that he rarely sees Seattle U students unless they are buying cigarettes.
"It has affected us. No one is buying soda anymore because they can't afford it, [especially] the people who get food stamps," the owner said. "I am thinking I will have to stop stocking so much regular and switch to diet."
The tax starts on the distributor who raises the price for the retailer, who then decides how much of an increase in price the buyer sees. According to one study, chain grocers transfer about 75 percent of the tax, while most others give the full amount.
"Look, We make 18 cents off a small bag of chips. If someone steals that bag, do you know how much we lose? I have been here 20 years. I just wish people had started coming and asking me questions before the tax was in place, not now, what can we do now?" he said.
The soda tax was put in place by Former Mayor Ed Murray as a way to promote healthy habits. Overconsumption of sugar has been proven to be a major contributor to obesity, diabetes and tooth decay.
The idea is simple: make the beverage more expensive and people will stay away from it. However, many critics, such as The Seattle Human Rights Commission and Sen. Bernie Sanders, feel it is oppressive toward minority groups and low-income families.
"I grew up with a family getting food stamps, and you buy whatever you can just to get by. It seems very idealistic," Leslie Garcia Bobadilla, a Seattle U student, said.
Supporters of the tax, hope the large, affluent population in Seattle will contribute the most money into the tax. The money will then be given to programs for the underprivileged.
$15 million is expected to be raised from the tax in 2018. e city program, Fresh Bucks, will receive the largest stipend of $2.4 million. Every dollar a food stamp user spends at a Seattle Farmers Market is matched by the state—up to $10 a day.
There is also Food Bucks Rx which allows medical professionals at Harborview and Odessa Brown's Children's Clinic to prescribe fresh, healthy food that can be redeemed at participating farmers market.
1.38 million will be given to the 13th Year Promise Scholarship program. This program, run by The Seattle College Foundation, allows local graduating seniors to attend the Seattle Colleges for one year tuition-free.
Erika may be reached at
[email protected]
Leave a Comment