Women's Basketball Wins Three of Four Games
The Seattle University Women's basketball team had a successful run, both on the road and at home, winning three of their last four games.
They started on the road on Nov. 17 at Santa Barbara where they overcame a 21 point first half deficit to beat the Gauchos 77-71.
---
Seattle U guard Kamira Sanders (#15) drives through UC Davis' Karley Eaton (#3) and Nina Bessolo (#5).
---
"Once they started shooting the ball, well, it was contagious. I just think our energy allowed us to overcome that deficit," coach Suzy Barcomb said. "We made some really key plays defensively down the end too and we got some key rebounds so it was a total effort."
Sophomore Guard Kamira Sanders led with 21 points on 8-10 shooting, scoring 13 of her points in the fourth quarter. Wing Alexis Montgomery followed with 20 points and 12 boards, her first double-double of the season.
The Redhawks then continued their success at Pepperdine, where they edged out a 65-62 victory. The scoring was tight throughout, but Jacinta Beckley's free throw with six seconds remaining clinched it.
"That's all about grinding out a win," Barcomb said. "We hadn't played particularly well, but we just played well enough to sneak out a win down there. We had three people in double digits, but we had two people with nine so there was very balanced scoring. I think when you have that balanced scoring, it's hard to figure out who you're supposed to stop."
---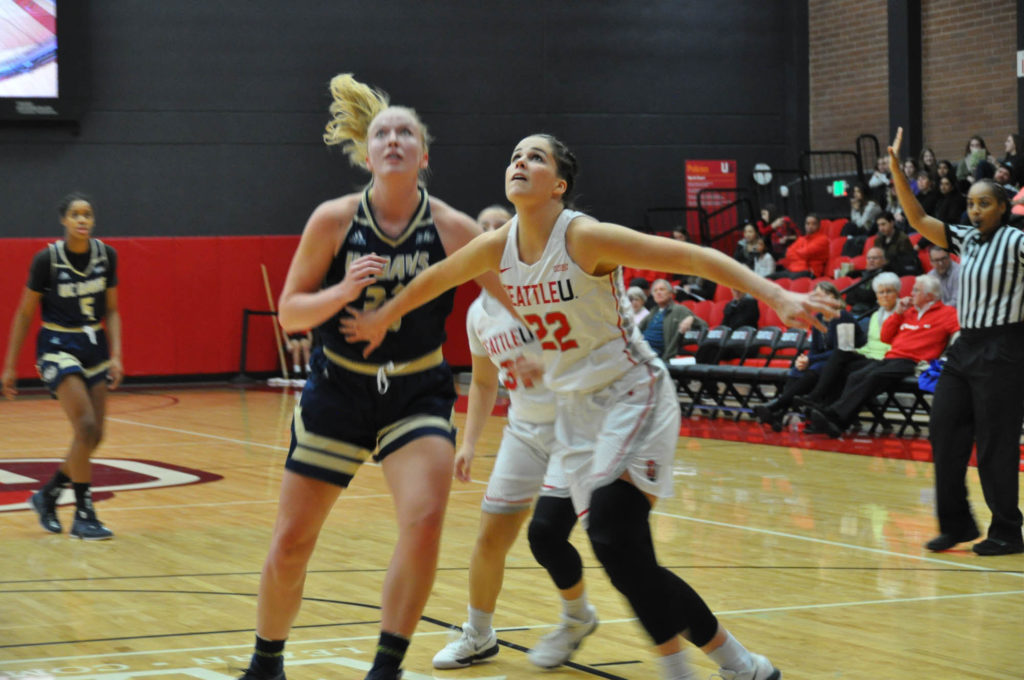 Seattle U senior wing Ashlyn Lewey (#22) getting in position to box out UC Davis senior center Marly Anderson (#33).
---
Seattle U returned home Nov. 22 to face the Portland State Vikings, where they won 91-77. The Redhawks set new 2017-2018 season highs for three-pointers and points in a game, with 12 and 91, respectively.
"[Portland State] shot it quick, they want to get up and down the floor. They get to the free throw line way too many times, so we just have to be able to defend the drive," Barcomb said.
Unfortunately, the Redhawks' winning streak was snapped Sunday, when they lost to U.C. Davis at the Connolly Complex.
"Coming into it, we know that [U.C. Davis] is a 5-0 team. They're undefeated, so watching their film, they run they exact same offensive sets as us so it was kind of weird—basically defending ourselves," said Beckley. "But they've been running it a lot longer so they executed it really well."
The first half ended with U.C. Davis ahead 37-22. The Redhawks struggled against the Aggies, as U.C. Davis closed out the match to claim their sixth win of the season. The final score was 79-53.
With their next game on Thursday in California, the Redhawks hope to improve on their ability to lock down defensively one-on-one and their ability to execute offensively.
The editor may be reached at
[email protected]
Leave a Comment