A Year Since Trump: Seattle University Responds to a New Administration
Note from the Editor: This article was co-written by Erika Silva and Jacqueline Lewis, although we are currently unable to display multiple authors' names due to technical difficulties.
---
With every presidency comes change. Even though it might not be visible on the surface, the decisions made by the new occupants of the White House not only affect political discourse across the country, but seep into the daily lives of Seattle University students.
---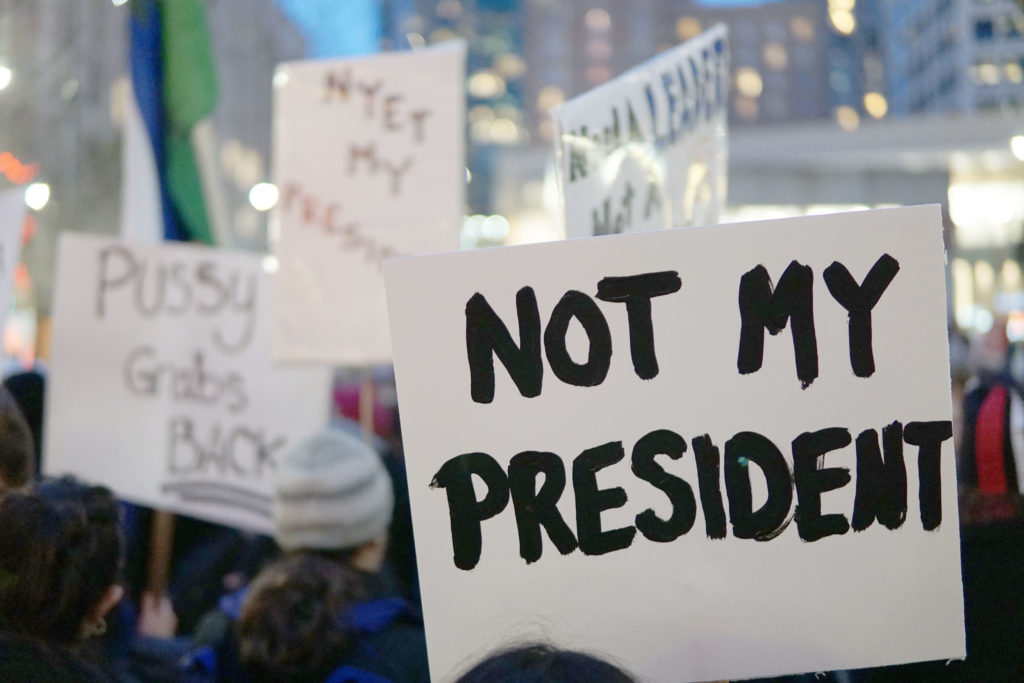 Protestors took to the streets after President Trump's election one year ago.
---
For some students and faculty, the stakes of the Trump administration are different and the effects are more closely linked to their personal identity. Seattle U's Muslim Student Association (MSA) said that they have been fighting Islamophobia for much longer than the Trump administration has been in power.
During Ronald Reagan's presidency, for example, the administration wrote a memo that detailed a government plan to round up thousands of nationals from eight majority-Muslim countries and place them in detainment facilities while they awaited mass deportation. In addition, After the attack on Sept. 11, 2001, the Bush administration began detaining foreign nationals deemed threats to American safety to be sent to Guantanamo Bay.
"It has been packaged and presented in different ways, like maybe now we have a president that is going to tweet about Islamophobia, but it hasn't changed the rhetoric at all," said Haleema Bharoocha, the Vice President of MSA.
Bharoocha feels that the recent expressions of hate have been an eye-opener for many non-muslims, yet for her a sense of sadness comes with thinking that something detrimental must happen for people to see the problem. Bharoocha hopes that the support does not pass, but many times she sees involvement disappear along with the headlines.
"Who is going to stand for justice when no one else is? Asking those kind of questions, I think, is really important when it comes to the involvement of students," said Bharoocha.
The monthly "Allyship in the Age of Islamophobia" workshops are one way the MSA engages with people who want to become more politically active. The workshops seek to break stereotypes, instruct bystanders on how to intervene in the case of a hate crime and explain the meanings of words such as "jihad" and "sharia." The club plans to host these events for much longer than the four-year presidency.
"Islamophobia, racism and hate will still be around even if he isn't president," said Anab Nur, president of the MSA. "But, if he continues to do things that directly affect muslim people then we will react to it if we need to."
Other people have been brought to action as well. The rising uncertainty of the future of the Affordable Healthcare Act brought Seattle U student Izzy Laythe Rodriguez to action. She even contacted her local representatives.
Rodriguez lives with an extreme case of Type 1 diabetes for which she requires two types of medication and a continuous glucose monitor which she wears all day. Under her mother's insurance, Laythe would be paying $200 a month for her medication. Under Apple Health, Washington's Medicaid, she is able to reasonably afford her prescription. However, she still struggles to pay for her glucose monitor and other related supplies.
"I had to make a GoFundMe because they consider my continuous glucose monitor a luxury item, even though it has saved my life multiple times," said Laythe Rodriguez. "I can tell you, 100 percent, that without the Affordable Care Act [ACA] I wouldn't have been able to stay at SU. With the Trump administration attempting to repeal the ACA and not having any sort of sufficient replacement, it has been super stressful."
The American Health Care Act and the Better Care Reconciliation Act were two possible Republican-sponsored replacements that were both turned down in the Senate. However, Trump's new executive order runs the risk of high premiums, less coverage and lacking protection for those with pre-existing conditions.
Rodriguez and her sister both regularly call representatives for Washington and Pennsylvania. She has her spiel for when she is sent to voicemail: she begins with her story and then expresses her opinion on the health care reform.
Most of the time, all she gets is a beep on a message recorder or a quick "Okay, thank you."
In addition to student action, departments in Seattle U and professionals in higher education have needed to adjust in the Trump era.
"[The Trump administration] calls me as the president to make sure there is integrity in the way in which I carry out my role," Sundborg said. "It makes me think about what my language and my rhetoric is, in terms of thinking, 'Is it civil and is it respective of others, as well as being more aware of my unacknowledged biases or discriminatory ways?'"
For departments on campus, their mission is not to specifically respond to the particular administration, but instead respond to the needs of the students.
"We're not tethered to the presidency," said Assistant Director of the Office of Multicultural Affairs (OMA) Michelle Kim. "Instead, this space is for any of our marginalized groups on campus, students, and even staff and faculty, to feel like they are part of an open community."
The OMA deals with addressing travel bans and immigration policy from the Seattle U perspective by hosting timely events through OMA Speaks. These events occur every third Thursday of the month to open up a conversation about current topics related to identity, diversity and inclusion. OMA Speaks dialogues include "Undocumented and Unafraid," an event to raise awareness and inclusivity of undocumented students and "Meet a Muslim," to add dimension to the Muslim identity.
Furthermore, Assistant Directors Michelle Kim and Tyrone Brown organized events titled "Questioning Whiteness" for students, staff and faculty to write about their own experiences with whiteness during the first 100 days of Trump's presidency.
"Whiteness" refers to the constructs of what is normal and what is acceptable in our society, and participants are encouraged to share their thoughts whether it be online or during a discussion like the one hosted by the OMA.
Another shifting aspect of the OMA office surrounds sharing general immigration policies and bringing in immigration lawyers and experts to share their insights at events such as "Know Your Rights."
"This is different from the past—there was no need to have this close relationship with legal advice to share their knowledge and their expertise," Kim said.
Administrators of the OMA are not trained in a legal advisory capacity, but OMA said there has been an increase in collaboration with legal counsels and its need to be more aware of outside resources.
"It has made our students feel fearful," Sundborg said, regarding the Trump administration's actions on DACA and travel. "We have had fewer international students that have been coming to Seattle U. Families from other countries are more wary of what will be the welcome that our students will have in light of the environment that has been created by the president's actions."
In the Wellness and Health Promotion Office, Director Ryan Hamachek talked about the policies that influence their work.
"We are actively staying the course in the work we do in regard to Title IX," Hamachek said. "Our office is related to prevention related to Title IX on campus to prevent against sexual assault."
On Sept. 22 the Department of Education and the Office of Civil Rights under the Obama Administration published two documents that informed colleges and universities on how to prevent and respond to sexual assault. These documents were rescinded.
"While federal law and guidance serves as a baseline for our policies, it is our mission and values that sustain our resolve on this issue," Title IX Coordinator Andrea Herrera Katahira said in an email sent to Seattle U students.
Changes include an increase in the standard for proof for sexual assault cases, moving away from the preponderance standard of proof that was the previous standard for sexual assault conduct, which leans one way "fifty percent and a feather," as opposed to "beyond reasonable doubt." Seattle U continues to exercise the preponderance based standard of proof.
"We look at the data [National College Health Assessment], and we know what our students need, and we do things related to that, rather than to policy changes," Hamachek said.
Similarly, Kim spoke to the dangers of swaying to the political and legal decisions of the past year.
"This administration is changing its mind every five seconds," Kim said. "We are trying to ensure a balance of meeting our students immediate needs and also ensuring a sustainable future for our department."
The editor may be reached at
[email protected]
View Comments (2)