Halloween Baseball Game Partners with Dance Marathon
The baseball team dressed in Halloween costumes and played an inter-squad game to raise money for Seattle Children's hospital on Monday. Teaming up with Dance Marathon, a nonprofit organization on campus run out of the Center for Student Involvement, the audience members were encouraged to donate money to the cause.
"My favorite thing about it is obviously we get to raise money for Seattle Children's hospital, but it's also a good team bonding thing for us and just fun for everyone on campus," Senior Utility Player Dalton Hurd said.
---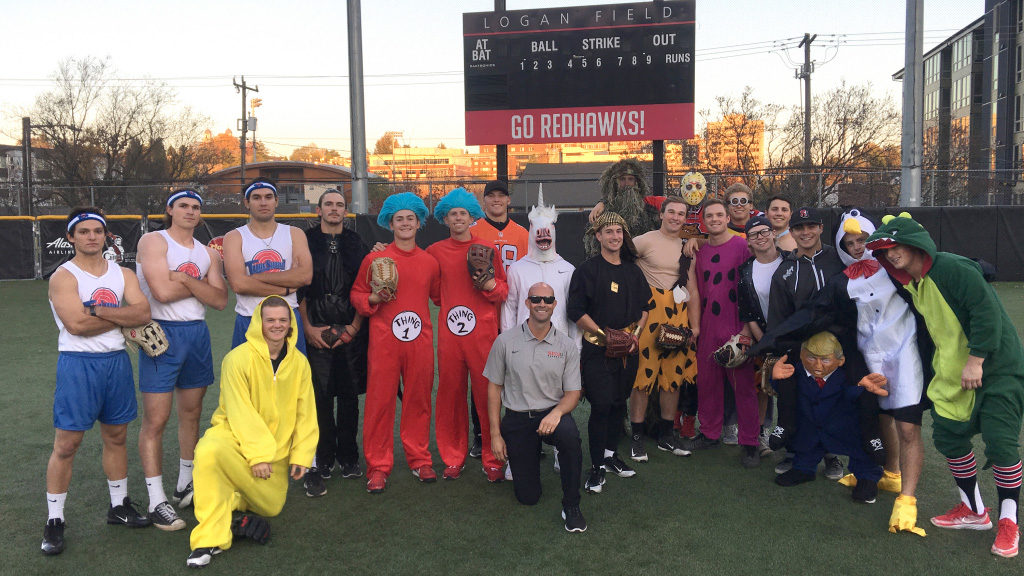 The Seattle U Baseball team dressed in Halloween costumes for a fundraiser game.
---
The event not only brought people together to support the cause and enjoy the game of baseball, but it also served as a bonding experience for the players and a way for students to learn more about Dance Marathon.
"We've been doing it for a couple of years now, and it's been cool to try to get everyone from campus to come out and kind of relate to the baseball players in a certain way through the charity," senior catcher Jack Reisinger said. "So that's really fun just to play in front of people and have a good time and joke around out there."
The money raised goes into the uncompensated care fund that directly pays for the medical bills of the families that receive treatment at Seattle Children's. Audience members were able to donate money with cash or online. Depending on the amount of money they donated, they had a chance to bat with the team, engage in games and activities or sit with the team in the dugout during the game.
"It's essentially trying to be a more holistic way to cure, it sort of negates those sort of negative effects that kids usually experience after chemotherapy as they grow," said Cameron Fairchild, special events coordinator for Dance Marathon, when discussing the research. "Basically, [the treatment] reprograms t-cells to recognize cancer cells as common cold cells – making it easier to attack."
Thing One and Thing Two, Jon Snow, and Fred Flintstone were only some of the few vibrant characters the baseball players dressed as during the game. The mood was kept light-hearted as the announcer would make jokes about the players right before they would go to bat.
"It's just a fun thing that we link up the other parts of campus with athletics here any way possible," Hurd said. "I think it's important that the non-athletes of the school have good relationships with athletes, and it's a good bonding experience for everyone in the school."
As smiles and laughter were shared, students came together to enjoy a game of baseball and help children in need.
The editor may be reached at
[email protected]
Leave a Comment