Cities Scramble to Secure New Amazon Headquarters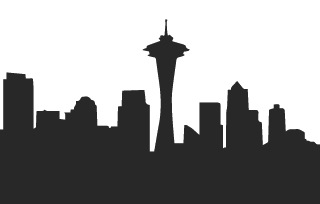 Amazon and Seattle have a complex relationship. Seattle is the fastest growing city in the U.S., and Amazon has been one of the primary contributors to that growth. The company has brought over 40,000 jobs to the Seattle area and completely reshaped what South Lake Union looks like.
With this growth comes displacement and change, however, which has resulted in a growing sense of resentment amongst some Seattleites towards Amazon. Some view Amazon as an economic powerhouse for the city, while others see it as one of the main contributors to gentrification and soaring rent prices.
Senior management and finance major Nick Figone summarized this tension as a conflict between economic development and the consequent inflation.
"So, essentially, the whole situation is a double-edged sword because Amazon has brought lots of economic improvement to the area, and has lots of influence because of it," he said. "However, people who have been living in Seattle for like 40 or 50 years don't deserve to get pushed out just because of these economic forces."
As the city navigates the crisis of rising cost of living, it's trying to balance the negative effects of growth, particularly as more tech-giants are looking to move to the region.
In early September, Amazon announced that they were searching for a city in Canada or the U.S. to build an 8-million-square-foot second headquarters, and they released a detailed wish list of what features and amenities they are looking for in a city.
Cities started making bids almost immediately after the announcement as they scrambled to garner the attention of the mega-corporation. Tucson, Ariz. attempted to send a 21-foot-tall cactus; Stonecrest, Ga. offered to create a brand-new city just for the company; the mayor of Kansas City, Mo. (or most likely an intern) left 1,000 five-star reviews on various Amazon products; and New Jersey governor Chris Christie offered $7 billion in tax cuts to Amazon. Many cities were going to extreme measures to try to garner Amazon's attention, including Seattle.
In late September, Seattle Mayor Tim Burgess announced that Seattle would be participating in a Puget Sound Regional bid for the new headquarters. King, Snohomish and Pierce county officials all worked together to craft the 522-page proposal that was submitted to Amazon this past week. The proposal included 10 potential sites for the second headquarters and goes in-depth about why the Puget Sound region would be an ideal business environment for Amazon's expansion.
The proposal was submitted a week after local legislators and officials sent a public letter to Amazon CEO, Jeff Bezos. The letter opens with, "We understand there are many reasons for your decision to potentially site HQ2 in a different city. To the extent that this decision was based on Amazon feeling unwelcome in Seattle, or not being included in some of our regional decisions, we would like to hit the refresh button."
The letter goes on to discuss a variety of ways in which the city and county could collaborate with Amazon. Five city council members, an assortment of state legislators and various community figures all signed on to the letter asking Amazon to stay.
What is the root of this "unwelcome" feeling that Amazon feels in Seattle? There is no metric to measure the level of animosity a community has towards a company, but Amazon stands out as a symbol of corporate growth that has been driving the housing crisis in Seattle.
Vice Chair of the Democratic Socialists of America's Seattle chapter Stephen Gose argued that the economic well-being of Seattle shouldn't necessarily result in higher cost of living.
"I reject the notion that exponentially rising housing costs are a necessary side effect of growth," he said. "When people argue this point, they are essentially saying that Amazon shareholders matter more than the actual human beings that live in Seattle. Amazon is an extremely wealthy company, and because of the horribly regressive tax laws in this state, they haven't been paying anywhere close to their fair share."
As for his future in Seattle with the rising cost of living, Gose said that he won't be able to own a house anytime soon, and he may even need to move out of the city.
Gose is not the only one feeling this financial pressure.
Senior business managemenr major Jordan Cataline said that post-graduation, he expected similar hardships.
"Affordable housing is impossible to find in Seattle," he said. "In order to comfortably live in the area, you would need to bring in much more than an average post-college salary. I can't comfortably say that I'd be able to afford to live here after college, but we'll see."
Lukas may be reached at
[email protected]
Leave a Comment