Controversy currently surrounds the NFL this season, causing a decrease in viewership of NFL games when comparing it to last year's numbers. Many players from various team have decided to take a knee during the national anthem, causing many Americans to have mixed emotions about the NFL's current actions. The protest initially started during the 2016 NFL preseason by former backup quarterback, Colin Kaepernick.
Kaepernick was the first to make this initial decision to take a knee during the national anthem, to protest police brutality targeted towards African- Americans. Many NFL players did not follow his lead until the 2017 NFL season.
---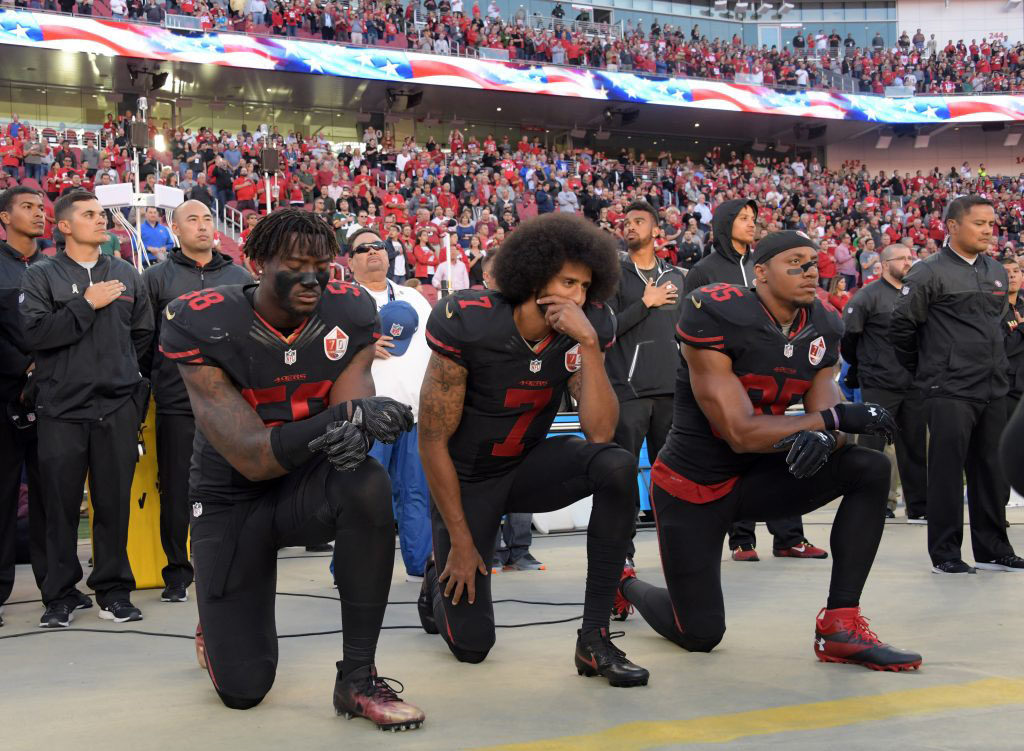 Former 49ers quarterback Colin Kaepernick kneels next to teammates Eli Harold and Eric Reid in the 2016 season, marking the beginning of the NFL protests.
---
Since the start of the 2017 season, more and more NFL players have been joining in on the protest. President Donald Trump made a statement saying, "If players disrespect the flag, NFL owners should fire their players." After this statement was made, players from teams such as the Steelers and Seahawks decided to stay in their locker rooms during the national anthem.
There are different opinions regarding if these protests are too political for the NFl. One anonymous Seattle University student says, "You should be able to express your opinion, even if others don't agree."
Sara, another Seattle University student says, "The NFL has the right to protest, but they should protest in others ways outside of NFL games." John-Paul expresses, "I think that it's fine that NFL players are doing this. The players are protesting the racial unjust that is happening within our country along with the actions of the President."
The students interviewed wished to remain unidentified in order to avoid judgement on their political beliefs.
Vice President Mike Pence attended the 49ers vs. Indianapolis Colts game this past weekend to honor Peyton Manning's NFL career as they retired his number. However, things took a turn for the worse as the national anthem began to play.
Numerous players from the teams decided to continue their protests, as players took a knee during the national anthem. Pence immediately got up and left the game before kickoff. v
"Pence did this to highlight the controversy between the President and the NFL players," Sara said. John- Paul believes, "Pence has the freedom to express his opinions, as long as he's not harming others."
There are pros and cons when reviewing this particular situation with the NFL. On one hand, players have the right to express their first amendment right and standing up to what they believe in. On the other hand, sports are about getting away from all the negativity in the world, and watching something that you enjoy along with bringing people together.
The editor may be reached at
[email protected]