Men's Golf Claims WAC Championship, on to Regionals
Seattle University men's golf team broke through this past weekend, winning the Western Athletic Conference (WAC) championship, in Mesa, Arizona. The win gives them the conference's automatic bid to the NCAA regional championship.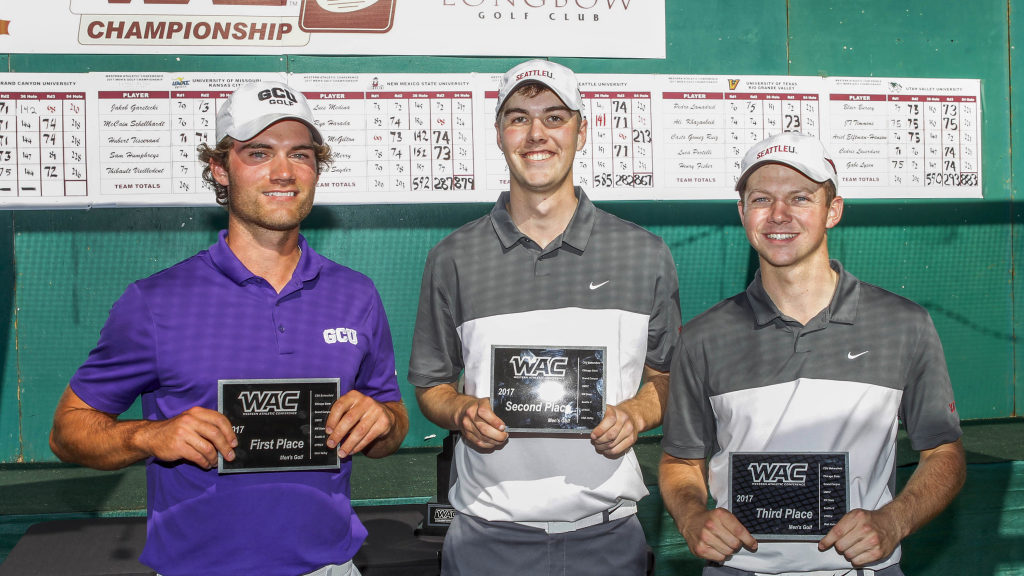 Kyle Cornett (middle) and Zack Overstreet (right) took home the hardware.
As a team, the Redhawks shot 15 over 867 for the three-round tournament. They shot 290 in round one, 295 in round two, and 282 in the final round on Sunday.
"I cannot put into words how much this means to our team," Head Coach Marc Chandonnet told Seattle U's athletic department. "All of our earlymorning workouts, the days we grind through the cold rain to qualify have finally paid off. I'm so appreciative of the buy-in to our system."
They were led by senior Kyle Cornett and freshman Zack Overstreet. Cornet finished in second place, shooting one under 212. He shot 68, 73, and 71 in the three rounds respectively. He finished strong in the final round, shooting two birdies in the final four holes of the final round, but it wasn't enough to catch up to Grand Canyon's Vinnie Murphy, who took home the individual title.
Overstreet finished third overall, shooting par at 213. He shot a 66 in the final round, hitting three birdies and an eagle.
"What a final round by freshman Zack Overstreet," said Chandonnet. "We have an amazing group of young men and this isn't the end for us. We believe we can make it to and compete in the NCAA Championship."
In addition to the championship, Chandonnet and Overstreet were named WAC Coach of the Year and Freshman of the Year, respectively. Overstreet was also named to First Team All-WAC, along with Cornett. Senior Ross Kukula was named to Second Team All-WAC.
Overstreet had a 73.06 stroke average during his first year with the Redhawks. Chandonnet earned his first coach of the year award since taking over both the men's and women's golf programs at Seattle U in 2012.
It has been a banner for the men's golf program as they have showed dominance not seen in a long time. They are looking to extend it into the regional championship next season.
Willy may be reached at
[email protected]
Leave a Comment