Mayor Murray Celebrates Seattle U's 125th Year
Icons of the Seattle were lit red beginning around dusk on Saturday for about 12 hours. The Great Wheel, the Columbia Tower, The Westin, Key Arena, and other landmarks were among these.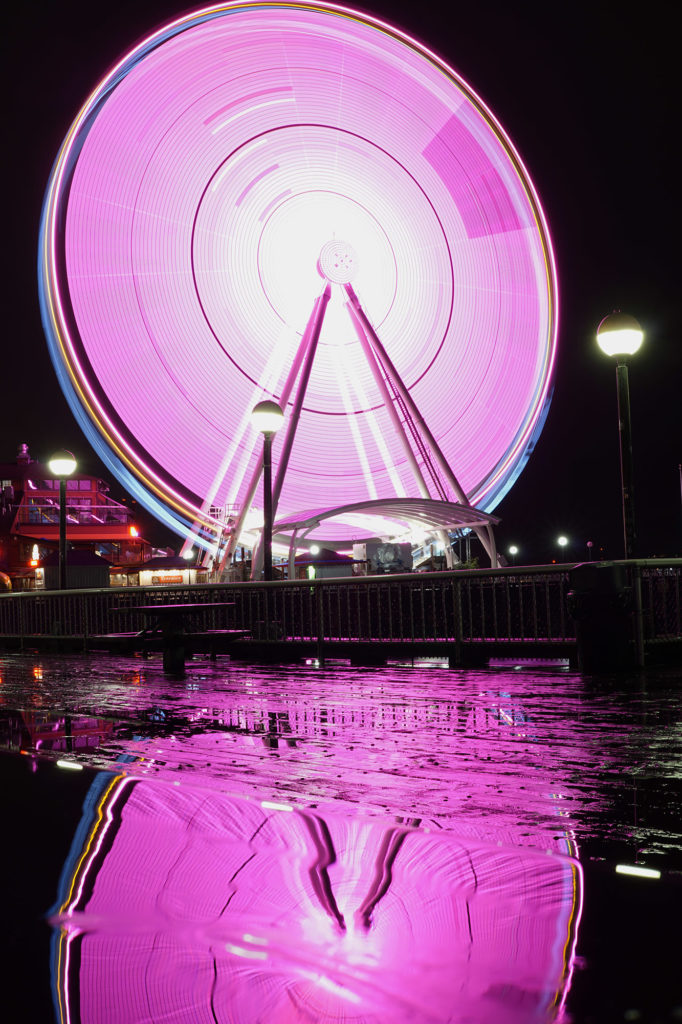 The Great Wheel near the waterfront shined Red Hawk red for Seattle University Weekend.
The skyline showed its Redhawk pride this weekend when the Space Needle, the Great Wheel, the Columbia Tower, The Westin, KeyArena and other landmarks were lit in Redhawk Red for Seattle University's 125th anniversary. Seattle Mayor Ed Murray declared the weekend of Feb. 2-5 to be Seattle U Weekend.
It was quite an eventful weekend for Seattle U. Homecoming kicked off on Wednesday, Feb. 1 and an activity-filled few days and weekend followed. Highlights included a performance by D1 Improv, Battle of the Bands and the Homecoming basketball game and dance.
Seattle Mayor Ed Murray made a statement about Seattle, a "vibrant, world-class city of innovation," and how its colleges and universities "contribute to its intellectual and inclusive spirit."
Seattle University, Murray explained, was founded in 1891 as a Jesuit Catholic university located on Capitol Hill neighborhood. It houses nine schools and colleges and a student body of 7,400. Our university ranks as one of the top 10 universities in the West, offers an excellent education through its distinguished faculty and competes in NCAA Division I Athletics.
Seattle U received the Presidential Award for Community Service, the U.S. government's highest recognition for community service, and thousands of its alumni live and work in Seattle, King County and the greater Puget Sound region, "contributing to the local workforce and improving the communities in which we all live and thrive."
"Seattle University strives to be the premier independent university of the Northwest in academic quality and service to society," Murray said in a statement.
"[The] University's values include care, academic excellence, diversity, faith, justice and leadership; and Seattle University is celebrating its 125th anniversary.
The Mayor declared Feb. 2-5, in the year 2017, to be Seattle University Weekend.
Faculty members said they felt honored to have a weekend dedicated to Seattle U by the city's mayor. Over the years, Mayor Murray has developed an appreciation and a close relationship with the Seattle U community.
"Seattle University has a great relationship with Mayor Murray and his staff and the City of Seattle as a whole," said Lincoln Vander Veen, External Affairs Manager at Seattle U. "We simply inquired about official recognition for our 125th anniversary and they happily drew up a proclamation and made it available to us."
Many Seattle U students were excited when they heard we have an official weekend.
"I didn't know that it was Seattle University Weekend, but that's really cool that the mayor recognized us," said Sarah Miller, a senior environmental studies major. "I will definitely be looking out for the red skyline on Saturday."
Jaelin McCoy, a sophomore communications major at Seattle U, knew about the proclamation from the mayor. She thought it was neat that the university received the honor, but she wishes that more students at Seattle U had school pride and were willing to participate in events such as Homecoming and notice Seattle U weekend.
"It feels really special that all of this is happening just for our small school," McCoy said. "I would love to go out and see the lights and partake in Homecoming activities, but students here generally aren't very school-spirited and it has been a challenge to find people who are willing to join me."
Although not all students know about Seattle University Weekend, it is an honor nonetheless. It says a lot about our school community that we were recognized by the mayor himself.
With faculty and alumni that care about the school, Seattle U was the place to be last weekend. If you looked at the city skyline on Saturday, the whole city seemed to be wishing Seattle University a happy birthday.

Editor may be reached at
[email protected]
Leave a Comment