Planned Parenthood Event Calls for Action
After a tumultuous election season culminating in the election of  President Donald Trump, Planned Parenthood hosted an event at Town Hall which featured speakers from various local and regional groups who discussed the many ways that community members could get involved in the coming years.
---
Citizens of Seattle gathered for "We Defy," an event sponsored by Planned Parenthood.
---
Speakers nicknamed this the "Inauguration for the Resistance," and took part in a discussion about reproductive rights, and other topics less central to PP's mission like immigrant rights, climate change, LGBTQ+ rights and body positivity. The featured speakers included community leaders from a variety of local organizations.
Sonya Renee Taylor, founder of The Body is Not An Apology, a movement that advocates for self-love and body positivity, said that nothing about the Trump administration is normal, and that it's crucial to deny its normalcy.
"How are you? You feeling good?" she said. "Tell the truth! We are conditioned to lie. We're conditioned to act as if everything's okay. And what I want us to do is to disrupt the fallacy of normalcy about the time that we live in right now. There's nothing normal about this shit, y'all!"
She said that it's okay to be enraged about the election. "We should be [angry]! Because when we stop being [okay], that's when we start to acquiesce to it. That's when we then become complicit in its function."
The emcee and moderator was filmmaker Sherman Alexie, who offered jokes as well as meaningful and blunt commentary on the election.
"We brown folks are not shocked," Alexie said. "Please stop expressing your shock. They're your cousins who voted for him…We brown people voted against him in massive numbers; gay people voted against him in massive numbers. We protected ourselves and one another, but you white folks did not."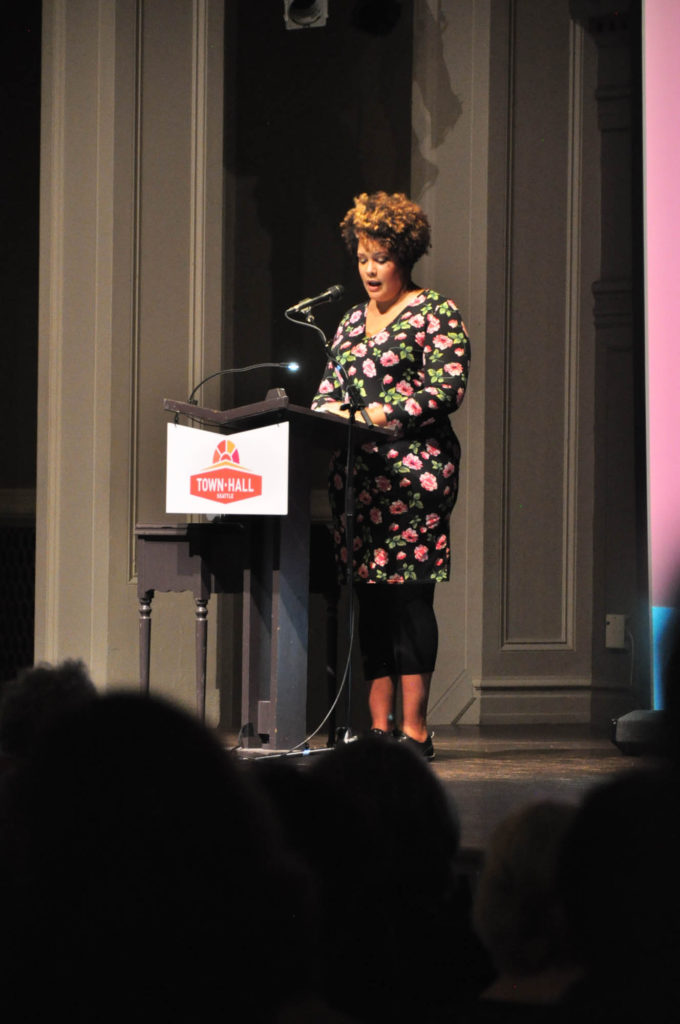 Ijeoma Oluo, Editor-At-Large for The Establishment, was a keynote speaker at the Planned Parenthood sponsored Town Hall.
Alexie called on the audience to hold its government accountable. "We need to believe in government," he said. Alexie elaborated, saying that he believes in the government because it has worked in the past and its best, it's supposed to represent the will of all, that we are supposed to demand that it represent the will of all. "Support your government," Alexie said. "Support your liberal-ass, commie-ass government!"
Other speakers provided the audience with specific ways to get involved. Emily Chiang from the American Civil Liberties Union suggested that lawyers work with the ACLU to fight for the vulnerable, and Marcos Martinez from Casa Latina called on the wealthy to hire the organization's immigrant workers for whom they find work.
As for more abstract ways to fight the Trump administration, writer Ijeoma Oluo called for a redefinition of "unity." She said that unity doesn't mean everyone gets together and votes on which topics to care about most. "Unity means that we all show up in this room, and we turn to each other and say, 'How did you get here? What do you need to move forward?'" Oluo said.
After the event, Oluo offered advice specific to students at Seattle University. "Make your college the world you want to see," she said. "Shape your collegiate experience in your image, and fight for that. Make Seattle University the world that you want to see when you leave."
Furthermore, Oluo insisted that students get involved in local politics. She said that Donald Trump is getting all of his power from the Republican-majority House and Senate.
"That all came up in their hometowns, and the only people who cared, the only people who took notice that these people had terrifying policies were the old people who voted them in. Your protest means nothing if it doesn't equal action where you have your power."
She shared some final thoughts on gathering emotional strength moving forward, citing that the feelings people are experiencing now are similar to what they felt when Bush was reelected in 2004.
"I remember that feeling, and I was probably about your age when that happened, and you know what we did? We rebuilt," she said. "That euphoria that a lot of young people have felt coming up in these last eight years, that feeling where they get out and vote for change; that was rebuilt out of the ashes of the very same disappointment and frustration that you're feeling right now."
Josh may be reached at
[email protected]
Leave a Comment