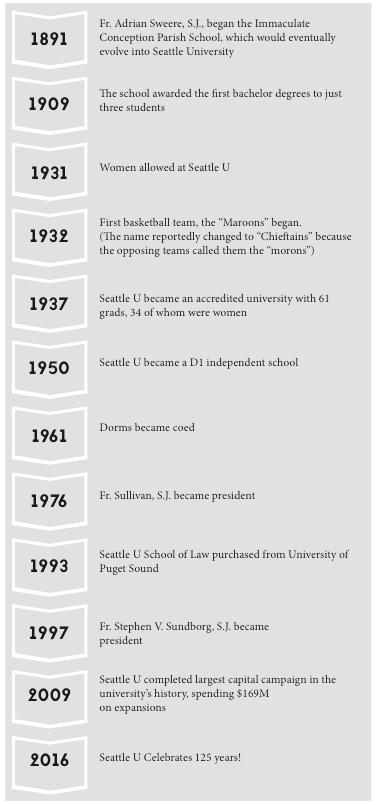 As if you didn't already know, what with all the signs and posters plastered on every surface, this marks 125 years since Seattle University was established. Well, actually it marks 125 years since Adrian Sweere, S.J., took over a small parish near downtown and named it the Immaculate Conception Parish School, back in 1891. The school was renamed Seattle College seven years later, after the city and Chief Seattle himself, and served both as a high school and a college. It began offering higher education soon after and granted its first bachelor's degree within 11 years.
In 1919 the college was relocated to Interlaken Boulevard, but about 12 years later it returned to First Hill where it remains today. In 1931, the college created a night school so women could attend, which, at the time, was highly controversial given the poor state of women's rights.
It wasn't until 1948 that our school came to be known as Seattle University under Father Albert A. Lemieux, S.J. Since then, it has withstood the waves of time and history, slowly evolving to become the posh—but diverse— institution we all know today.
And, as the spirit of a generation can be defined by its literature, the history and character of Seattle University is safeguarded in the dusty brown pages of the Spectator archives, where the collective works of every reporter, photographer and editor will remain preserved.
Our first paper ran on January 9, 1933. 125 years is a long time. You probably didn't know, for example, that the first "Yank"—an American— to summit Mount Everest graduated from Seattle U, or that this school used to host an "Ugly women" contest, or that there used to be a nuclear reactor in the basement of Bannan. This is but a sample of what we dug up from the archives.
For more than a century, this college endured an endless series of unbelievable events and happenings— both historical and comical—and the Spectator was there to document all of it.
And it always will be.
The writers may be reached at
[email protected]