Seattle University's Men's Soccer team enjoyed a great start to conference play this past week, shutting out both opponents for two wins.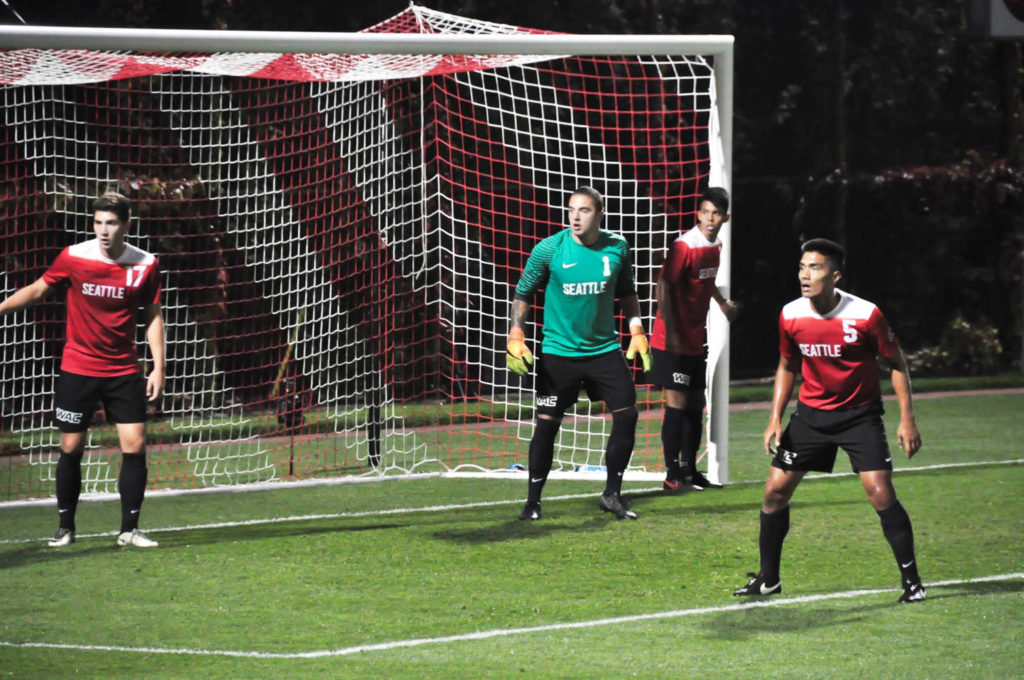 David Olsen (No. 17), MF Julio Rubio (No. 2), GK Jordan Hadden (No. 1), and MF Ozzie Ramos (No. 5) prepare for a corner kick.
It started with a 2-0 win over Utah Valley on Friday night. This was a special game for the school as a whole, as the team celebrated 50 years of Seattle U Men's Soccer. With a full house, the Redhawks (6-4, 2-0 WAC) didn't disappoint their fans.
They started off fast and never looked back. Sophomore Sergio Rivas knocked in the first goal of the game striking a close shot into the right side of the net. Just a minute later Senior Sam Langston gave the Redhawks some insurance by scoring a goal of his own. It was important for them to start off conference play with a win against the 21st ranked team in the country. It is a good confidence boost heading into a critical stretch of the season.
With their spirits high off their first Western Atlantic Conference win, the Redhawks moved on to play CSU Bakersfield. They finished with another 2-0 shutout, but this time they got off to a slow start only to put two shots in the net in the second half. Junior midfielder Alex Roldan would score his fourth goal of the season on a set up by Senior Jeff Rose. Later in the game some nifty passing led to a goal from sophomore Julio Rubio.
"To get this win (on Friday) against one of the toughest teams in the conference and then come here and get this one as well is a great way to start off the WAC," said coach Pete Fewing. "We've also gotten great minutes from fresh legs off the bench, which will be key in keeping this momentum building next week."
Lost in the excitement of back to back shutouts is the real star of these games, Senior goalkeeper Jordan Hadden, who earned the honors of WAC Defensive Player of the Week for men's soccer for the week of Sept. 26 – Oct. 2. Hadden had four saves against Utah Valley and three against CSU Bakersfield. He took over as goalkeeper this week and had seen just 14 minutes of action before these two games.
The Redhawks continue their road trip to play San Jose State on Thursday, Oct. 6 before returning home to take on Houston Baptist on Saturday, Oct. 8.
Willy may be reached at
[email protected]