'This Is Not a Condom' Campaign Promotes Healthy Lifestyle
Quadstock is the event of the year for many students. Loud music, good friends and local food make the small-scale music festival one of the most successful university-lead events. Students are used to receiving free snacks, stickers and water at the event, but many were surprised to see a small group-scale organization comprised of Seattle University nursing students handing out fake condoms.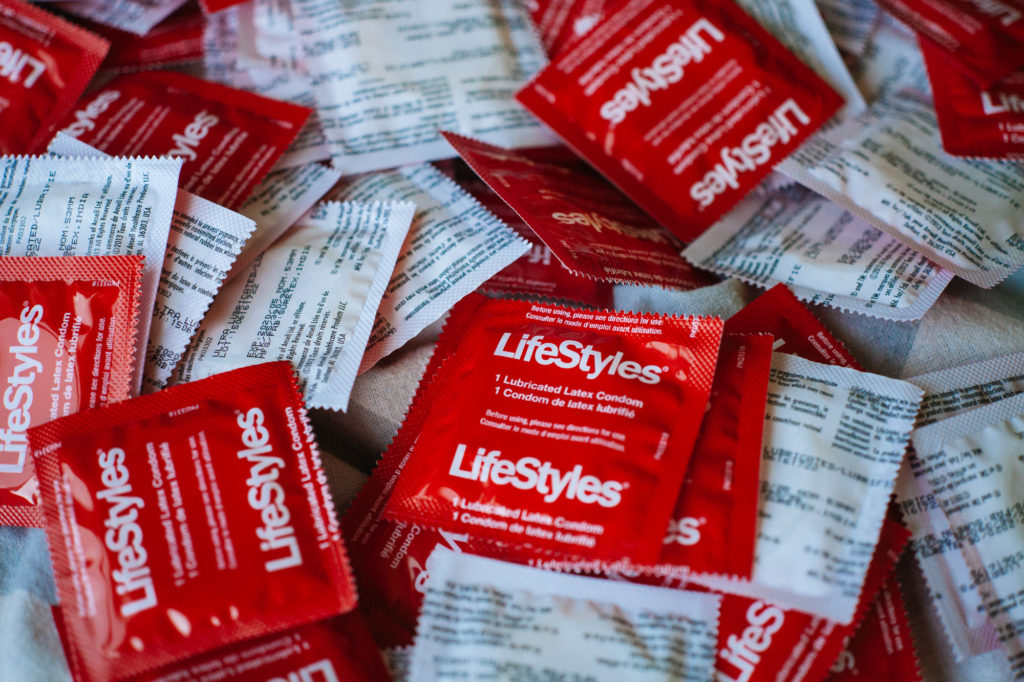 Another nearby business that offers free condoms is "Out of the Closet", a thrift store run by AIDS Healthcare Foundation.
These small condom-sized packages had the words "This is not a Condom" written over the front with factual information on details regarding condom use with, STD and STI protection on the back. The not-a-condom intends to create awareness of the inability of student bodies to distribute condoms on Seattle University's campus. The Seattle University Nursing Students for Sexual and Reproductive Health (NSSRH) is facilitating the awareness movement and petition, after their request to give out real condoms was turned down by the school.
Condom distribution on university campuses has long history as a topic of debate. Seattle University is one of many religiously affiliated schools that do not provide free or discounted condoms in their health centers, and prohibit other forms of distribution. Jesuit universities such as Georgetown University and Fordham University have seen similar protests.
Seattle University does not have an explicitly written policy on condom distribution. When the Seattle U NSSRH requested to distribute condoms, they were turned down.
"We were directed toward a vague statement requiring student groups to abide by Jesuit values," NSSRH said in written statement.
NSSRH is a Seattle U organization created in early 2016, made up of graduate and undergraduate nursing students. Their mission is "to engage Seattle University nursing students and support their interests in reproductive justice and health." They explained that there are multiple reasons for bringing sexual and reproductive health issues forward.
"The importance of engaging with this topic as future health care providers. The reality of human sexuality exists regardless of academic settings or religious affiliation. And third, reproductive healthcare is a social justice issue," NSSRH said in their statement.
Based on a study done by Scott M. Butler in 2014, nationally, 86.3 percent of all colleges and universities distribute male, latex condoms to their students. 52.4 percent of them offer condoms to students without charge, 3.7 percent require students to purchase condoms, and 42.3 percent offer both.
"Condom distribution programs are one form of public health structural interventions," Butler said in the study.
Nearly 20 percent of schools also directed students to outside agencies such as Planned Parenthood. More than half (55 percent) refer students to these organizations and agencies for condom acquisition and other condom-related concerns.
The condom is the most common contraceptive method used at first intercourse. On average, young people have sex for the first time at about age 17, and college aged students purchase a third of the condoms on the market.
Common arguments for these types of programs are that they create good habits, erase negative stigma, and create affordable options for students.
"[Condom programs are] efficacious in increasing condom use, increasing condom acquisition or condom carrying, promoting delayed sexual initiation or abstinence among youth, and reducing incident STIs," the Center for Disease Control and Prevention said in on their website.
Yet, whether these programs need to be a part of a higher learning institution is what many argue over.
"I am not Catholic myself, so it wasn't something I personally agreed with, but also understood that you need to play by the rules that are set forth to accomplish what you are trying to do," said Mark Shaw, the director of health promotion at University of Washington. "I think it is quite understandable at a faith-based institution of higher learning that this [policy] would occur."
Mark Shaw has spent 26 years working in prevention and wellness; four of those years were spent working at Seattle U's Wellness and Health Promotion Center before taking a full-time position at the University of Washington.
The University of Washington's Condom Club began in 2002 under Shaw's direction after he was shocked by a survey stating that about 35 percent of UW student reported not using a condom the last time they engaged in vaginal sex. He was concerned about the possible risk of STD's and HIV that was occurring within the student population.
Today the club offers 15-20 different kinds of condoms, and lubricant. The fee to join the club is $10, and this qualifies the member to obtain 55 condoms. The prorated cost of five for $1 makes condoms as cheap at 18 cents each. Since opening the club has had 1,230 people join. Although UW offers a very extensive condom program Shaw is not quick to judge Seattle U.
"Developing healthy relationships, addressing consent with both partners, and what sex means to both parties [are other factors]" Shaw said. "Having worked now for 15.5 years at UW, I think the Jesuit tradition allows for a more open discussion with students about spirituality than you can do at a public school, since it falls into the 'whole person' approach."
Students at Seattle University are eager to see this issue addressed.
"Programs that broached the conversation about sex had to be approved and were carefully regulated," said August Hastings, a former Resident Assistant at Seattle U. "Personally, I'd love to see student organizations exploring options of providing free condoms… Even if condoms were to be sold, not everyone who needs them would have them, it would be cool to have community resources for contraceptives and secular sex ed!"
The conversation will continue as long as groups like NSSRH continue to bring awareness to the cause.
The editor may be reached at
[email protected]
View Comments (1)