Sizzle Pie is a Slice of Life on the Hill
The competition for the best pizza on Capitol Hill has traditionally been held between Big Mario's and Hot Mama's, but a new pizza joint may be adding its name to the mix: Sizzle Pie.
The Portland-born pizza joint recently opened a Seattle location at 1009 East Union Street, taking the location of the recently closed Po Dog's. The restaurant offers a large variety of meat, vegetarian and vegan pizzas that have quirky yet delicious topping combinations.
---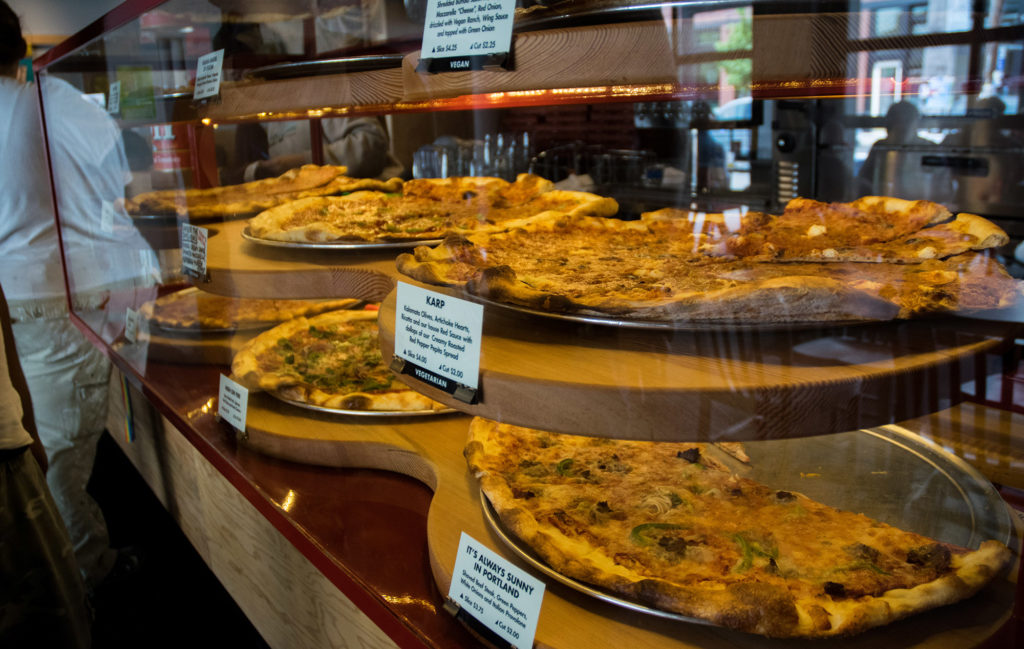 Sizzle Pie is the a new pizza spot in Capitol Hill that offers artisan pizzas and microbrewed beer.
---
I was immediately intrigued by the available topping combinations. Sizzle's pizza is thin-crust, New York style, and the toppings range from cranberries, goat cheese, bacon, hash browns, pineapple and many other ingredients.
Admittedly, I am not someone who is overly adventurous when it comes to pizza and I usually opt for cheese or pepperoni. Seeing all the interesting topping combinations on display, however, made me want to try something new. My adventurousness paid off.
One pizza named "Good Luck in Jail" piqued my curiosity. The description made my mouth water: smoked mozzarella cheese, a vodka cream sauce, bacon and white onions.
The pizza was delicious. The smokiness of the bacon and mozzarella were perfectly complemented by the sweetness of the white onions. I never thought bacon would be good on a pizza, but Sizzle proved me wrong.
The crust was slightly disappointing as it was not crunchy, rather it was doughy and almost uncooked. As someone who likes thinner crust pizza, I expected the pizza to be much crunchier than it was.
The vegetarian pizza was a medley of vegetables aptly named, "The Slaughter of the Soil." Spinach, artichoke hearts, tomato and red sauce not only created an attractive looking green and red pizza, but also a tasty one. Unlike the "Good Luck in Jail" pizza, the crust on this pizza was perfectly thin and crisp.
The fusion of breakfast with pizza is another interesting and delicious element of Sizzle's menu. A range of breakfast pizzas are available all day, making Sizzle the best place to buy a pizza in the a.m.
The "Bitchin' Sombrero" pizza was an entire breakfast meal on top of a thin and crunchy pizza crust. Topped with eggs, hash browns and chili peppers, this slice is highly recommendable to those who love both breakfast and pizza and want to try them together.
If you are not feeling as adventurous with the toppings on the pizza, Sizzle Pie also offers more traditional toppings like pepperoni and cheese.
Slices are $3.75 and cuts (half slices) are $2, reasonable prices given the restaurant's generous slice sizes. A large pizza ranges anywhere from $20 to $28, which again, is a reasonable price given the size and amount of toppings on each pizza. If you're looking for something to pair with your pizza, Sizzle Pie also offers a slice and salad combo for only $7.
A range of draft beers are also available. More alcoholic drinks are available at the accompanying Dark Bar next door.
The service was very fast—a to-go slice was ready in just a couple minutes even though the place was crowded. Sizzle's ambiance was noisy, with order numbers being shouted and loud rock
music playing.
While there are plenty of big tables available for groups, the noise factor would definitely make it hard to have a conversation. Outdoor seating is also available, making sitting outside in the nice summer weather possible.
Open until 3 a.m. Sunday through Thursday, and 4 a.m. on Fridays and Saturdays, Sizzle Pie is definitely a welcome addition to the nightlife scene on Capitol Hill.
Overall, I give "Sizzle Pie" 4 out of 5 stars. While I know saying it is better than Big Mario's or Hot Mama's Pizza will start a heated debate, Sizzle Pie is certainly worth a visit.
Callie may be reached at [email protected]
Leave a Comment