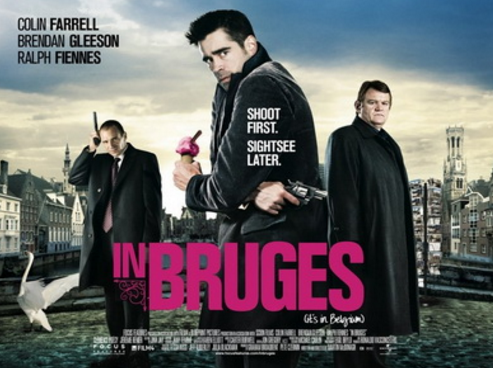 On a random summer morning back in 2008, I was scoping out Blockbuster (at a time when I was still taking it for granted) hoping to find a good new movie to watch. As I was strolling around the perimeter of the store glancing at the new releases, my eyes caught an unknown title starring Colin Farrell, Brendan Gleeson, and Ralph Fiennes.
Intrigued, I picked it up and went home to watch it, not having the slightest idea in my head what it was about or even what genre it was.
Two hours later, I knew I had found a buried gem.
"In Bruges" is the type of film where it is wickedly funny, but you feel uncertain about laughing. It follows to hit-men who find themselves in the gorgeous medieval town of Bruges ("it's in Belgium" as the movie constantly reminds viewers) after a hit-gone-wrong. Ray (Farrell) hates the city, finding just about every aspect of it to be painfully dreadful. Ken (Gleeson) absolutely loves it, and the two spend their days wandering the streets, drifting along the canals, and visiting the sights.
Their handler, Harry (Ralph Fiennes) feels as though Ray needs to be taken out due to the circumstances of the botched hit, and he arrives to take care of business.
Full of superb performances, a melancholic score, endlessly quotable one-liners, and a dreamlike framing of the quiet Belgian city, "In Bruges" has a striking balance of bleak humor with a surprising amount of heartstring-tugging emotions. One particular scene goes from a night of drugs and prostitutes, to a heartbreaking story of one of the character's past. Director Martin Mcdonagh, who would later go on to do "Seven Psychopaths," proved himself worthy in this feature debut, giving audiences a thrill ride, a vicious comedy, and a painful tale of heartbreak and regret all in one. Oddly enough, this movie will make you want to travel to Bruges despite Ray's bitterness about it and the amount of bloodshed that takes place. So check out the movie, and maybe book yourself a ticket. Both of those are decisions you will not regret.
107 mins, Rated R.