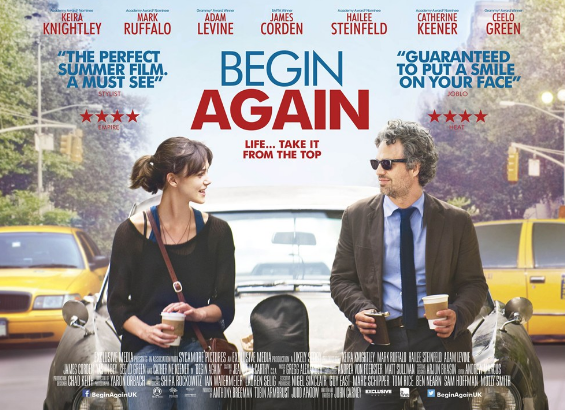 The first decade of the new millennium saw the arrival of a lyrical voice in both music and film. With the release of "Once" in 2006, John Carney introduced the world to his love of music with the modern-day musical that radically changed the genre. It also gave us the extraordinary "Falling Slowly" that many have probably heard, but are unaware of where it came from.
With "Begin Again" Carney critiques the music of our era and how it's consumed while also crafting a heart-swelling love letter to New York City. Full of delightful performances, amazing music and an immensely entertaining turn from Maroon 5's Adam Levine, you will regret not seeing this movie sooner.
After a down-and-out music executive (Mark Ruffalo) is fired because he cannot seem to find a new sound due to his cynicism about modern music, he stumbles upon a bright star (Keira Knightley) who might just have the voice to make it huge. Subverting the genre, the two are simply friends, and they spend the film making her album come alive through guerilla filming of her music videos.
Also starring Hailee Steinfeld and Catherine Keener, the film is a pure joy to watch. Its soundtrack is one you'll likely rush to download the minute the movie is over, while you also might find yourself wondering how more music (and movies) like this are not seen or heard. Ruffalo and Knightley's chemistry is indelible, though we don't ever find ourselves rooting for them to get together because we simply want them to find success and happiness. Knightley's character is naive at the beginning. Stuck in a relationship that may or may not be the best for her, she grows as a character and becomes more confident in her talents, ultimately proving everyone wrong. She does not sing for money, she sings for the love of singing.
So if you're a fan of music, Mark Ruffalo, Keira Knightley, or New York City in general, look no further than this wonderful little gem that got brushed under the rug far too easily. This is what musicals should be like.
105 Minutes, Rated R.