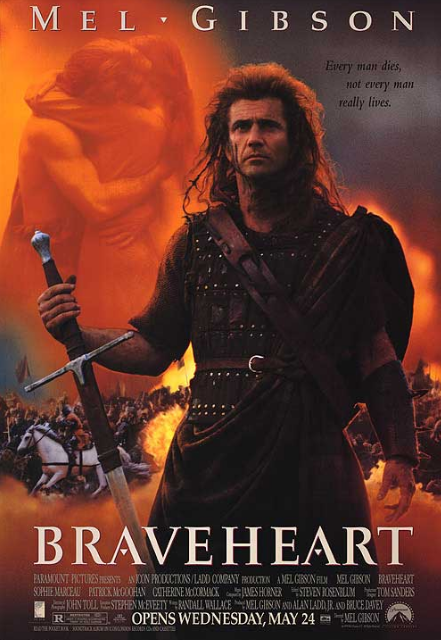 Do you like Mel Gibson? Scotland? Epic war films? Vengeance over a murdered love? FREEEEDOM? If you answered yes to any of those questions, look no further than the masterpiece… "Braveheart."
Whether or not you like Mel Gibson (or historical inaccuracies) there is no denying that "Braveheart" is his best film (and to me, probaby one of my top 10 of all time.) Yes, I love Braveheart. For one, I am a sucker for Scottish stuff. Two, I have a profound love for stirring battlefield speeches, like those you find in "Lord of the Rings." And three, I love historical epics (inaccuracies need not apply).
The winner five Oscars, including Best Picture and Director (yes, Gibson won an Oscar), "Braveheart" tells the grand tale of William Wallace from his early days all the way up to his execution by the English. After the murder of his love, Gibson embarks on uniting the Scots to rise up against the English tyranny. Full of romance and vengeance, fighting for freedom and honoring the dead, love and war, the film covers a spectrum of themes as the script is layered with enough material to allow for repeat viewings.
Want to see me shed some tears? Wait until the last twenty minutes of the film and you'll probably be getting pretty darn emotional too. The film is surprisingly poignant and all-too-powerful as Wallace rises from grief to become a legend, delivering speeches and uniting the land. Some might consider this more of a "bro" film, and it is a little testosterone driven, yet there is still a heaping dose of beauty and passion in it to appeal to just about everyone, even if you can't stomach the brutal battles.
Spanning years, the movie captures the scenic beauty of Scotland and it's culture (though, probably not 100% accurately), and features some superb battle sequences. With touches of snarky humor, picturesque cinematography and a haunting, spine-tingling score, the 177-minute movie hardly feels that long, another credit to its mastery.
Oh, and you can bet your tookus that on the last day of school I'm going to shout "FREEEEEEDOM" in the same vein as Wallace because there is nothing like freedom, or "Braveheart." They're both incredible, and they're both things you need in your life.
178 minutes, R