Aydian Dowling Kicks Off Wellness Challenge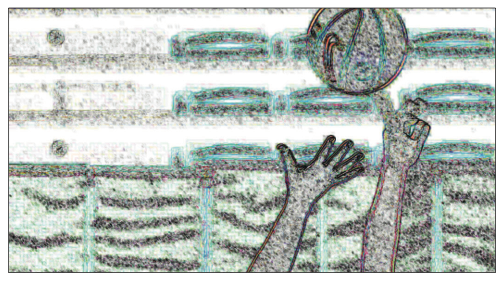 With clouds looming all day and the sun setting before 5 p.m., finding motivation to go out and stay active during winter quarter can be difficult. Encouraging students, faculty, and staff to take care of themselves this winter, Seattle University's Health and Wellness Crew (HAWC) is sponsoring the annual Anne Carragher Wellness Challenge.
"It is easy to come back from winter break and immediately feel the stress of winter quarter, and that gets overwhelming pretty quickly," said junior marketing major Keegan Tasker, who is participating in the challenge.
The six-week challenge is designed to promote the wellness of the Seattle U community through the encouragement of others. Participants create teams of four people who then fill out daily scorecards about their progress. The scorecard includes exercising, nutritious eating, drinking enough water, getting enough sleep and even brushing your teeth twice a day.
The challenge kicked off on Monday with a motivational talk from Aydian Dowling. Dowling is an FTM transgender activist, vlogger, model and owner of Point 5cc, a clothing company that supports transgender individuals. After competing in Men's Health magazine's "Ultimate Men's Health Guy" competition, Dowling appeared on the November 2015 edition, making him the first transgender person to be on the cover.
His talk was titled "My Journey to Authenticity," and gave an insight to his transition and how he became confident with who he is.
For Dowling, fitness helped him connect with his body.
"I started training because I wanted to look more masculine, I wanted to identify with the body that was looking back at me. For me, working out is like mediation," Dowling said. "Working out was more of a mental process than a physical process. The hardest part when I started training was forcing myself to look in the mirror and look back at myself."
Stressing that wellness is more than just physical, he then challenged his audience members to go home, look in the mirror and tell themselves that they deserve happiness and are worthy of love.
"You are the first example of how others know to love you. How you love and treat yourself shows other people how to treat you," Dowling said.
Discussing confidence, Dowling discussed his experience of being on the cover of Men's Health magazine.
"It was really hard to stand next to those guys. I really had to believe in myself," Dowling said.
He also discussed the internal and external negativity that people experience when trying to make changes in their lives.
"I am a man and I was born a girl," said Dowling. "I was told that everything I am today I cannot be."
Attendants of the event were moved by Dowling's journey.
"It is amazing to see what he is doing for trans* men and trans* masculine folk," said freshman Kel Clymer. "It was very powerful to hear him speak about his journey and what he has done to love his body and gender."
While the goals of the Wellness Challenge might seem simple, they are meant to promote the holistic wellness of a person in five categories: physical, emotional, social, spiritual and intellectual.
"From this challenge I want to gain a sense of habits and better understanding of where I fall short on mental and physical wellness and try to do better," Tasker said.
At the end of each week, each team member turns in their scorecard and points are tallied up for each team. At the end of the six weeks, the teams will come together and awards will be given out based on who has the most points.
"It helps with stress to put yourself and your needs first when school is at the forefront of your brain," Tasker said.
The challenge was started in 1997 and is dedicated to Anne E. Carragher, who was the first Director of Recreational Sports—now known as University Recreation. Carragher passed away in 2006 after a fight with breast cancer.
Freshman psychology major Jane Rohr said she feels that doing the challenge with her friends will help her stay motivated.
"I wanted to focus on myself and my personal needs and incorporate it with other people," Rohr said.
Students, faculty and staff can still register teams online for the challenge until Jan. 15.
The next event in the challenge is a Goal Setting Session on Jan. 13, with personal trainers available to discuss how to set physical goals.
Callie may be reached at
[email protected]
Leave a Comment