Rave to the New Ramen Joint on Pine St.
When people hear that I'm interested in food writing, a predictable litany of questions tends to follow.
The new Ramen restaurant located on Pine street is serving up a wide variety of tasty Ramen bowls.
"Oh, so you want to be a restaurant critic?" (No.) "My parents are in town, where should I take them?" (Bar Cotto's happy hour.) And finally, "What's your favorite food?"
I always hesitate on that last one. One day all I'll want is a great big maple bar, and the next I'll hanker for something green and leafy and virtuous. Eating is so situational that the idea of "favorite foods" just doesn't compute for me.
That said, one dish in particular always comes to mind: tonkotsu ramen.
This response feels like a cheat, because tonkotsu ramen is basically nature's most perfect food by design. It has all the usual trappings of a great bowl of ramen: toothsome wheat noodles, melty soft-boiled egg, a marbled slice of pork. But what truly sets tonkotsu apart is the meaty, salty, fatty liquid gold that cradles all these incidental toppings.
Tonkotsu broth gets its creamy texture and milky appearance from the marrow, collagen, calcium and other visceral bits that render out of pork bones after a good, long boil. This process can take days—not that I've attempted it. Sure, you can achieve a passable tonkotsu at home through maddening trial and error, but at the end of the day it's one of those foods that's probably better left to the pros.
Enter Kukai.
---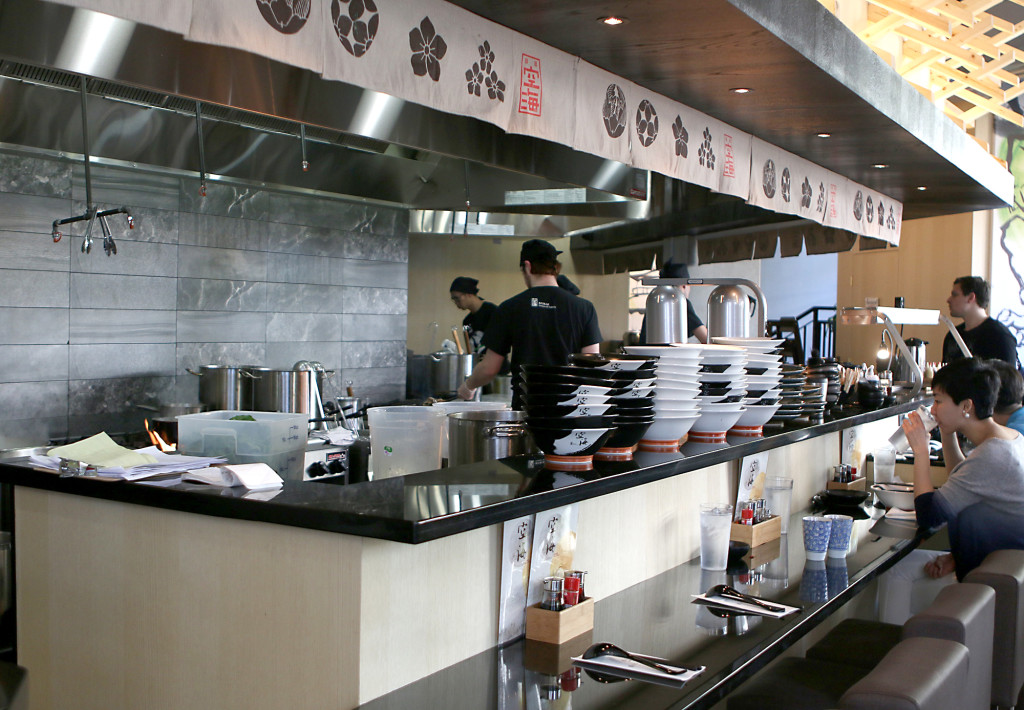 The new Ramen restaurant located on Pine street is serving up a wide variety of tasty Ramen bowls.
---
The Japanese chain has only a handful of stateside outlets, one of which opened in the Three20 complex at 320 E Pine last Thursday. The new spot boasts an expanded menu and a more comprehensive bar program than Kukai's other locations.
Before we talk noodles, I would be remiss to not mention the two gigantic chow-chows that sat outside the restaurant during my visit. They both had black Kukai Ramen t-shirts stretched over their fluffy girth. Clearly well-trained, they regarded me placidly while I endured a minor emotional breakdown at the sight of them, crumpling to the ground and nuzzling my face into their mane-like coats. Dear readers, most of you are similarly canine-deprived college students, so I'm sure you'll understand. Shrewd move by Kukai; I would have bought anything those pups were selling. (Side note: they were being treated very well, and had been relieved of their promo duties by the end of our meal.)
After my dining companion had extricated me from the throes of puppy love, we were shown to a table by a member of the restaurant's consistently affable front-of-house crew. The space, a far cry from the holes-in-the-wall where some of the city's best ramen can be found, was urbane and chic. You be the judge on whether that's a good thing.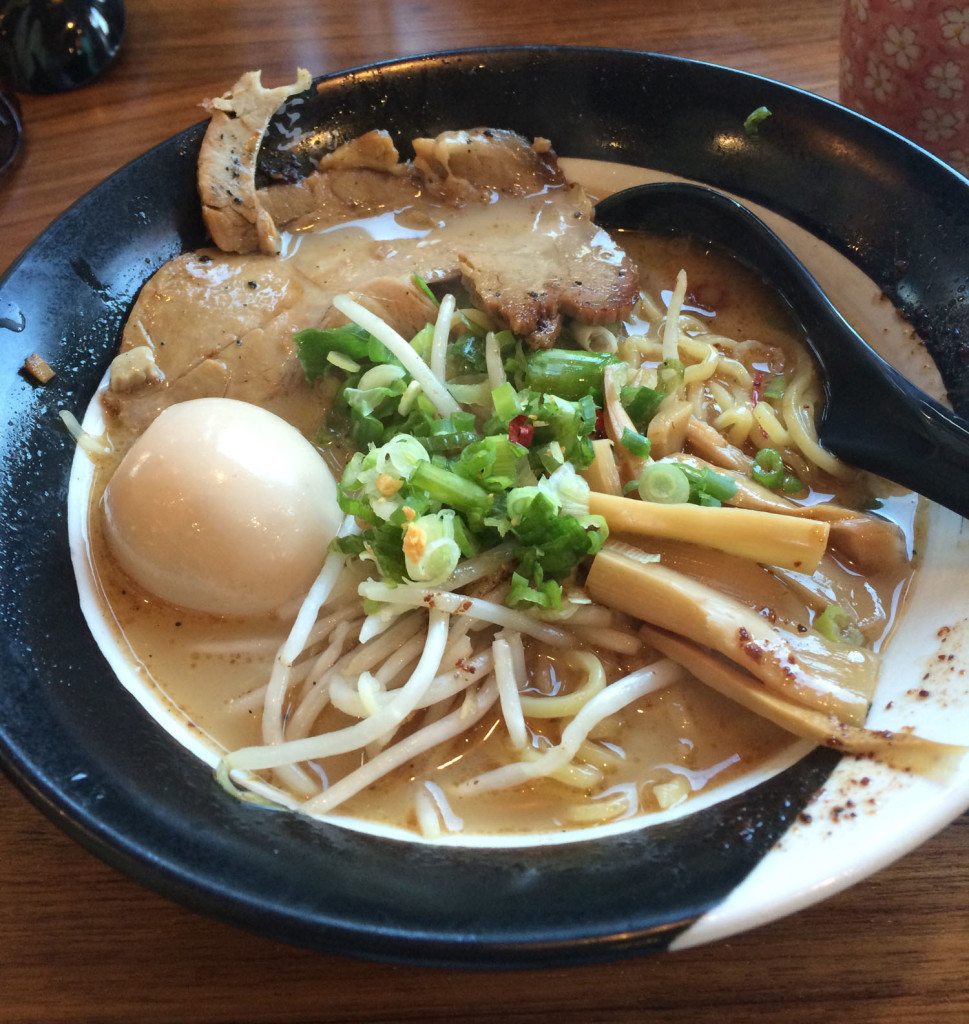 The menu, a roundup of a few ramen flavors, à la carte toppings, and small plates, was all but useless to me. I knew what I was there for. Their shoyu and black garlic–laced tonkotsu is available in both traditional and low-sodium varieties, but unless you have a damn good reason, don't hold back on the salt. They also offer extra-rich tonkotsu in limited quantities, which I hope to enjoy in the near future whilst sufficiently under the influence.
My hangry companion and I also ordered a few shiso-konbu onigiri to tide us over, which arrived alongside complimentary cups of green tea. The rice balls were perfectly tasty, filled with soy-seasoned kelp and herbs and wrapped in nori, but they were really just the precursor to the main event.
The waitress arrived with two steaming bowls of ramen, not a moment too soon. My date, clearly much squarer than I thought, had ordered a pristine bowl of citrusy yuzu-shio ramen, which was topped with an earnest bundle of greens. Rookie mistake. My bowl, on the other hand, did not disappoint: a hedonistic bath of pork, carbs, runny egg—oh, and a few bean sprouts. You know, healthy.
Tonkotsu, like pizza and horror movies, is great even when it's bad. But Kukai's is far from it. Their tonkotsu has a smoky, pork-y, deep umami flavor, but somehow isn't too heavy or greasy. Their pork slice was tender, if perhaps a bit underseasoned at first bite (a good dredge in broth later and I stopped complaining). Egg yolk melted into the broth. Occasionally I surfaced for a sip of tea. All was well.
Okay, okay—I tasted the yuzu ramen, and it was pretty damn good too. But not favorite food–level good.
Caroline may be reached at [email protected]
Leave a Comment