Seattle Suicide Rates Increasing
There is a common conception that Seattle has one of the highest suicide rates in the nation­. However, with a suicide rate of 12 in 100,000 residents, Seattle is below average compared to other U.S. cities.
But the city is beginning to see an increase in this rate. In light of rising concerns, Edmonds School District, which is North of Seattle U, is expanding its suicide prevention program, Signs of Suicide. The program began successfully at Alderwood Middle School in the 2013-2014 school year, and after its success, Edmonds School District wanted to spread it across all of their middle and high schools.
One element of the program encourages students to approach a trusted adult—a teacher, a counselor or a parent—if they are aware of any of their peers experiencing suicidal thoughts.
"If you think your friend is depressed … it's best to just ask them," said Health and Wellness Crew member Jane Hunter. "If you say, 'I'm worried about you, are you okay?' those small caring words can change a person's life."
Mountlake Terrace High School expressed interest in SOS, considering it had four suicide attempts in its freshman class last school year. But the rising number of suicide attempts also affects adults, Seattle U students included.
Though the number of suicides isn't as high in Seattle as many assume, if you ask Gabriel Ferri, a Seattle University English and Women and Gender Studies major, this number should be zero.
"We should be focused on prevention," Ferri said.
Seattle U student Killashandra Murray-Gann agreed with the sentiment that suicide needs to be handled.
"Suicide stems from something else … When someone goes through the lengths of killing themselves, it points out a major flaw in society that needs to be addressed," Murray-Gann said.
According to a recent HAWC survey, 6 percent of respondents has seriously considered committing suicide in the past 12 months, 2 percent in the last 30 days, and 1 percent in the last two weeks.
---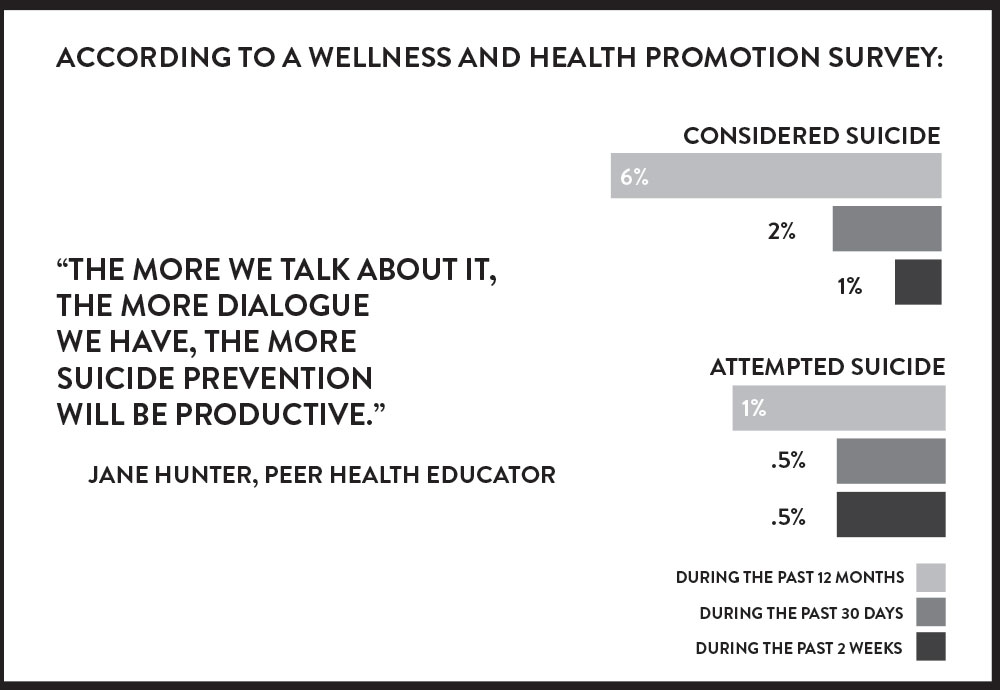 ---
"Mental illness and depression in college is really prevalent. There are suicide attempts more common than we can imagine," Ferri said.
The same survey examined how recently students have self-harmed and how recently students have been so depressed that it was difficult to function. In the past 12 months, over 20 percent of students have been so depressed it was difficult to function, compared to eight percent feeling that way in the past month and a half.
"Spreading that awareness will let people know that they're not alone," Hunter said.
1 percent of Seattle U students who completed the survey have attempted suicide in the past 12 months, half a percent in the last 30 days and half a percent in the past two weeks.
"There's definitely a lot of precaution towards the subject … it's a very touchy subject and it can be very triggering; however, I feel like there's a lot of misconceptions and myths surrounding suicide that need to be disproved and confronted," Hunter said. "The more we talk about it, the more dialogue we have, the more suicide prevention will be productive."
Many students may not know that Seattle U has services similar to that of the SOS program.
Ferri named a few services on Seattle U's campus, such as Counseling and Psychological Services, HAWC, and even the Office of Multicultural Affairs, that can be beneficial to students struggling with mental illness.
"[Students at Seattle U are] expected to be more accepting. I feel like the university does a lot to support all groups," Murray-Gann said.
HAWC offers many events to help support students dealing with suicidal thoughts, from body image workshops to events that allow students to talk to peers and ask HAWC members questions.
Hunter mentioned that college can be a difficult and stressful transition for a number of students.
"We really want to stress that you're not alone in this," Hunter said. "We really want to be here for other people, even if you just want to talk to us."
HAWC also strives to educate people on the subject of suicide prevention, whether a student is seeking support for themselves or is wondering how to approach a friend who may be suicidal.
Even if a student does not feel comfortable going to HAWC or CAPS, Hunter also listed off other sources of support: resident assistants, people in student leadership positions and professors.
The support and community at Seattle U "can be really helpful when dealing with depression … or any other mental illness," Ferri said.
Siri may be reached at [email protected]
Leave a Comment