SU Journalists Speak Out Against Attacks
The field of journalism is rife with controversy and danger. It is routinely the task of writers to seek out news and information in unsafe circumstances.
However, though they are often neutral parties in these scenarios, journalists' words can often be met with violence. A prime example of such violence occurred on Jan. 7, when religious extremists attacked Charlie Hebdo, a French satirical weekly magazine.
While horrific and shocking, such actions against free speech are historically common.
"The idea that people are persecuted for their expression is something that has been happening for thousands of years," said Caitlin Ring, an assistant professor in the Communications Department.
These recent acts of violence against Charlie Hebdo and executions carried out by terrorist group ISIS have shed more light on both the risks and the importance of journalism. One of the most recent act of violence by ISIS was against journalist Kenji Goto, who was executed on Jan. 30 after ransoms were not met.
Professional journalists often find themselves at the center of the storm.
"For all journalists, a guiding principle is to seek truth and report it. You can be offended, or upset, but the journalist [doesn't] cross the line between expression and action," Ring said. "It makes me irate that people would take physical actions for verbal express, which is essentially what happened."
While acts of violence are common, Ring hopes that such incidents do not overshadow the good work that journalists have done throughout history.
---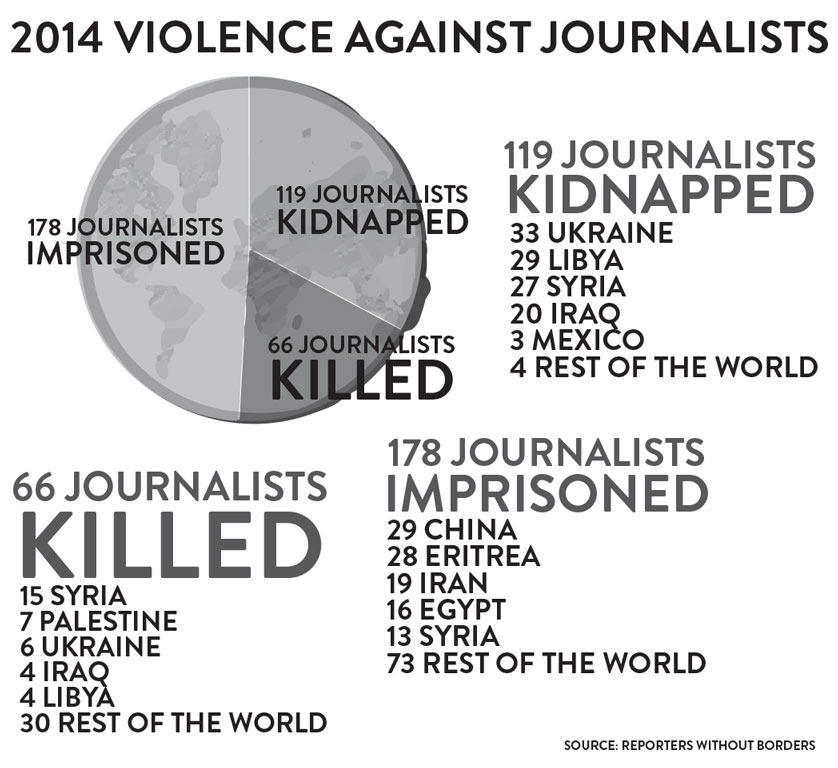 ---
Goto traveled to Syria last fall to expose the experiences of people living in war-town countries. He also departed from Japan to locate missing journalist Haruna Yukawa. Both Goto and Yukawa were killed following ransom proposals that were unmet by the Japanese government.
"Journalism is a civic duty serving as a fourth estate, as a check and balance on the other three branches of government. A watchdog," Ring said.
Without free press and free expression an effective democracy is not possible, according to Ring.
However, with recent attacks on journalists gathering attention around the world, students at Seattle University, especially those pursuing journalistic careers, might wonder what these threats against expression mean for media and journalism.
Junior journalism major Jada Tuggle explained how these attacks and their publicity have affected her pursuit of a journalism career.
"In a way it does hinder me… [but] I definitely still want to continue," she said.
While she said that ISIS's continuous executions are terrible, such actions will not stop her from getting news out to the public.
Sophomore English major Hannah Rips shared a similar sentiment about free speech. She said that at Seattle U, students are taught to think critically, and that fear of the consequences of expression lessens the value of her education.
"Such an essential part of life is to look at ideologies and be able disagree with them," Rips said. "When we start becoming fearful of potential reactions we begin to lose a part of ourselves."
She hopes that these events do not create a world in which satire is feared.
While violence against journalists remains a threat, Seattle U students will not let it hinder them from pursuing their professional goals.
"That is something that I truly believe in—getting the facts and the news, rather than the opinions and speculations out there," Tuggle said.
Peter may be reached at [email protected]
Leave a Comment