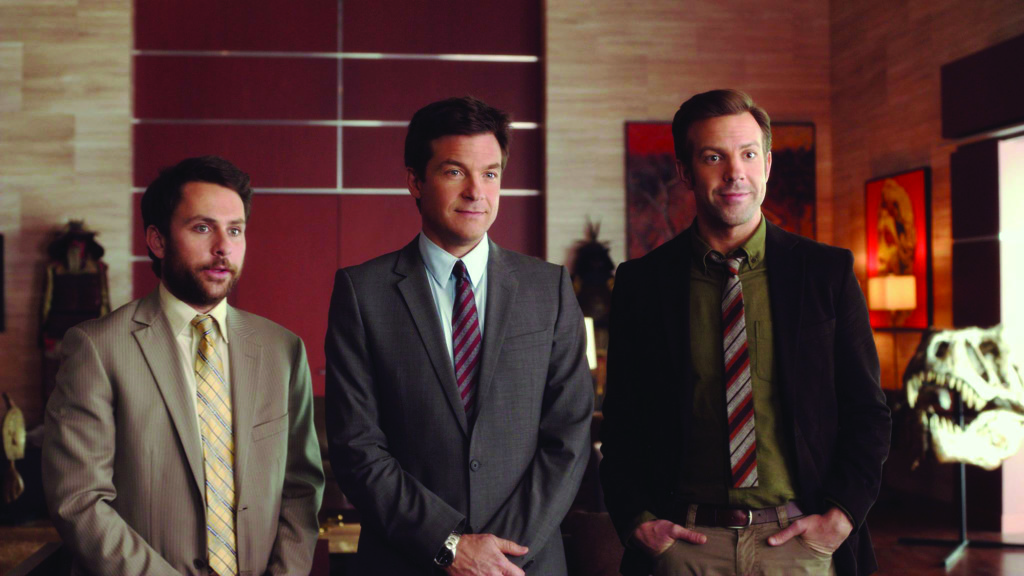 What's worse than working for a horrible boss? How about starting your own business, becoming your own boss, and then failing miserably?
Nick (Jason Bateman), Kurt (Jason Sudeikis) and Dale (Charlie Day) are back in "Horrible Bosses 2" as they quit their jobs and give it a go at creating their own company with a revolutionary new product: the shower buddy. It's basically a shower head that dispenses your shampoo for you. It's genius, right?
Unfortunately there were a few flaws with the business—such as the website name which, when pronounced, sounds kind of like a racial slur. While appearing on "Good Morning Los Angeles" to reveal their idea and seek investors, they make the horrible mistake of saying their company name and fail to land an investment. But although it seems like the company won't get its start, the trio catches a break when one of the number one retailer in the world wants to buy the product.
Bert Hanson (Christoph Waltz), the owner of the company, is moved by their efforts to pursue the American Dream, and places an order for 100,000 units to help get the company started. However, once the order is filled he decides to cancel it, planning to bankrupt the company so he can purchase their products at auction for a small fraction of the original cost. Perhaps he should have attended Albers' Ethics Week.
The trio decides to seek advice from Dave Harken (Kevin Spacey), Nick's horrible boss that the three tried to murder in the original film. I don't know what they were expecting, but he wasn't much help.
Unsure what to do, the group once again decides to resort to criminal action to solve their problems. Their first idea is murder, but that would just be too similar to the first movie's plot, now wouldn't it? Instead they decide to kidnap Hanson's son Rex (Chris Pine) for ransom so that they can use the money to save their business.
To pull off the perfect kidnapping, the three go to their criminal expert M*****rf***er Jones (Jamie Foxx) to seek some advice. Rex figures out what the three are trying to do and decides he wants in on the money. He comes along for the ride after bumping the ransom up from $500,000 to $5 million.
The trio accepts that by going along with Jones's plan they are no longer just ordinary guys who have fallen on bad luck and need to make things right—they truly are criminals. Hilarity ensues.
Bateman, Sudeikis, and Day are a terrific comedic team throughout both films, and they have great chemistry. The original film was hilarious, so it was great to see a continuation of the story.
However, many scenes in the sequel were practically taken right out of the first movie.
Several of the jokes are recycled, and although the crime is different, there are several aspects to the plot that are just too similar; it would have been nice to see some new material.
Still, the movie's all-star cast makes it worth a watch. Just about every big name from the first movie is back, with the exception of Colin Farrell, whose character died in the original movie. But don't worry—the addition of Waltz and Pine more than makes up for Farrell's absence.
Overall, though, the sequel comes across as one big business ploy to make some extra cash off the original. Nick, Kurt, and Dale would be proud.
Harrison may be reached at [email protected]