The Mouthful: Soy Glazed Carrot Rice Bowls with Tahini Sauce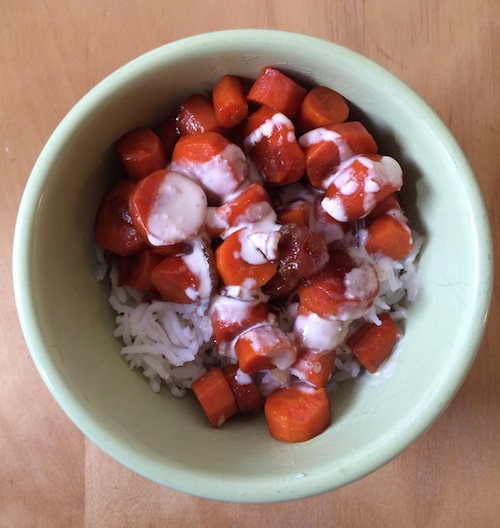 Carrots could use some more love.
This humble taproot is all too often doused in ranch dressing, shredded and hidden in baked goods, chopped up and thrown in soups as a supporting player, or otherwise treated like it's something to be ashamed of.
No more. It's time to embrace the carrot. They're cheap (like, 80 cents for a one-pound bag at Trader Joe's cheap), they have a slew of health benefits (yes, mom was right, they're good for your eyes) and their sweet, crisp flavor pairs well with just about anything.
With little more than a bag of carrots and a batch of leftover rice at my disposal, I created these tasty, wholesome rice bowls. The carrots are braised in a simple soy ginger glaze and finished with a drizzle of sesame oil and tahini-garlic sauce.
Karam's tahini garlic sauce is available in the refrigerated section of many Seattle grocery stores, or you can make your own. Oyster sauce is available in the Asian aisle of most grocery stores. Just a drizzle adds an incredible hit of umami flavor—it's a great staple to keep on hand.
Soy Glazed Carrot Rice Bowls with Tahini Sauce

I kept mine simple, but these would also be awesome made with brown or wild rice and topped with a runny egg, roasted chickpeas, tempeh, black beans, sesame seeds or scallions—pretty much anything!
Serves 2.


2/3 cup dry white, brown, or wild rice
1 tbl olive oil
2 tbl chopped onion
1 clove garlic, minced
1 tsp ginger, minced
6 carrots, peeled and sliced into coins
1 1/2 tbl soy sauce
1 1/2 tsp oyster sauce
2 tbl water
1 tsp sriracha
1 tsp sesame oil
Black pepper, to taste
Tahini garlic sauce, either store bought or homemade
Prepare rice according to package directions. While rice is cooking, heat olive oil in a large skillet over medium-high heat. Add onion to skillet and toss for a few minutes until translucent. Add garlic and ginger and sautee for about 30 seconds, or until it becomes aromatic. Add carrots and sautee for a few moments more, then add soy sauce, oyster sauce, water, and sriracha. Stir and bring to a simmer. Cover and reduce heat to low. Cook until carrots are completely soft and liquid has thickened, about 15 minutes. Finish with a drizzle of sesame oil, black pepper, and salt if needed. Spoon rice into bowls and top with carrots, being sure to get plenty of the pan sauce atop the rice. Drizzle with tahini garlic sauce, add any additional toppings, and serve.
Leave a Comment