Looking at the traditional undergraduate population, approximately 46 percent of students live on campus, including the Douglas. It may seem odd that so many students live off campus for a large university.
"We just don't have the buildings to house them," says Tim Albert, Associate Director of Housing Services and Operations. "If 100 percent of undergraduates wanted to live on campus or had a need, we simply wouldn't have space."
When looking back at the history of the university, the first students to the school were local, and housing for large numbers was not an issue, explains Albert. Even today there is a considerable number of students who are local and living at home.
"It's not easy to just go out and build a new residence hall or to renovate a new building. These are very expensive things," Albert said. "Housing doesn't make that decision. It's not like I sit up here and say 'Let's build that!' That's a decision that is made more at the cabinet level. We want to make sure we are not expanding or adding housing that isn't needed."
Housing has been working to expand housing options on campus. The university worked with developers on the Douglas to expand options as enrollment increased in the past couple of years. Also, over the last eight years, Murphy Apartments have opened up approximately 70 beds that were not previously offered.
The townhouses were opened with expanded bed spaces, Logan Court was added, and Chardin hall was opened, but eventually Seattle U ran out of bed space.
In total, this expansion has resulted in about 200 more beds for permanent housing options. Currently about 2,000 students can be accommodated for on-campus living, versus 20 years ago when only 800 were feasible.
---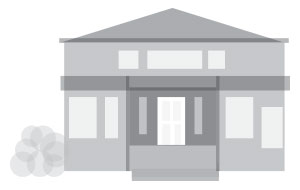 ADVICE FOR YOUR OFF-CAMPUS SEARCH
Timothy Albert has a lot of warning and advice to students moving from on-campus to off-campus housing:
•Make sure you are eligible to live off-campus
•Don't rush into anything. Check the place out and don't sign anything or put a deposit down unless you know that is what you want.
•Check reviews to make sure it's a good place
•Make sure you get an apartment room condition in writing. It's a sign that the apartment is well run.
•Look at what your commute is. Is it safe? Is it reasonable?
•Closer to campus, some options are less affordable than others, but will it be a challenge to get from your house to class? Especially with a 7:30 or 8 a.m. class.
•Carefully consider roommates. Just because someone is your best friend doesn't mean you'll be the best housemates.
•What is your policy on guests? This issue is why a lot of students end up returning on campus during the year.
•Talk to your landlord about house/apartment maintenance.
•Know the Washington State and Seattle landlord/tenant laws. It may not always be what you want it to be. Often these laws still favor the landlords. There are links to these resources on the Housing website.
•Don't assume that because you're off campus you can do whatever you want. Landlords still have standards and expectations.
•Make sure you are a good neighbor and know who your neighbors are.
•Remember the city has quiet hours: 10 p.m. on weekdays, same as on campus.
---

ADVICE FROM LANDLORDS
Benjamen Hodson is the general manager for Barclay Broadway, an apartment building located at 412 Broadway. His advice is to be prepared.
"Come with a list of questions you would ask every property. You need to know if utilities are included, how much is parking, what options are available, and things like that," he said.
Hodson's coworker Zac Strode advises potential leasers to bring their checkbook.
"In case you find something you really love," he said "Sometimes things can get a little competitive, so by having your checkbook you can take it off the market and reserve it right there."
Tyler Carr is a representative for Alder Flats, a new seven-story apartment building on 10th Ave. that is opening this summer.
"Be knowledgeable of the product type," said Carr. "Get out there and look at stuff. Know lease terms for summers, adding flexibility, which is something we are offering. We have flexible lease terms so you don't have to be here during the summer if you don't want to."
Cliff Fletcher and Madeline Jagger from Rianna Apartments suggest that student renters should begin looking early.
"Our building specifically usually knows availability two months ahead," said Fletcher. "Internet-based options, like Craigslist, are a good way to look around and see what's available."
---
DIFFICULTIES YOU MAY FACE
Barclay Broadway representatives say that for student renters, room options can be tough. Many students want apartments with three and four rooms to accommodate multiple roommates, which can make availability tough.
"Just be aware that most apartments only know their availability for 30 days in advance," Strode said. "So we can give you a tour of the building, but we can't say for sure we have certain apartments available four months from now. If you're looking for September, the best time to go and see what's available would be August. If you go any earlier than that, you're just getting an idea of what the building is like."
Jagger explained previous problems with room confusion.
"Students will call and say they're looking for a one room, because they are assuming one bed and a quad room, so actually specifying that them and a roommate are looking is important," Jagger said. "A lot of times I'm quoting a price and they think I'm quoting a price for just them, not the apartment itself."
The Rianna's Fletcher reminds students that it is good to rent off-campus to build up a rental history.
"This way when you graduate and you want to rent an apartment on your own and you don't have to pay this mega deposit," Fletcher said.
---
EXPLORE YOUR OPTIONS
if you're not finding what you want, here are a couple alternatives.
The Douglas
The Douglas is a building in partnership with Seattle University. The Douglas was build through a private developer to help Seattle U fill the need for student housing. The building is on campus, which means the location is ideal for a Seattle U student. The 12-month lease may seem daunting, but the building does offer subletting during the year, and during the summer to non-Seattle U students, so long as they are current students.
Priscilla Umemoto, the building manager of the Douglas, suggests that interested students stop by the leasing office for building tours and information. This is the perfect time for pre-leasing.
"Check out around the area to see if our prices are comparable to everything else," said Umemoto. "We are filling up fast."
Joseph Vandernorth is the marketing director for Blanton Turner, the marketing management group that works with Seattle U Housing and runs the Douglas. Vandernorth suggests checking out the website for the latest information to stay up-to-date.
"Try to activate our Facebook and social media so you can get more information and a feel for what it's like to live here," said Vandernorth. "The website has some great images." The Douglas offers a student study lounge, Seattle U wireless internet, furnishings and individual leases. In addition, all utility costs are covered in the rent costs.
"You're getting the private apartment experience without all the stress," Vandernorth said. "You can sign a lease for the fall, go home, enjoy your summer, and not worry about your roommate situation or showing up to Seattle early to compete with the Capitol Hill rental market."
---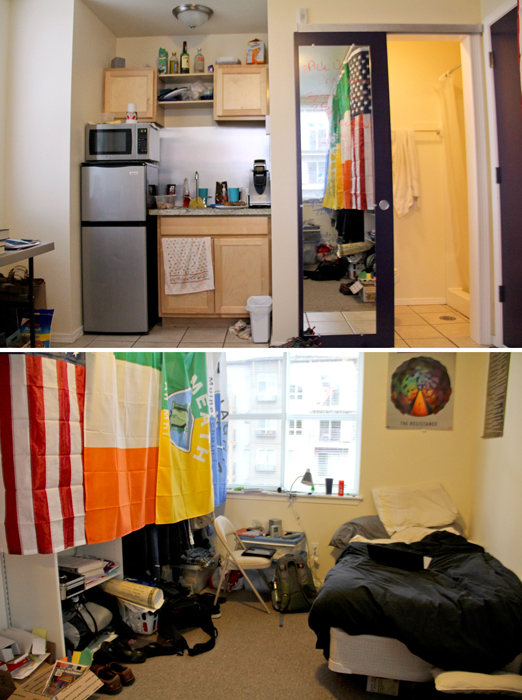 This Seattle U student's aPodment is big enough to include a small kitchen, bathroom and bed. The aPodment building houses eight different units, as well as a communal kitchen and washer and dryer.
aPodments
Fairly new to Capitol Hill is this microhousing option. This issue is quite controversial with the Seattle residents, but its intended purpose is to bring back affordable housing to the Seattle/Capitol Hill area, as reports the Seattle Times.
aPodments are replications of dorm-style living. According to the slides shown at the city meeting on April 18, these living areas are 150 square feet. This is just slightly larger than a medium parking space. Some of these rooms currently offer private baths, kitchenettes, and microwave and refrigerator.
The Terrazza building is located on 11th Ave. with rent around $600 a month including utilities and Internet.
Remember to be educated and prepared as you set out for an apartment or house in the area. Capitol Hill is one of the most densely populated neighborhood of Seattle. Such a popular neighborhood brings expensive living, and finding a good and reasonable living situation can be a stressful ordeal. Plan ahead and make sure you and your potential roommates get housing taken care of as quickly as possible. Let the search begin.
Veronica may be reached at [email protected]