Great Experiences Give SU Student 'Life Credits'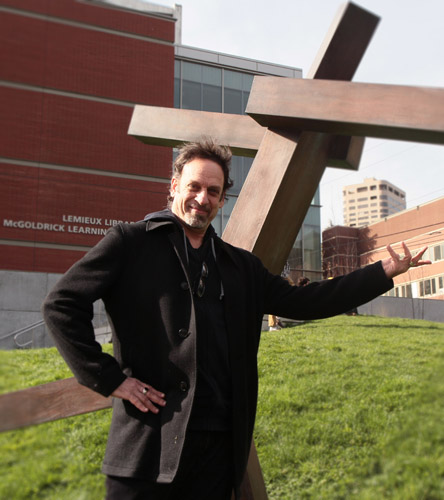 He may not always study history, but when he does, it's after a professional ballet career, traveling to 26 countries, and working with the circus. He is quite possibly the most interesting man on campus.
Adam Miller is a student at Seattle University pursuing a degree in history. Although quite a bit older than the average student at this school, Miller enrolled for his first quarter last fall and is studying full-time and getting through his Core requirements. He is also teaching a dance class at Ballet Bellevue.
It could be assumed that Miller would be working toward a degree in performing arts, theatre or dance. University of Hartford even told him they could give him a degree faster by awarding him "life credit" for his career experiences.
"But I already do that all the time," said Miller. "In my 30s it would have mattered a lot because there are a lot of teaching positions where having a degree helps. Now, I've gotten so old, chances are I'm not going to get that job because I'm so old."
Dancing has been a long enduring passion for Miller. Growing up, his mother was a stage manager in the theatre and as a child he was in professional plays, especially enjoying the dance aspect of performance. While living in New York he took dance classes and eventually went on to study at North Carolina School of the Arts and later pursued a professional ballet career.
Miller danced for five years with the Pennsylvania Ballet and six years with the Pacific Northwest Ballet, where he was a principal dancer (1980-86). He moved on to dance with Les Grands Ballets Canadiens and the Hartford Ballet in Connecticut. After his performing career, Miller began to teach, choreograph and direct shows. In Hartford he started his own ballet company and taught at the University of Hartford.
In 2006, while directing the dance festival in Provincetown, Mass., Miller was asked to teach a dance class to Cirque de Soleil performers. After numerous job offers, Miller joined Cirque in 2008 as artistic director for the show Saltimbanco and traveled with the show for a year and a half.
"When I joined, it was like, 'How could you not join the circus?'" he said.
After working with both ballet dancers and circus performers, Miller notes the many differences between the artistic work and the individual performers.
"With a circus show it's almost more like working with an Olympic athlete," Miller said. "They spent their whole career building the skills so they can do a lot of different ballets. They spent their whole career taking a lot of skills and a lot of work to perfect one thing. They're doing the same show every day."
The culture of circus is quite different. Many of the performers grew up putting up the circus tents, selling the tickets and making the popcorn. Others went to circus school for the intense training needed for the shows.
While traveling with the circus, Miller has seen some amazing and funny things.
The Spanish high wire men came from six generations of performers. At one point the duo team for the Wheel of Death act absolutely hated each other, even throwing shoes during practice.
"Some of the clichès about Colombians being these hot headed Tony Montana guys, well it was true for these guys," Miller said. "They would shout things like 'My brother gonna kill you!' and I'm saying 'No one is going to kill anyone. Put the wrench down.'"
Besides the drama, even the routine was out of the ordinary. There was always a good laugh at the weekly meetings when performers would discuss their injuries, Miller said.
"Often times the nagging injury of the performer was obviously because what they were doing was ridiculously extreme. His shoulder hurts? That's probably because he was balancing on one hand for five minutes. The contortionist's lower back is sore? Of course it is. You're not supposed to fold in half backwards like that."
Although the circus was a great deal of fun, and a once-in-a-lifetime experience, Miller felt that after a couple of years he was finished with
that lifestyle.
"Almost four years of being on tour was enough for me," Miller said. "Plus, I really missed dance. I missed directing, I missed teaching, I missed being part of dancers. As much as the circus was an exciting experience, it took me away from a lot of my artistic interests."
While studying and teaching, Miller has no trouble balancing the two, but there is a large struggle to keep up with his domestic life. His apartment is in Seattle, his girlfriend lives in Redmond, they own dogs, and there's a lot of driving.
"There's a lot of 'No, I can't go out. I can't go out, I have to study.' It's weird because, you know, I'm old."
Veronica may be reached at [email protected]
Leave a Comment