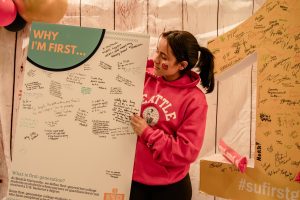 Nov. 8 marked National First-Generation Day, which recognizes students whose parents or guardians have not received a bachelor's degree. Seattle University is one of many colleges that celebrates first-gen students, particularly by holding a first-gen event in the evening and running a photo booth all day. 
This year, the Outreach Link held a first-gen open house event with food, music, activities and gifts as a "pre-party" to the first basketball game of the season. Students and staff attended while surrounded by others who identify as first-gen to be immersed in a warm community where first-gen students can feel a sense of camaraderie with one another.
Sam Grande, a fourth-year film and media studies major, shedded light on the reality of being first-gen that a lot of people do not realize. For most of their lives, the goal has been to just get to college and be that first person in their family, but once they make it to college, it is hard to find that much-needed guidance from their family since they are the first. 
Grande spoke to how most first-gen students are disadvantaged when they begin college.
"[First-gen students] barely make it out of high school without family members who really know what they're going through, and then in college, it's like okay, you're here. What now?" Grande said. 
Students with parents who have attended college are offered more guidance, assurance and help, while first-gen students can feel deprived of that particular preparation.
Grande started at Seattle U in the fall of 2020, the peak of COVID-19, ultimately making the transition and finding that community even harder. The offices that would typically be a safe place for first-gen students, like the Outreach Link and the MOSAIC Center (previously known as OMA), were closed at the time. 
"Although you do have some kind of community or you end up finding a community, you also seem to realize that there's not many resources there for you in a college like this. You find these little pods of people who work to find those resources, and that's super helpful, but it's not easily accessible sometimes," Grande said.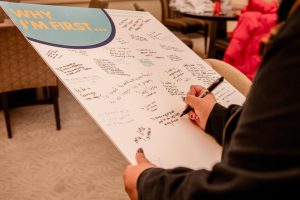 In 2018, 14% of Seattle U's students were first-gen, including undergraduate, graduate and law students. The MOSAIC Center and the Outreach Link are resources on campus where first-gen students can seek personalized help and offer assistance from others who can relate to their unique experience as first-gen. 
Anthony Ansay, the assistant director for Lifelong Alumni Engagement with the Alumni Association, talked about his earliest memories of navigating the educational system as a first-gen student, having immigrated to the US from the Philippines in 2013. Ansay was tasked with dissecting housing and financial aid all by himself while simultaneously facing the culture shock of being in a new country. 
Ansay attended community college, then the University of Washington for undergrad and Seattle U for his Master of Business Administration. 
Ansay's involvement in student government and various cultural associations helped develop a sense of belonging and community. Building community made the transition to a new place worthwhile. 
"I got involved with the Filipino American Student Association, so I was able to get to know people from there as well," Ansay said. 
He also spoke about the importance of continuing to develop his identity in a new place. He was tasked with dealing with outside opinions, family influence, finding a job and figuring out what made him happy.  
"Filipino families, they're like, 'Oh go for a medical field,' and for me, I'm like, 'Eh, it's not really for me.' And it's good that it works for some people, but it's not really what calls for me," Ansay said. 
Ansay strongly believes that the people you meet in school are most likely some of the best people that could be in your life, so take advantage of that. 
"Put yourself out there, meet people, get involved, that way you'll be able to build community," Ansay said. 
First-gen students often face challenges that a "traditional" student could not imagine.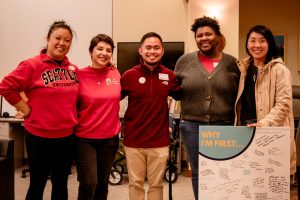 Luisa Arcila Molina, a second-year civil engineering major born in Colombia, moved to Seattle four years ago and said it has been challenging finding a community and making friends.
Molina is used to the culture in Colombia and making friends differently, but what has helped her with not just her transition but finding that community has been creating meaningful relationships with her professors. 
"[Professors] are pretty nice, and they're open to talking, not only about school stuff but also mental health," Molina said. 
While she finds managing her workload challenging, incorporating sports like lacrosse helps to create a balanced lifestyle for her. She hopes other first-gen students stay open and positive and encourages them to try everything out amidst the challenges they will inevitably face. 
As rewarding as it can be to be the first in your family to complete college, it is far from easy. First-gen students tend to have a harder time seeing the light at the end of the tunnel, but they become the backbone they need while hurdling all the obstacles to getting to the end goal: graduating and being the first.