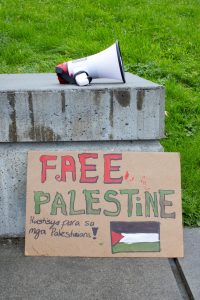 Last Tuesday, Nov. 7, the Seattle University Students Justice for Palestine (SUSJP), United Filipino Club (UFC) and Students for Sustainable Action (SSA) held a rally and teach-in outside of the Lemieux Library. Around 200 students attended, as club representatives "call[ed] for an end to the siege on Gaza" and advocated for the Seattle U community to stand in solidarity with the Palestinian people.
The focus of the rally was to draw attention to the impact that the ongoing bombings in Gaza have had on its citizens, and to recognize that the recent developments taking place are due to a historical conflict. 
Associate Professor of History and International Studies and Director of Women, Gender, & Sexuality Studies Nova Robinson specializes in modern Middle Eastern history and international human rights. In an interview with The Spectator, she explained that while Hamas–a political faction deemed a terrorist organization by the United States and other world powers–was elected in 2006 and provides some social services and financial aid to Gaza citizens, it has very little popular support in Gaza and the majority of civilians are critical of it.
"On some levels, people in the Gaza Strip are living under two forms of authoritarianism: the Israeli-imposed blockade of the Gaza Strip that has been ongoing for 16 years—that means that there is no free passage by land, water, or air into the Gaza Strip—and then they have a system of government that they are living under that is not democratic by any means," Robinson said.
At the Nov. 7 rally, students gave speeches voicing their concerns and opinions, and there was a portion that gave context about the history leading up to the recent developments in Gaza. At the end a poem was read, followed by the speakers asking that those who were in attendance lay on the ground while the names of those who have been killed in the Israeli airstrikes were read aloud.
Members from SUSJP and SSA agreed to be interviewed on the condition of anonymity after Arab and Muslim students, and students in Pro-Palestinian organizations on other campuses, have faced doxxing, threats and violence. One of the members shared how students have responded in the past to political conflicts and the impact that role has.
"Students have played a pivotal role in international crises. We've seen that with Iraq, Afghanistan, the Vietnam War and South African Apartheid. Students have played a really important role in pressuring their institutions and governments to address these issues or divest from them or boycott them," an SUSJP member said. "I think students have a responsibility, especially at SU, to be empowered for a just and humane world and not practice that in theory."
SUSJP has made three formal demands of the university in an open letter cosigned by 37 other campus organizations and clubs: "publicly acknowledge the US-supported Israeli genocide of Palestine," "cut ties with the Boeing Company," and to "affirm and carry out the May 19th, 2021 Student Government of Seattle University (SGSU) Resolution on Solidarity with Palestine and Seattle University's Palestinian Community."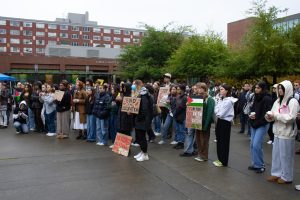 A member from the Muslim Student Association (MSA), who requested to remain anonymous, alleged that the United States citizens' taxes fund the arms being sent to Israel, and speakers at the event also brought attention to the ties Seattle U has with Boeing. 
"It is our taxpayer money that is going toward the current violence in Palestine. It's not just us watching as folks from the sideline. It is our money that is actively going towards Boeing and other weapons," the MSA member said.
SUSJP and UFC consulted with the administration to see if they could have Jewish Voices for Peace (JVP) deliver an educational message about the difference between Anti-Zionism and antisemitism. The on-campus demonstration policy recognizes the rights of students and other members of Seattle U to express their views by peaceful protest. Campus demonstrations may be conducted when they do not pose a risk to welfare or others.
However, SUSJP and UFC were informed in an email that the speaker policy specifies that the Dean of Students may prohibit a student group from inviting an outside individual if there is reason to believe that doing so may potentially incite violence towards others, threaten university community members or pose a risk to university activities and functions. JVP, an outside party, was denied speaking rights at the rally.
Organizers of the rally were faced with challenges in planning the event, specifically the tight turnaround. With the rally being approved less than a day before, outreach to students and faculty was limited. An SSA member explained that there were concerns that the rally would potentially disrupt Homecoming Week, overall slowing the process of getting approval. 
"The entire process of trying to get approval for this rally, being faced with red tape and being censored at every corner, and being warned the night before that Public Safety and the Seattle Police Department were notified says something about how the university views us and how the university wants others to view us," an SSA member said.
"Just recently, Columbia University suspended SJP students and JVP. These are two organizations that have been advocating for Palestine rights," an MSA member said. "It raises some red flags because universities are supposed to let students use their voices. When we're seeing a particular kind of crackdown on promotion of student values, I think that's very important to highlight." 
Despite JVP being unable to speak at the rally, a Jewish Seattle U graduate student and Robinson delivered information about the differences between Anti-Zionism and antisemitism, as well as highlighting the difference between political ideology and faith.
"This is not a religious conflict at all. It's not Muslim versus Jews and that's what we've been seeing in the news. People will often use the terms like antisemitic or Anti-Zionist very casually without really understanding what it means…a lot of people supporting the Palestine people are Jews, like Jewish Voices for Peace," an MSA member said.
Robinson also expressed in the interview that many major media outlets have not properly historicized their coverage or platformed nuanced perspectives, and drew attention to how civilians have been disproportionately harmed by violence from Hamas and the Israeli government.
"I try to take a perspective that recognizes the suffering that has led to this conflict, and the suffering that this conflict continues to perpetuate," Robinson said.
An MSA member also touched on how they were happy to see supporters from multiple different faiths and identities in attendance at the rally.
"Why do people from other backgrounds and other cultures care about this issue? It's because it's one that stems past the Palestinian borders and boundaries. All the struggles are interconnected internationally. This is an issue of settler colonialism and that's why we're seeing support for the Palestinian people all over the world," an SUSJP member said.