When You Think of Homecoming, What Comes to Mind?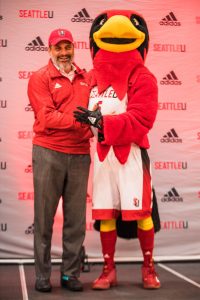 For many students, cringeworthy memories of school dances and football games may spring up. In my extensive research for this article, I found a Homecoming proposal that said "U and me at Hoco?" except the "U" was the Lululemon logo and from a high school boy who bribed a yes through the gift of yoga pants. 
Some students may be surprised to know that Homecoming is a tradition that extends to Seattle University as well. 
During the week of Nov. 6-12, Seattle U's official Homecoming was filled with a variety of events. Instead of tailgates and gymnasium dances, different student organizations hosted Smorescoming, Drag Bingo and the election of Homecoming royalty to name a few.
Marissa Robledo, the director of the Center for Student Involvement (CSI)—the hub for engagement on campus—described "the point" of Homecoming. 
"Homecoming is an opportunity to invite alumni back to campus to relive why they chose Seattle U. From a student level, it is also a chance to engage with activities, feel school pride and remember why they chose SU," Robledo said, who elaborated on the student-led nature of this year's celebration. "This year we have empowered our student organizations to plan the events. In the past, it would largely be decided administratively what would be put on."
You get BINGO! 
Caitlin Haydon, a fourth-year marketing major and the executive director of the Student Events and Activities Center (SEAC), helped put together the third annual Drag Bingo, hosted this year by season 13 "RuPaul's Drag Race" contestant LaLa Ri. 
Haydon, who was in charge of reaching out to agents and drag queens from RuPaul's Drag Race, eventually helped secure LaLa Ri to host the event.
"The event went really well!" remarked Haydon, who mentioned that people were already lining up outside the Campion Ballroom an hour early. All of the tables were full, and a lively atmosphere was created by the charismatic LaLa Ri and the over 200 people in attendance. 
Drag Bingo is an example of a student-led event that doesn't fall under the umbrella of a traditional Homecoming. 
"Drag Bingo is something that resonates with our community. Celebrating queerness is something that brings people together on Seattle U's campus," Haydon remarked.
While hoping to bring together the Seattle U community, notably, not many alumni were in attendance for Drag Bingo.
Events like the Homecoming rally in the UREC gym on Saturday morning were both more traditional and more oriented toward alumni and families. In preparation for the men's basketball game, there were tables set up for mingling, a stage set up for performances, face painting and even a lawn where a bouncy house was set up.
As much as I was compelled to jump around, I refrained due to fear of accidentally landing on top of a future member of the class of 2039. 
Touching on students' surprise toward having a Homecoming at Seattle U, Haydon finished our conversation by mentioning that it comes at an awkward point in the year, already being eight weeks into the quarter. Furthermore, she wasn't confident that alumni turnout was near the point the school's administration wanted it to be. 
Is Seattle U Royalist?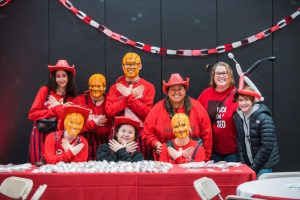 One of the most traditional parts of Seattle U's Homecoming week was the election of Homecoming royalty. Rather than your typical binary– king and queen– Seattle U had no gender requirements or titles assigned. 
When asked the simple question of why we should care about Homecoming court, Robledo offered a simple answer.
"Students should care because these students represent what it means to be a Redhawk." 
The symbolism of Homecoming court is about representing the campus community. Students, faculty and staff could all vote for the nominees, but their choices were limited. There were only four candidates for this year's court: basketball stars Matthew Levis and Erin Tarasow, and Redzone and Dance Team members Sabrina Choy-Velando and Angelina Spitzauer.
The results of the election were announced during the third quarter of the men's basketball game on Saturday. Given Levis' preoccupation playing in the Homecoming game and Tarasow's trip to UC Irvine, the crowning of Choy-Velando and Spitzauer brought a sense of Homecoming spirit to all nominees.
For Choy-Velando, a fourth-year double major in sociology and Spanish, Homecoming court was not something on her radar before she got nominated. 
"At least at first, it was 'for the bit'," Velando said. "[But after considering it] Angelina [Spitzauer] and I decided that we really do involve ourselves at Seattle U enough that it makes sense to run for real."
Involved in many different aspects of campus life, Choy-Velando changed her thinking about Homecoming court to be about the legacy she has left at Seattle U.  
"It's not just a popularity contest for flowers and a tiara," Choy-Velando said. "It grants me some relief that I didn't just waste four years of my life."
For Spitzauer, the other newly crowned monarch of Seattle U, fourth-year biology major and president of Redzone, an election to Homecoming court was about bringing people together, rather than setting anyone apart. 
"I am a part of very different parts of campus on purpose. I want to be the middle ground to help bring people together," Spitzauer said, whose involvement, she hopes, can be a home ground during Homecoming. 
How Big is Our Nest? Does Homecoming Welcome Everyone? 
For Graham Gallagher, a third-year psychology major and double transfer student who started attending Seattle U last winter, Homecoming was a unique experience. 
"I had a great time at Smorescoming," Gallagher said, joking about the thought of roasting marshmallows in the middle of Capitol Hill. "When I think of a traditional college Homecoming I think of it as being a week where sporting events are prioritized. Branching out to student life that isn't sporting events is an anomaly in and of itself." 
In Gallagher's experience at other schools, namely Columbia and Westmont, he described there being one event you had to go to in order to say 'I went to Homecoming'—typically in the form of a football game. 
However, when asked about his first Homecoming at Seattle U, he noted the value of the smaller-scale, non-traditional campus events that were offered. 
"I think it is what you make of it," Gallagher responded, when asked about what it's like feeling part of the campus community as a transfer student. "Going to these types of events is how I've met a lot of my friends."
Similarly, for Karim Jooma, a 2L student at Seattle U's School of Law and graduate of the University of Washington, the surprise around Homecoming wasn't necessarily a bad thing.
"There is an aura developed by being located in Cap Hill, not having Greek life, not having a football team, having an undergraduate population of less than 7,000 people. Those aren't bad things, but they make Seattle U, Seattle U," Jooma said. "The expectation is for Seattle U to represent school spirit in different, non-conventional ways. Drag Bingo is a great example." 
As a grad student, Jooma doesn't feel a connection to events like Homecoming, but does not find that to be problematic. 
"As a grad student I definitely see the informational posters and posts, but there is a disconnect," Jooma remarked. "With more focus on your schooling than being a part of the undergrad community, events like Homecoming feel more tailored to the undergrad experience." 
Nevertheless, offering a comparison to his time at UW, Jooma remarked on the nature of Homecoming being made up of multiple events rather than centered on one game or rally.
"Because SU is small enough, we can have these types of events reach a larger percentage of the student body than would be the case at a large state school," Jooma said.
Home is Where the Hawk Is
Members of the campus community, present and past, made home where the hawk is last week. 
According to Robledo, "This year, involvement in general has seen major increases. Students and the community are wanting to engage and be a part of something bigger."
As campus life resurges after quarantine restrictions,  more and more students are willing to be outgoing, cringeworthy and full of pride—especially when it comes to school spirit.