With the onset of colder weather, flu season is quickly approaching, when influenza becomes most contagious and other respiratory illnesses become rampant. To take precautions, Seattle University encourages students and faculty to receive their flu shot and COVID-19 vaccine at the clinics being held on campus. However, as the university recently reverted their medical plans back to their pre-pandemic levels, questions of on-campus accessibility to vaccines have been raised.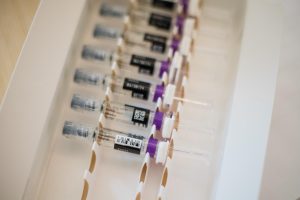 In the past, Seattle U has held no-cost vaccination clinics while not requiring students to bring their insurance at all. Though in April of this year, the university reversed benefits they were providing students when the federal government declared that the Public Health Emergency for COVID-19 would be ending May 11. 
In light of this recent development, Vice Provost of Seattle U Alvin Sturdivant  expressed that accessibility to no-cost vaccines remains a major priority for the university.
"The accessibility of vaccines and clinics for all community members is paramount and remains a commitment for Seattle U," Sturdivant said. "Students should expect that we will continue to prioritize making vaccines accessible for our community."
Nov. 1 marked the first vaccine clinic held this year by Seattle U in which they administered both flu shots and COVID-19 vaccines for students and faculty with or without insurance, hosted by the Seattle Visiting Nurse Association. For those without insurance, a flu shot would be $50 out of pocket and a COVID vaccine $200. 
Tara Hicks, director of the Student Health Center, spoke on the importance of vaccines for students. 
"By reducing the risk of illness and severity of symptoms, students benefit academically because there is a reduced risk of illness impacting their ability to study and attend class," Hicks said.
The rate of how quickly influenza can spread is especially high amongst university students, as dozens of  students are packed into one room for a lecture; a single sneeze or cough can potentially infect everyone else. According to the National Library of Medicine, students who become infected with the flu suffer from lower academic performances, experience negative consequences to their well-being and are prevented from participating in social or extracurricular activities.  
Though the clinic held Nov. 1 did not have cost alternatives available to students who did not have compatible insurance or the money to pay out of pocket, another on-campus clinic is going to be hosted Nov. 17 by the Washington State Department of Health. This clinic will have no-cost options available and students will not have to pay for a vaccine if their insurance is not accepted. 
Despite minimal to no-cost vaccines and clinics being available off campus, there is an accessibility advantage posed by the on-campus vaccination clinics. Hicks had concerns regarding whether or not students would take the time to get vaccinated if clinics were not made available on campus For those who are more indifferent to getting vaccinated, Hicks hopes that the accessibility of an on-campus option would encourage them to attend.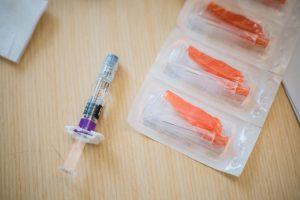 "The people who are in the middle will more likely be vaccinated if it is easily accessible and there is minimal to no out-of-pocket cost," Hicks said.  
Even with the convenience posed by on-campus clinics, students without insurance face financial obstacles as they will be required to pay out of pocket. First-year Finance Major Henry March will be unable to get vaccinated on campus because his insurance does not cover the costs, and he has other finances he is more concerned about. 
"College students have many expenses. I just did not have the money to cover the vaccine," March said. 
Not only do incompatible insurance plans pose a problem for students, but whether or not they can attend the clinics in the first place is an additional barrier. When asked about the Nov. 17 clinic, March said he will be unable to attend because of his schedule. 
Seattle U recommends that if students cannot make it to either the Nov. 1 or Nov. 17 clinic, they should receive their vaccines at Walgreens or CVS.