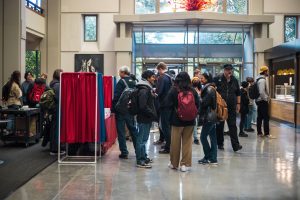 The Student Government of Seattle University's (SGSU) fall election had six senator positions on the ballot while also introducing in-person voting.
Isabelle Alamilla, president of SGSU and a third-year business management and business analytics double major, stated that the introduction of in-person voting increased voter turnout, piquing new interest in the election process. 
"I think [in-person voting] really changed the culture of how Seattle U votes and how they interact with voting," Alamilla said.
The senators running for election this fall, as well as those elected in the spring, are essential for SGSU to better serve all students. Alamilla explained that the purpose of senators is to ensure that every student has at least one representative advocating for them. 
"Especially in spaces where [SGSU] is privileged to be in rooms with administration and faculty, these roles are essential to improving students' college experience at Seattle U," Alamilla said.
Such improvements include projects that senators work on. Recently elected Multicultural Senator Rebeka Berhanu, a third-year political science major, is hoping to start a project to add a resource center to the Intercultural Link, a student lounge affiliated with the MOSAIC Center. 
"I want to create a space where people of color feel comfortable coming in and asking questions in regards to major and career opportunities that they're not aware of," Berhanu said.  
As a member of Seattle U's Black Student Union and African Student Association, Berhanu expressed her peers' concerns over the lack of inclusion and representation of people of color, particularly Black students. She believes that an additional resource center can help combat this issue and provide students with the information they need to be successful.
Similar to Berhanu, Second-year Pre-business major and International Senator Tarunika Arun is hoping to provide additional resources and spaces for international students.
Over 10% of Seattle U's student body is comprised of international students representing 62 different countries. Tarunika mentioned that while there is a variety of clubs, including cultural ones, on campus, she hopes to provide a community for all of them.
"I know that there are a lot of international students who don't have cultural clubs for where they're from. I'm hoping to help these students create clubs where they can host events on their own," Arun said. "I'm really trying to encourage inclusion."
Liana Gurule, a first-year criminal justice major and the College of Arts and Sciences senator, is also looking to increase opportunities for her constituents, particularly for those in the arts. She recognized that one of the advantages of going to a smaller university is the relationship students can build with professors, which benefits many students when it comes time to search for a job.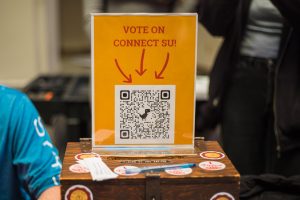 "A lot of job opportunities can come from professors, but I feel like that's not as easy for those in the arts," Gurule said. "I'm hoping to bring more opportunities for them in that way."
First-year Senator and Academic Pathways major Olivia Alicea, is hoping to benefit from the seemingly heightened first-year engagement—particularly through community events and engagement. She hopes first-years will continue to immerse themselves in campus events and culture.
"At the beginning of high school, everyone always told you 'Get involved, get involved, get involved.' I think the same applies to college. If you get involved, you're just going to have a much better college experience," Alicea said.
While each of the newly elected senators have their own projects they're hoping to introduce, SGSU is continuing to work on ongoing ones, including the Tuition Increase Resolution. The resolution, which was passed at the end of spring quarter, is working to combat the 5.78% undergraduate tuition increase for the 2023-24 school year. In hopes of providing students with financial assistance, SGSU is working to boost donations to help students fund their education.
"We pledged to help alumni and advancement increase donations from donors. That way it offsets the burden of having a massive tuition increase," Alamilla said.
Projects similar to Tuition Increase Resolution aim to improve the Seattle U student experience and are the result of student voices. 
With the senate fairly rounded out, SGSU will begin to get back into the swing of things as they seek to address constituent concerns, while also working to garner student engagement.