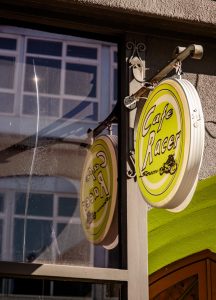 With a "for lease" sign looming in the front window, Cafe Racer, a Capitol Hill music venue familiar to many Seattle University students, has closed its doors. Citing rising expenses and stagnant revenues, Cafe Racer made an Instagram post Oct. 27 stating that they are fighting for the dream to stay alive, and hope to "have a deal next week and reopen by mid November." 
Though a precarious situation, this is not the first struggle Cafe Racer has survived. Following a tragedy where a gunman killed four people in 2012, a community effort came together to keep the space afloat. Five years later, the venue, originally located in University District, shut down again due to financial woes. This led to Cafe Racer's sale to current owners, Cindy Anne and Jeff Ramsey, who kept the Cafe profitable for a time and made the move to Capitol Hill. 
Unfortunately, like many businesses, they shut down toward the beginning of the pandemic, and now face trouble paying rent and taxes. 
What Cafe Racer offered was a welcoming place for art and music to be performed and enjoyed. Located in the heart of Capitol Hill and open to all ages (until 10 p.m.) Cafe Racer made it an important place for many members of the Seattle U community. 
Gabriel Albert, a second-year political science major, was a common attendee, and provided insight on the function of Cafe Racer, as well as details on what it was like to perform there. 
"It's a cafe during the day, but a bar at night," Albert said, who has mainly been in attendance in the evenings for live music. "Being an amateur set up it felt pretty professional, and one of the best parts was it was never empty. There would consistently be 25–30 people in the audience. It was the thing to do on a Tuesday night. Cafe Racer was a great outlet for local musicians. I'm not sure there is any other place to fill that role." 
Zach Hochstein, a second-year interdisciplinary arts major with a specialty in art leadership, is a member of the band "All Friends Here," and has performed at Cafe Racer a number of times.
"I'm pretty sad about Cafe Racer closing. It's the closest venue to me that I feel familiar with. I've played there, my friends have played there, I have a connection to it," Hochstein said, who was caught off guard by the closure. "It all felt very sudden. I went to a show at the beginning of October, and the owner was outside while we were in line and let us know this would be the last."
Hochstein would typically attend Cafe Racer on Tuesday nights when they would host an "Open Mic Night." With the ability to sign up either as an individual or a group/band, people would bring their own instruments and have a 10 minute set to perform what they wanted.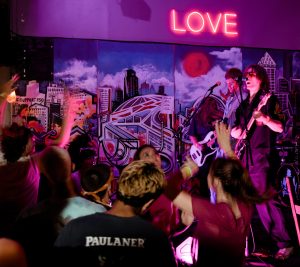 "If you sign up on your own, you can specify your instrument and perform in a jam session with other people," Hochstein said, who elaborated on the vibe of Cafe Racer, especially to amateur musicians. "It was very community-based, their events and the way they handled their clients and performers. It was very welcoming and open."
Unfortunately, with the closure of Cafe Racer, Hochstein is unfamiliar with many other venues in Capitol Hill that offer similar "Open Mic" opportunities. 
Kaya Brown-Carveth, a second-year criminal justice major, would often attend the open mic nights with her friends. Unaware of Cafe Racer's closure until being contacted for this article, Brown-Carveth had a similar feeling of disappointment—emphasizing the value of a place for artistic expression. 
"There really aren't too many other places in Capitol Hill, for people who are younger than 21, to see and perform live music," Brown-Carveth said, who felt that the all ages aspect at Cafe Racer was one of its main appeals. "Lots of different people could come in and express themselves in an open environment. It didn't matter what your experience level was, everyone was welcomed and the crowd was supportive."
Brown-Carveth expressed how important it has been for her to be able to develop a connection with other people at Seattle U who value music as highly as she does. 
"I feel like we deserve places to express and enjoy that art," Brown-Carveth said. 
A vital tile in the mosaic of the Capitol Hill and Seattle U community, Cafe Racer was a musical venue for any and everyone. And for students who used it as an outlet for musical expression, it hopefully will be again.