Despite Kaiser Permanente reaching a tentative deal with union members across the nation, Western Washington healthcare unions have declined the offer, asking for higher pay and better benefits. Washington is now the only state where Kaiser workers intend to be on strike. 
For over six months, unions and board members deliberated on a new deal that would benefit the unions and the Kaiser corporation. Because Kaiser did not agree to their requests, unions went on a three-day strike beginning Oct. 1, demanding higher hourly minimum pay, greater benefits and increased staffing. 
If Kaiser Permanente workers of Washington fail to reach a deal with health care providers by Oct. 31, a strike will occur. In the event that that happens, 3,000 Kaiser Permanente employees across 36 locations will walk out, the union announced. 
This marks the largest healthcare strike in American history, with over 75,000 healthcare workers participating. Though only lasting three days, this strike signified a trend of American workers moving toward another labor movement.
The new contract—agreed to by all workers except those under Washington healthcare unions—lasts until October 2026 and includes performance based bonuses, higher wages for night shifts and a higher minimum salary of $23 per hour, rising by 5% every year to adjust for cost of living increases.
Experts in Seattle speculate that this is still not a living wage. Seattle is ranked by many sources as one of the most expensive cities in America, with the cost of living sitting 50% above the national average. The National Low Income Housing Coalition reports that to afford two-bedroom housing in Seattle, renters must make a minimum of $40 per hour, almost double of what was given to Kaiser workers.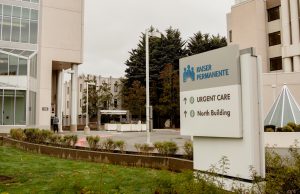 From 2017 to 2020, Gregory Adams, CEO of Kaiser Permanente, nearly tripled his payroll, from just below seven million to nearly eighteen million in 2020. A Kaiser Permanente worker, who wishes to remain anonymous, commented on how union members in his area feel about the CEO's rise in pay.
"The overall consensus is that they get paid too much. There is an increasing need for services, but the amount of staffing has not been increased."
According to Butch de Castro, dean of Seattle University's College of Nursing, short staffing is common in many hospitals.
"There has been a number of shortages with nursing staff occurring across the country," de Castro said. 
This is not the first time Kaiser Permanente unions have voiced their opinion about understaffing. In 2017, the union's main agenda was to push for safe staffing. This not only benefits workers, but also helps patients get timely care. 
In a study that researched the safety implications of understaffing among nurses conducted by Stephanie Andel, researchers found that, "nurses who are in units experiencing higher levels of expertise, understaffing may be especially likely to feel mentally 'stretched,' leading to more cognitive failures, such as lapses in memory, perceptions or attention."
Kaiser workers reported the same dilemma to The Washington Post. Business reporter Aaron Gregg wrote that, "Workers told The Washington Post that the staff shortages are at a breaking point in many clinics, resulting in a worsening of patient care and an erosion of mental health among front-line providers."  
The treatment of these nurses has wide reaching implications for the future of healthcare. Data from the National Council of State Boards of Nursing reflects that by 2027, nearly one-fifth of the 4.5 million registered nurses in America plan to leave the workforce. 
To Sarah James, an organizer for Workers Strike Back, the answer to why Kaiser continues to neglect the needs of their staff is simple.
"Because they can," James said. 
James also spoke on the complications of healthcare strikes due to union contracts. Healthcare workers can only strike at a certain time, minimizing the impact they have on corporations. 
"They just don't have enough leverage," James said. 
If given more leverage, James believes these unions would have been able to receive more benefits and far better pay.

Considering Kaiser Permanente's work with unions in recent years, Western Washington workers will have trouble receiving all they are asking for. If a new deal is not reached within the next week, union members will strike from Nov. 1–8.