Red is Seattle University's color, and during the Mass of the Holy Spirit it evokes a secondary symbolic meaning: the presence of the Holy Spirit, which is often associated with fire. Students wearing red filled the pews at Immaculate Conception Church on 18th Avenue last Thursday, along with professors in their academic regalia.
Donna Teevan, chair and professor of theology and religious studies, explained that the professors wearing their robes only happens three times a year: The Mass of the Holy Spirit, the Baccalaureate Mass before commencement and the commencement ceremony itself. The regalia is a way to honor the academic and spiritual pursuits of Seattle U.
"It is an opportunity to give thanks for the blessings we have as a part of this community and to look ahead in a prayerful way to the possibilities of the year ahead," Teevan said. "The sense of excitement about the new academic year and the feeling of community are always palpable there."
The partnership with Immaculate Conception is both logistical and symbolic. The size and proximity of Immaculate Conception to Seattle U makes it the best location for the Mass, which boasted several hundred attendees. 
Luke Lavin, director of Campus Ministry, also pointed to the symbolism of the gift of the Holy Spirit processing from a sacred place to a university.
"The Holy Spirit is giving us things constantly. There's wisdom, understanding, judgment, courage, wonder, awe… as a university that's intellectually engaging with so many different issues, those things are really important." Lavin said. "Taking a moment to pause and go to a sacred space and ask for those in our endeavors, and then descending back into classrooms is really inspiring to me as a campus minister."
The relationship between Seattle U and Immaculate Conception dates back to the university's founding in 1891. Fr. Victor Garrand began teaching in Seattle inside a parish school that was located at Immaculate Conception, then named St. Francis Hall. There was no Jesuit university in Seattle to speak of at the time, so, in many ways, the relationship between the institutions precedes Seattle University itself.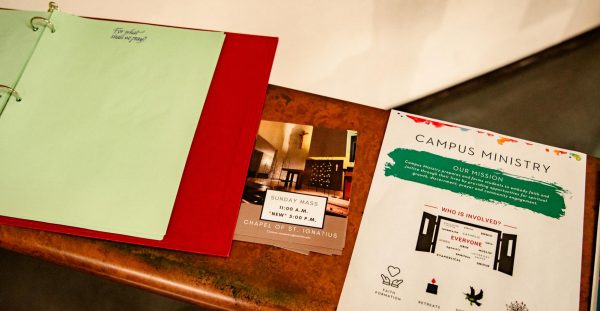 The Mass of the Holy Spirit hosts volunteers from Campus Ministry at all levels of the Mass in order to help things run smoothly.
Azul Davila, third-year civil engineering student with a theology minor, was a gift bearer during the Liturgy of the Eucharist. It was a first-time experience for her as a recent convert to Catholicism, and she described it as a profoundly powerful experience to her.
Davila believes that spaces being religious or queer are not mutually exclusive, and that both communities can find homes with one another. In her experience, Campus Ministry also elevates different cultural and religious practices whilst protecting queer people.
"Campus Ministry, in my opinion, is one of the most radically accepting and action-oriented places on creating broader acceptance of queer issues," Davila said.
President Peñalver delivered a statement at the Mass of the Holy Spirit reflecting similar sentiments in a broader sense. He expressed that the Catholic Church is an institution that has the power to build community in the way that many secular organizing efforts cannot.
"I appreciate Peñalver's willingness to call that out and to say that out loud, but I wish that we did more as an institution to enact it… he believes that in action we need to be a lot less explicitly Catholic in order to not scare people away… but that's a logistical disagreement about the best way to transition into being an explicitly Catholic space, coming from a radically justice-oriented perspective that uses Catholic language," Davila said.
Alondra Martinez-Villalobos, second-year criminal justice student specializing in forensic science, became involved with Campus Ministry last year. This year marks her first attendance of the Mass of the Holy Spirit, where she volunteered as a Eucharist minister.
"As a first-time experience, I think it was a nice, welcoming, warm place, Martinez-Villalobos said. "It was beautiful."
Overall, the Mass of the Holy Spirit was an event to celebrate the Holy Spirit, and the many faith traditions that make up the modern Catholic Church, and to represent the relationship between Seattle University and Immaculate Conception.