For many Americans, eating ramen and couch-hopping is synonymous with college and is a socially acceptable rite of passage. The struggle to afford basic needs, however, is often an overlooked factor in the traditional college experience. 
College students in Washington state are experiencing a large amount of food and/or housing insecurity; reportedly 49.4%. In the same 2022 study, it was found that 11.3% of college students had experienced homelessness that year. 
For Third-year Biology Major Mari Reyes, commuting to Seattle University means driving to the Bremerton ferry terminal, taking the Bremerton-Seattle ferry, and then hopping on the King County Metro. This commute usually takes them around two hours each way. Mari lives outside of Seattle for multiple reasons, including a fondness for Kitsap County and being close to family, but rent is one of the factors they have to consider. 
"It isn't easy, but it's accessible," Reyes said on the topic of their commute. "As far as I can tell, it's definitely a lot cheaper than having to live on the Seattle side of the water." 
According to a Zillow report updated Sept. 27, the median rent price in Washington is $2,100 across all property types, which is down $250 since October of last year. The median rent price is $1,700 per month. Additionally, the United States Census Bureau found that the median Seattle household income in 2022 was $115,000. Although 103,528 households made at least $200,000 in 2022, 86,640 households—the second-largest group—made less than $50,000 annually.  
In a data map from the National Low Income Housing Coalition shared by Professor Sara Rankin, Washington was labeled as the fifth-most expensive state for a 'modest' apartment. Renters would have to work 92 hours per week at state minimum wage to afford a two-bedroom apartment. 
Fifth-year doctoral student at the University of Washington Heather Harrington wrote in a statement to The Spectator, "I make about 35k a year, which is about 3k a month. I could get a studio for $1,400/month [plus] utilities, but that would be 47% of my monthly income just on rent and would make me cost burdened, according to the federal government." 
King County government defines cost burdened people as those who spend over 30% of their income on housing, which can be caused by the combined forces of low wages and a lack of affordable housing. While there are certain efforts to provide affordable housing, many programs such as the Seattle Housing Authority (SHA) restrict full-time students from being eligible.
Susanna Linse, communications manager at SHA, wrote to The Spectator that making affordable housing available to students is a complicated subject. She explained that SHA follows the U.S. Department of Housing and Urban Development's rules, "including those that may impose student restrictions." 
Federal rules state that "No section 8 assistance shall be provided to any individual who: Is enrolled as a student at an institution of higher education; Is under the age of 24[…]" under the Multifamily Housing project-based Section 8 Program. 
"This goes back to Low-Income Tax Credit, which was part of the 1986 Tax Reform Law, that specifically precluded some college students from living in low-income units," wrote Linse.
HUD tries to account for student housing at the high school level and below, but seems to stop at the college level. "There is very little national data concerning student housing security, despite its potentially enormous impact on student success," reads the HUD website. 
Based on her experiences, class of 2023 Seattle U alumna Emma Ferguson had some wisdom and feedback to share on the matter of student housing.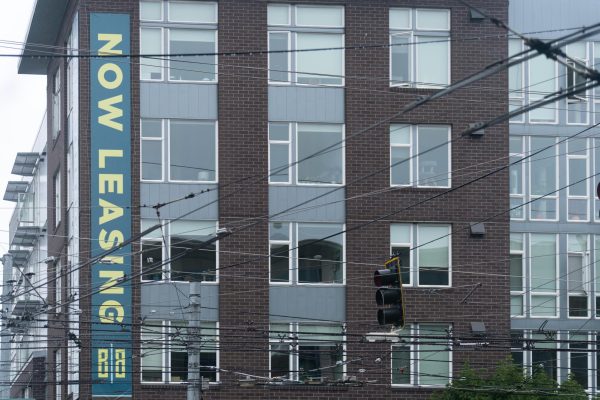 After living at home her first two years due to the pandemic, Ferguson rented an off-campus, one-bedroom apartment with a roommate for her last two years of undergraduate schooling. 
Ferguson estimates that their combined rent for this apartment was around $1,800 per month. However, with the Seattle Multifamily Property Tax Exemption (MFTE), they were able to save a couple hundred a month on rent and alongside utilities, thousands of dollars in total. 
Ferguson recommends that students take advantage of MFTE. 
"…I think [state and city resources are] super underutilized," Ferguson said. 
She attributes this lack of utilization to the amount of paperwork that is required to apply for MFTE. 
When landlords choose to participate in MFTE, they agree that 20-30% of units in their building are "income and rent restricted." Different units require that you pay different percentages of your Area Median Income (AMI). For example, "a unit with an 80% AMI restriction is only available to a household with a total annual gross income at or below 80% of the HUD Seattle-Bellevue Area Median Income." 
However, as Housing Justice Project Senior Managing Attorney Edmund Witter, wrote to The Spectator, "Area Median Income has grown to $146,500 in 2023; it was $113,500 just three years ago in 2020," he explained. "That's particularly bad for persons on fixed income…as their incomes are not increasing with wage increases." 
It's bad news for students too.
Witter explained that the Low Income Housing Tax Credit—created under the 1986 Tax Reform Law—"relies on Area Median Income to calculate rent for its tenants" which makes rent less affordable for tenants.
He recommends that long-term, Seattle needs to "plan for large-scale housing development, particularly around affordable housing" and "reduce rent increases for those hardest hit by capping rent and fee increases." 
Being a college student is not easy for most people. Reyes and Ferguson shared a similar sentiment about acknowledging the difficulty of accommodating basic needs and trying to accept this reality. 
"It's definitely hard, but I have to act within my means," Reyes said about their lengthy commute to college.
On a similar note, Ferguson discussed that although she never had to experience homelessness while in college, she thinks that many people don't realize the ways that homelessness and financial insecurity can present itself in students. 
"[This can present itself through] couch-hopping, or relying on friends for basic needs that you can't afford because you are paying for your rent," Ferguson said. 
Sometimes college students have no choice but to move back in with parents and other family. To some people this is fine, but for others, it's not an ideal situation. And some others don't have the option to rely on others who may be in the same boat. 
Class of 2020 alumna Natalie Ramos wrote, "My experience with cost of living hasn't changed much since leaving Seattle since the Bay Area is also very expensive… however I do have more family around here that I know can support me with housing if it came down to that."
Seattle U acknowledges and tries to ease this hardship by providing resources like the free Food Pantry, SNAP and emergency financial assistance for "non-tuition related financial emergencies." 
"I really wish the school was providing more resources, or had provided more resources while I was in school, for students that need help with things like getting food, getting water, making sure they're staying safe, electronics, and stuff like that," Ferguson said. 
There is no simple solution to the lack of affordable housing in Seattle. More research is needed on the impact of college students who don't get access to basic needs, although we can guess these results. More funding is needed to accommodate the housing of college students in general, especially those who can't afford it.
Ferguson recommends that any struggling Seattle U students "rely on your friends for help in crowdsourcing these kinds of things because a lot of people might know tips or tricks… relying on your community in that way and talking to other students about it can help a lot."