Training, Training, Training: A Seattle University Athlete's Summer
Over 300 student-athletes at Seattle University take very little time off—as Division I athletes, it's only natural to constantly hone their skills. During the summer, they continue to work individually and with the advice of the Seattle U athletic performance staff to maintain their progress.
Throughout the three-month summer break, Director of Athletic Performance Lindsey Winter and her team continue to work with the athletes in some capacity. 
"Every team that we have here has some type of summer program, and for every team, it looks a little different," Winter said.
Some athletes return home for the entire summer while others stay around campus to use the facilities.
Those who leave campus are given take-home summer packets. Typically, this looks like three to four days of strength training, a couple of days of speed work and a couple of days of cardiovascular conditioning.
Coaching staff are not allowed to check in with the athletes at home to make sure they are sticking to their workouts, according to Winter. In the past, however, Winter has worked with teams where the captain took charge instead. 
"They're here for the majority of the year. They're working very hard. We don't want them to go home and regress from that. We want to give them an opportunity to build," Winter said.
According to Winter, some athletes typically go home for a few weeks with take-home programs and will return back to Seattle U for a few weeks. During their time in Seattle, some teams have mandatory weight training with the performance staff, as well as team practices.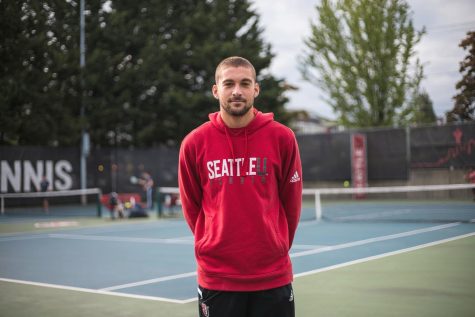 Sophomore Dario Ristovski, a kinesiology major and member of the men's tennis team, has no issue staying motivated during the summer—he will be training four to five hours a day, seven days a week. While Ristovski's summer routine does not look drastically different, his bare minimum is hitting the weight room and tennis court at least once per day. 
"I try to maximize my ability," Ristovski said. "For example, we'll go to the weight room here and we'll be on the tennis court, but I'll go to the gym myself, or I'll go to the tennis court again myself."
While he is not required to train at Seattle U over the summer, as an Everett, Washington native, he will remain here to work with his teammates and outside coach. 
"I've been living in Washington my whole life, so I'll be here all summer and just training, working hard for next season," Ristovski said.
On top of his training, while Ristovski will not be partaking in a summer league, he has a few tournaments lined up to get him ready for the season. 
On the other hand, Freshman U'i Kaaihue, who is part of the women's soccer team, will be participating in a summer league. Kaaihue, a communication and media major, will be playing with the Pacific Northwest Soccer Club, a team based out of Tukwila, Washington.
Kaaihue, the reigning Western Athletic Conference Freshman of the Year, also dedicates a significant amount of her offseason to training. Every day, Kaaihue juggles a soccer ball for an hour, runs at least three miles and does wall passing drills, among other skill-specific workouts. After a full day of training, if she has extra time, she works out in the evening as well.
As Kaaihue is also not required to train at Seattle U during the summer, she will receive a take-home summer training packet that is catered to soccer.
"The Yo-Yo intermittent test is going to be on there, and we get a lifting packet where it has week-to-week exercises. Then, you'll have [soccer drills] such as dribbling drills, juggling and all that," Kaaihue said. "The heavier part of the packet is getting in the gym, getting stronger and getting quicker."
Although, in late July or early August, she will return to Seattle U for team training. 
Immediately after returning, the team will complete fitness testing, like the Yo-Yo and technical testing, including juggling and cone running drills. The Yo-Yo tests an athlete's ability to perform repeated exercises and allows coaches to examine changes in performance. Thereafter, they will jump into playing, and the coaches will introduce their goals for the season.
"When you come back from summer, you want to come in, be fit and perform at every practice," Kaaihue said.
With summer just around the corner, there will be far fewer cliché summer days for Seattle U athletes than the average person. Through rigorous planning, non-collegiate leagues and consistent offseason training, athletes, performance staff and coaches will continue to prepare these teams for success this upcoming year.
Leave a Comment