Identity and Reflection in Art: BFA Photography Exhibition Display
Photography has the ability to convey a unique perspective of an individual's world and how they navigate their life while allowing the viewer to connect with the artist by means of creative expression. Mentored by Seattle University Professor Claire Garoutte, eight graduating students from the Bachelor of Fine Arts (BFA) program put their work on display in the Vachon Gallery. The photography exhibition opened May 18 and features work from Adolfo Bravo, Kira Daley, Michael Elizabeth, Eva Gugsa, Brian LaMar, Jake Nelson, Annie Reierson and Nat Silva.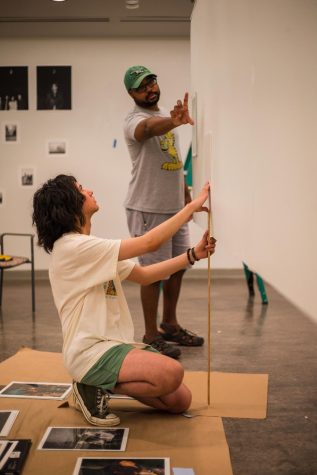 The students reflected on their heritage, identity or urgent crises. All of them were able to insert parts of themselves into their work to communicate their values and who they are as developing photographers.
Some students engaged with multiple mediums to bring their photography to life and allow viewers to submerge themselves. Bravo, for example, exhibited photos surrounding a well-made bed in which a teddy bear rests.
The title of Bravo's exhibit is "85th." Growing up, Bravo had memories of a tight-knit, family-centered suburban community, but that narrative was rewritten as he grew older and was confronted with the drastic decline in his childhood neighborhood due to gentrification. His photos document the forgotten neighborhood and they have cooler hues to convey a sense of sadness.
Gugsa also worked with multiple mediums by using shattered mirrors with self-affirmations written on the frames and flowers inserted in between shards. A couch and a T.V. was another medium involved. Her exhibit is titled "I love me, I love me not" as she is reflecting on the evolution of her self-image as a Black woman and her journey learning how to love herself. 
Kaya Brown-Carveth, a first-year criminal justice major, was most struck by Gugsa's exhibit. 
"It wasn't just photographs, but a scene that I could walk through and experience. I'd never seen art having to do with self-image demonstrated in a setting like that before and it was inspiring to see her reclaim her true worth the way she did," Brown-Carveth said.
Photography has the ability to preserve memories, but can also serve as inspiration for wanting to connect with one's individual heritage. In Kira Daley's exhibit titled "Reference to the Past," she explored her Navajo and Japanese heritage while taking inspiration from old family photos. In this project, Daley seeked to link not only her identity, but the gap between herself and family members she'd never met who are still a part of her. Her exhibit is a mix of photographs of family members and herself that unite the parts of her identity that were once separated.
"I wanted to somehow bridge that generational gap and show that even though we're both in two different times we are still connected through our ways of life. Still interpassed by these moments of coincidences," Daley said.
This project was an opportunity for Daley to engage in a type of self-reflection she hadn't before. Even at the beginning she was not confident in her skills as a photographer, but once all the parts fell into place, she felt whole.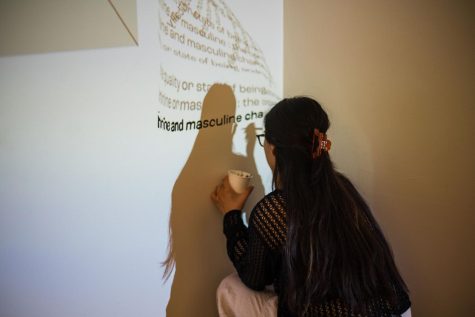 LaMar engages with the accessibility of art and seeks to deconstruct the "gatekeeping" aspect. There is an assumption that standing in a museum or gallery is the only way to see art, but completely miss out on what is already surrounding them in the public sphere—graffiti. 
"The inspiration to me is color, the voices and the selflessness aspect of graffiti and putting your art out there without the expectation of it being of monetary value. Putting it out there without signing it and just letting it go. I think there is something beautiful and confident about putting your art out there just to have art be seen," LaMar said.
His exhibit is titled "a(A)rt" and features several images of graffiti. Even though graffiti has been a contentious topic amongst law enforcement, LaMar feels that it is an irreplaceable part of Seattle's cityscape and allows people to engage with creative expression with no boundaries. 
The four other exhibits titled "Earth Alchemy" by Reierson, "What are the Confines of your Gender?" by Elizabeth, "Creatures of Habit, Alive Before the World Ends" by Silva and "Hope and Escapism" by Nelson explore identity through nature, gender expression, Seattle's music scene and climate justice.
More than a way to showcase their work, this display helps push students to explore more about themselves and then lay that bare for viewers. It is deeply intimate and yet, immensely gratifying. The BFA Photography Exhibition is available to the public weekdays from 9:00 a.m. to 5:00 p.m. in Vachon Gallery until June 8.
Leave a Comment