Softball and Track & Field End Seasons at WAC Championships
This past weekend, Seattle University softball and track & field competed in their respective Western Athletic Conference (WAC) Championships. While neither team took home the title, both put up impressive performances. 
Senior Isaiah Payne, a business management and marketing double major, ran in his last Outdoor Track and Field WAC Championship and was proud of what the track & field team produced.
"I think the results were pretty good," Payne said. "People were doing their best. We had a bunch of season-bests and some school records too."
Junior Bryana Rogers earned All-WAC Second Team honors after placing sixth at the meet. She set a personal best of 12.04 meters in the women's triple jump, putting her at second in school history and earning her the only individual points for Seattle U at the meet. 
Rogers, a psychology major, reflected on her accomplishments this past weekend. 
"I PR'd in the triple jump, which was good," Rogers said. "I had goals of going further, but considering that I had two injuries the past month, it was amazing that I was able to compete and be out there."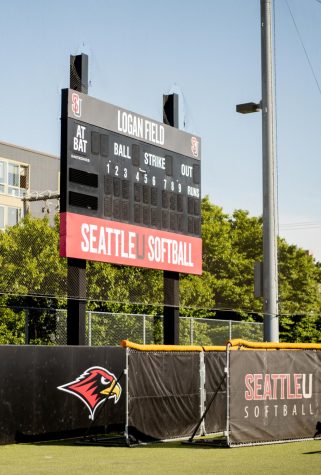 Various athletes excelled, including the men's 4×400 relay team composed of Payne, Freshman Miguel Rosario III, Sophomore Matthew Holme and Junior Alex Jensen. They finished with a time of 3:15.87, putting them third in Seattle U history.
Rosario, who had a stand-out freshman season, also ran a time of 10.66 seconds in the 100 meter dash, placing him third in school history.
Another freshman, Jamaari Jefferson, had a record-breaking performance in the men's long jump, setting a new personal best of 7.00 meters and becoming the first Redhawk to do so. On the women's side, Freshman Reyna Dismukes set a personal best, jumping 5.65 meters, which moved her to third in school history.
Despite weather delays due to lightning and flooding, Assistant Coach Jordana LeSavage was satisfied with the team's final results.
"The group had a solid showing and was able to rise to the occasion. They were able to step up and match the level of intensity that is present at the conference championships," LeSavage said. 
Moving into next year, LeSavage is excited to see what the team can do, especially with young and returning athletes. 
"They're a really young group, and [there is] a lot of potential within the program," LeSavage said. "It's just exciting that everyone is going to have the summer to reset and focus on having a year under their belt, being able to train really well and come back healthy."
That same weekend, May 10-13, the Seattle U softball team was in Phoenix, Arizona, competing for the WAC title. After an eye-opening run, the Redhawks would ultimately come up short in the championship match against Grand Canyon University (GCU), the team ranked first in the WAC Preseason Coaches Poll.
Head Coach Geoff Hirai liked the look of the team and their performance throughout the entire tournament.
"We fought really well. We were playing really well. We had great energy, played great defense [and] had timely hitting," Hirai said.
Prior to the championship game, the team went 3-1 in the tournament. The Redhawks faced off against California Baptist University in their first game of the double-elimination style tournament, winning 3-1. 
Following their win, Seattle U played Utah Tech University, the tournament's top seed. Senior pitcher Stefanie Madrigal's performance on the mound that day helped lead the Redhawks to a 3-0 shutout victory.
The Redhawks began day three with a 4-2 loss against GCU. Later that evening, the team went up against Stephen F. Austin State University, winning 10-9 in eight innings. The team's win that night propelled them to the championship match, where Seattle U and GCU would meet once more. However, the Redhawks would fall 10-2 after five innings. 
Hirai noted that not much more could have been done, but rather that the team just ran out of steam. Despite this, the Redhawks competed with GCU well in their first matchup.
"We had our chance to win in the semifinal game. When we went into the losers bracket, we just played a lot of games in the heat and ran into a really good team," Hirai said.
Looking forward to the next season, Hirai is ready to work as the team moves forward without some of its veteran brass.
"We're going to replace seven seniors, and to replace [them], we have to bring in some talent," Hirai said. "Our culture is what we have and we really strive on—our culture of working hard, getting after it every day and being passionate about playing."
Hirai and the Redhawks will have plenty of time to test that culture and put together a solid squad for next year, as the WAC Championships marked the end of both programs' respective seasons. The offseason themes seem to be some of the talent both teams lost, while developing star prospects.
Leave a Comment