Redhawks Reach New Heights With Recent Research
Seattle University is marketed to prospective students as an institution which emphasizes the teaching component of professorship. Most professors are expected to conduct scholarship in their given fields in addition to teaching. Particularly for professors who have ambitions for leadership roles, pursuing research grants is a critical component of professional advancement. Some examples of current research at Seattle U are as follows: 
Copycat Crime and Assessing Crime in Seattle 
Jacqueline Helfgott, director of the Crime and Justice Research Center at Seattle U and 2023 Award for Excellence in Scholarship recipient, has taught a class called Murders and Copycat Crime for almost 20 years. Her book "Copycat Crime" will be published this July, which will contain much of the same information from her class.
The book covers how popular media influences criminal behavior and violence. Historically, the concept of copycat crime has not seen much attention in the academic community, according to Helfgott. This lack of source material and attention was part of what prompted her to write the book. 
Helfgott has also been working on three projects with the Seattle Police Department (SPD), which allow students to work with SPD as research analysts. One project has students help with the annual Public Safety Survey by collecting data on community perceptions of crime and public safety or participate in community dialogues. The project was designed to collect data at the local level and focus on the unique identity and concerns of each Seattle neighborhood. 
"Perceptions are just as important as the actual incidents of crime," Helfgott said. "Because if somebody's afraid to walk to their grocery store, then their fear of crime can get in the way of their quality of life."
Last year, Helfgott started a second project that builds on the Before the Badge police training program and allows community members to talk to recruits and develop an understanding of why they want to be police officers in Seattle. This also allows recruits to have a better understanding of the communities they will be serving before becoming law enforcement. 
Helfgott's third project is a three-year evaluation of the program that started this past year. Helfgott's team gives a survey and interviews every SPD recruit prior to them starting Before the Badge training. This is then duplicated after the academy and after one and three years of working at SPD.
Urban Carnivores and the Study of Wildlife Habitats in the City
Associate Professor of Biology Mark Jordan started the Seattle Urban Carnivore Project in 2019 to analyze how urbanization and Seattle's growth impact wildlife living within the city. 
Carnivore sightings are collected through an array of cameras across the region. These cameras are monitored by community volunteers and Seattle U students who check to see what species of animal have been present in what areas of the city. This study is an ongoing project and collaborative effort between Seattle U and the Woodland Park Zoo as a way of tracking its impact on native wildlife. 
A community reporting tool called the Carnivore Spotter, is also used to collect data. This is a program hosted by the Woodland Park Zoo that allows residents to submit sightings to an online database and have the sightings added to a map of carnivore habitats in the area. 
Jordan shared that carnivores tend to be at the top of the food chain, meaning they're the most sensitive to the environmental impact of humans. This study allows people in the area to see how the population is currently cohabiting with native animals and how it can move forward in that symbiotic relationship. 
"We now are sharing an urban area with millions of people along with these carnivorous species," Jordan said. "We need to figure out how to effectively occupy the same spaces as them in a way that is not harmful to us or them."
This project is part of the larger Urban Wildlife Information Network and all the gathered data is shared with cities in this network all around the world. Currently, Seattle U has four students contributing to the study in Seattle. 
"Urban ecology is in its infancy," Jordan said. "We don't have predictive tools to see what the impacts are of the changes we're making to urban environments. So having that ecological knowledge is really valuable."
By having a community science-oriented project in an urban area, there are opportunities to expand understanding about what's going on in the natural world around them despite the concrete jungle.
24 Hours Isn't Enough, the Mission of Organ Preservation 
In the U.S., there is an organ shortage for medical transplants. This is because of the current process for maintaining available organs and the time frame they need to be used according to Professor Shen Ren, assistant teaching professor in the mechanical engineering department at Seattle U. 
Currently, tissue and organ transplantation remains the most effective treatment for patients who have acute or chronic organ failure. In the U.S., there are more than 120,000 people on the waiting list for organ transplants. However, on a yearly basis, around 60% of organs that are available for procedures are wasted due to inadequate preservation, according to Ren.
Ren is looking into ways to create a new process to preserve organs for longer periods of time. His goal is to eventually be able to preserve organs for weeks, then months and eventually years. Ultimately, Ren would like to see some form of an organ bank developed where doctors can request exactly what they need and be able to have it sent to them anytime, anywhere. 
"In the short term, we just would like to extend the storage from 24 hours to a couple of weeks," Ren said. "That would already help the current challenge significantly, and save a lot of lives."
Currently, the research is focusing on ways to lower the temperature of the storage as a way of preserving viability. After, the organs are brought back to body temperature while maintaining organ functionality. 
"By early 2025 we should have an integrated system ready for human testing," Ren said. "We would like to start with the kidney because the kidney transplant is the most established transplant at the moment." 
Students interested in this research can reach out to Ren about getting involved. 
The Evolutionary Fight, Bacteria vs. Phage
Brett Kaiser, associate professor of biology, is currently studying the relationships between bacteria and the viruses that infect them: phages. Through evolution, bacteria have developed certain strategies for fighting off infectious phage populations. One such strategy is clusters of genes called defense systems. These defense systems work together to recognize and eliminate phases. Because of this, many phages have also evolved to have ways of counteracting the bacteria's defenses.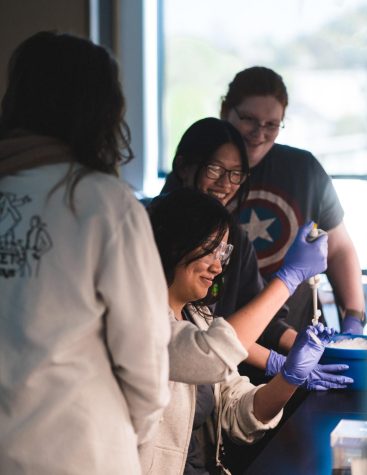 "This back and forth, which has been going on for millennia, is often referred to as an evolutionary arms race," Kaiser said. 
The research is focused on how bacteria prevent phage infections and how phages get around those. Subsequently, the focus shifts to the molecular mechanisms of how those things work. Currently, Kaiser's research is on the specific defense system called BREX (Bacteriophage Exclusion).
Kaiser and his team conduct research via two different approaches. One is by measuring the different types of functions that the proteins within the bacteria conduct. The other approach is to solve the three-dimensional structures of proteins within bacteria.
"So we use techniques called x-ray crystallography and cryo-electron microscopy," Kaiser said. "Using that, we recently solved this structure, and it turned out to give us a lot of insights into what Brexel might be doing. The fun thing with this project is we don't know how BREX functions, we know that it restricts bacteria, but there's really a lot to be left to be done to work on it."
This research on how BREX functions is important for a few reasons. With bacteria constantly evolving it also evolves in a way that makes antibiotics less effective in fighting off infections. According to Kaiser, eventually there will be strains of bacteria that will not be affected by our currently available antibiotics. By studying the relationship of bacteria and phages there is the potential to use specific phages as a method of fighting bacteria. 
"Understanding the mechanisms of how these things function may lead to biotechnology tools," Kaiser said. "But until you understand the mechanisms, you don't really know if it's gonna turn out to be something useful or not." 
For further information on Kaiser's research, you can read his recently published articles online. 
Insect Biodiversity in Urban Agriculture 
After studying coffee farms and the use of harmful pesticides in other farming situations, Heidi Liere, assistant professor in environmental studies, chose to shift and look at urban agriculture operations where pesticides are not an option when it comes to insect control. 
"I'm interested in determining what drives beneficial insect biodiversity in urban agroecosystems, figuring out the management of the garden, what gardeners plant, how they manage the soil, how they manage the common areas and how that affects beneficial insects. By beneficial insects, I mean those that provide pest control services, pollination services and decomposition services," Liere said.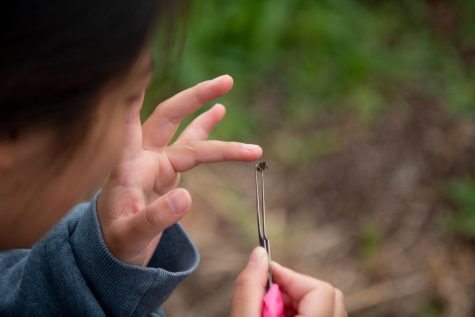 The goal of studying this, for Liere and her team of students, is to help find ways to enhance natural pest control and pollination in order to increase higher yield. Liere considers proximity to other green spaces, available resources and management in how insects and pest control are affected in the urban gardens. Increasing the yield of urban farms can help fight food scarcity in communities in Seattle and around the world. On top of optimizing abundance, these farms also provided a needed biodiversity to urban environments according to Liere. 
The Seattle U students contribute to the project by analyzing 10 gardens from across the city by monitoring the presence of beneficial insects. This can be done by collecting from traps set up over a 24-hour-period or visual observation. The team often opts to collect them and identify them in the lab later. Currently, the project has a publication in review for the academic journal Ecosphere. 
Another aspect of the analysis is studying the vegetation that is growing and how that correlates to what insects are present and in what quantities. Other environmental factors such as ground cover, rock presence, cement or mulch, and how these impact insect populations are also analyzed. 
Whether its organ preservation, urban crops or how law enforcement interacts with the community, Seattle U is producing work that maintains the institution's status as a serious teaching and research environment. 
Leave a Comment