New Research Paves the Way for Undergraduate STEM Involvement
Associate Professor of Chemistry Christopher Whidbey is creating research opportunities that allow undergraduates to thrive at Seattle University. As a recipient of the Cottrell Scholar Award, Whidbey and 25 other researchers were each awarded $100,000 for their research proposals in STEM fields from astronomy to chemistry.
The Cottrell Scholar Award, which is funded by the Research Corporation for Science Advancement, requests a research proposal and an educational proposal from grant applicants. The research proposal presents an overview of the researcher's project and knowledge gaps they hope to fill in the coming years. A review panel then decides which proposal receives funding.
The traditional research proposal expands upon the researcher's expertise. Whidbey's work focuses on identifying different organisms in the vaginal microbiome during pregnancy with whole genome sequencing. There is also evidence that the types of organisms present vary with race—and because of medical bias, the microbes present in white individuals are better understood than those in Black and Indigenous populations. This may be one of many factors contributing to higher maternal mortality rates among Black and Indigenous women.
"There's not a clear one-to-one, but there is a tendency towards one type of bacteria dominating the vaginal microbiome in Black and Indigenous folks… we don't know if it's causal or not. If we can figure that out and figure out how to manipulate [microbial genes], that might be one way to reduce disease burden," Whidbey said.
The Cottrell Scholar Award covers three years of research that will utilize whole genome sequencing to better understand lesser-known occupants of the vaginal microbiome. Whole genome sequencing is one way to discover the effects of a microbe inside a body, by examining the genetic code that enables each biological process inside an organism.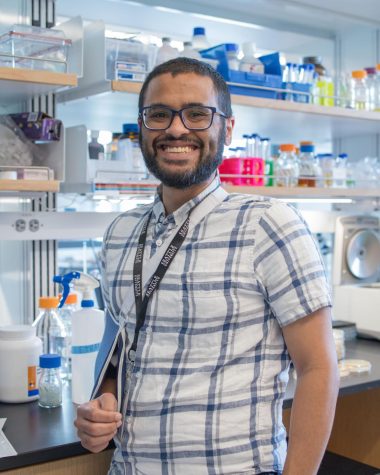 The grant also opens the door for students who aspire toward undergraduate research, as Whidbey will be recruiting students to help him in the years to come. He believes that involving students in research at early stages in their academic careers is key to success in STEM fields as research not only builds confidence in technical skills, but also establishes a peer network among professionals. A 2010 Seattle University alum, Whidbey entered the university with interests in the pre-med track and family medicine, but found his current path in part through hands-on work.
"Doing research here was really eye opening for me and that really altered my life path… being able to pay that forward is really important to me," Whidbey said. "Getting to be in a research environment showed me that there are other things that I can do with an interest in healthcare and I might be able to make an impact in a different way than I originally thought."
In the education proposal, Whidbey designed an interdisciplinary seminar series that focuses on early career development in chemistry and other STEM fields. The program would target research opportunities at first-year students so they can get hands-on experience in labs. Whidbey currently teaches a chemistry class at the 4000 level that is based around whole genome sequencing, but he wants to start at the first-year level in future iterations of the course.
"The goal is to make the course less focused on upper-level biochemistry stuff and make it more about: How do you get involved in research? What does contemporary research look like? What are those careers like?" Whidbey said.
Whidbey stressed early career exploration for students due to how much his career path changed through his time at Seattle U as an undergraduate. He also hopes the course will shed light on how many research opportunities are available to students, especially in the growing biotech hub of Seattle.
Before embarking upon his current research, Whidbey gained experience in fields such as environmental chemistry that gave him the skills to pursue other opportunities. Eventually, he reached a point where his early interest in medicine aligned with his expertise in chemistry, showing the strength of an interdisciplinary science education. 
"There are so many research opportunities available… go talk with faculty members, go talk to people teaching classes and see what options are out there. It doesn't have to be the thing that you want to do for the rest of your life," Whidbey said.
Whidbey's education plan will pave the way forward for new groups of STEM students to experience early-career research as soon as next year.
Leave a Comment