Reviving the Gayborhood: The Future of Queer Spaces
In-person gatherings for LGBTQ+  people are regarded as nothing short of essential for many in the community. Many queer people retreat to bars and nightclubs from an outside world that often makes them feel alienated. Staff and patrons fiercely defend these spaces as areas of free expression where everyone is welcome.
Hardships arose for these spaces during the COVID-19 pandemic when tightly-packed venues were recipes for superspreader events. As a result, queer bars and clubs needed to suspend operations, unsure of when—or if—they would open again. The additional costs to reopen, ensuring the safety of patrons in the face of sickness and potential violence, all while paying employees a living wage as living costs continue to climb proved too heavy a burden for many businesses, forcing them to close indefinitely.
However, some business owners and organizers are rethinking the return to in-person events. Hannah Balducci, Founder and CEO of Sapphic Events—formerly named Sapphic Seattle—is one such individual. Balducci found that there were few queer spaces that were run by and for sapphic individuals, an identity label that is an umbrella term to describe the attraction that non-men feel towards other non-men.
"It's always kind of a learning process, figuring out what terminology is going to accommodate the largest number of people within a community," Balducci said. "If you identify as sapphic, you're welcome to come. It's self-determined, no one's turned away by how they look or dress at the door."
In 2021, she began advertising free house parties for sapphic individuals that were vaccinated, which typically ranged from 30 to 50 people. Balducci and her friends provided the decorations, drinks and venue at no cost to partygoers—all while Balducci was still working from home at her office job.
Events like Balducci's are known as "pop-up parties," and are typically held once per month with rotating locations. The ages of people attending these parties skew younger according to Balducci, with an age range of 21 to 30 as most of the advertising was done over social media or dating apps.
Halloween of 2021 cemented the future of Sapphic Events. An estimated 200 people appeared at the party, and Balducci knew she needed to find another way to accommodate everyone who wanted to come to the events she was planning.
"I think people were feeling isolated with COVID. There was this intense and universal demand for more options and more parties," Balducci said.
Starting in January 2022, Sapphic Events booked empty clubs and dance halls to accommodate as many people as possible. With such large crowds, Sapphic Events continues to check vaccination cards at the door in order to make as many people as possible feel safe. Booking with Supernova in March 2022 was the first big club night, with almost 700 people in attendance.
Utilizing a rotating catalog of venues has helped Sapphic Events avoid the challenges of having a continuous brick-and-mortar location. It is estimated that only 21 lesbian bars remain in the U.S., a decline from numbers in the hundreds in the 1980s. Balducci sees her business model as one of many ways to adapt for the future of queer spaces.
While nightlife venues are the best-known locales for queer people to interact, they are often inaccessible to many members of the LGBTQ+ community due to age or a history of substance abuse. Since the COVID-19 pandemic, there are additional considerations for socializing, as immunocompromised community members or their family members may be uncomfortable getting together with others in enclosed spaces.
Jerika Che, the primary organizer of Seattle Trans Joy, hosts events outside in order to make members of the LGBTQ+ community with concerns about getting sick more comfortable. These events are planned and attended by transgender individuals in an effort to establish an in-person trans community in Seattle.
"I think there are a lot of places online for trans people to find each other… but there's still a feeling of alienation and loneliness when you just have friends online," Che said.
Over 400 trans people showed up for the first outdoor picnic organized by Seattle Trans Joy. Picnickers told Che that it was refreshing to be able to present in the ways they felt most comfortable without fear of harassment. The space is also dedicated to the celebration of perseverance in the face of a wave of transphobic laws passed around the United States.
"Just existing with your body in a space filled with people like you is so unusual for a lot of trans people, like people have come up to me at these events and said it's the first time they've been in a place with so many trans people around them. It feels liberating," Che said.
Seattle Trans Joy now hosts three events per year, along with the new addition of Trans Camp, a camping trip involving 15 to 35 transgender people. Seattle Trans Joy also holds Trans Picnic in July, Trans Beach Day in August and Transoween in October.
Aside from events that are limited by location, another crucial meeting place for queer youth include Gay-Straight Alliances (GSAs) or affinity groups. Seattle University's Triangle Club is a popular meeting place for queer students on campus, and persisted online through the pandemic using the platform Discord.
Cameron Mundy, a second-year visual arts major, enjoys meeting with other Triangle Club members once a week. The first time they felt included in the LGBTQ+ community was online due to most in-person queer spaces in their area being ages 21 and up only.
"I definitely wanted in-person queer spaces pre-COVID, but I didn't really know how to seek it out at the time," Mundy said.
Fortunately, joining online groups meant they could continue operations through the pandemic with activities like movies and game nights. Discord supports video streaming, voice calling and text chats which make fostering a community from a distance easier.
Others faced coming out during a pandemic, which can be a lonely and isolating experience for queer youth. Gabriel Stoddard, first-year forensic psychology major, gained clarity about his identity through the pandemic due to the time alone that pandemic lockdowns afforded him.
Stoddard views his family as a queer space, but he encountered initial difficulties in his attempts to find groups of people his own age to meet with prior to joining Triangle Club.
"I was in a position I'd never really been in before, where I was a lot more open to social interaction but didn't really know how to find people," Stoddard said. "My senior year of high school ultimately left me with this cautious optimism to interact with others, which worked out really well for me my first year of college."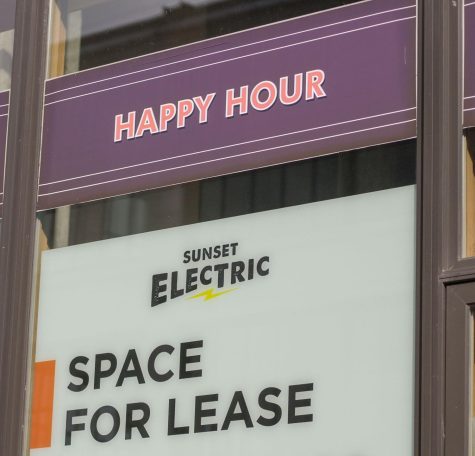 Even those with access to in-person queer spaces before the pandemic often felt isolated as the organizations they were a part of ceased operation. Maya Walthall, a first-year political science major, was part of her high school's GSA, but the group did not migrate online during the pandemic. Walthall's experiences around her home in suburban Colorado piqued her interest in applying to Seattle U, citing a strong LGBTQ+ presence in Capitol Hill.
"I needed to be around people who accepted me, and most of the time that was queer people," Walthall said. "Moving here was a very big adjustment for me. I hadn't even had a queer teacher before."
Walthall was also surprised that there are more organizations that put on events centered around the LGBTQ+ community besides Triangle Club, such as fall quarter's Drag Bingo, hosted by the Center for Student Involvement that made the jump from Zoom to an in-person event this year.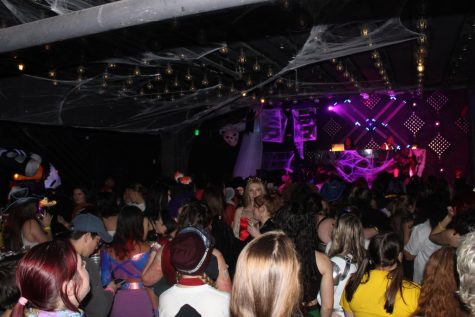 As in-person gatherings return to their pre-pandemic numbers, queer spaces for young people continue to flourish through necessary adaptations. Triangle Club's Queer Friendsgiving occurred again this fall, along with Transgiving hosted by the Non-Binary, Gender Non-Conforming and Allies Student Association.
"I definitely like the queer events hosted this year. I feel that if there was more than one Triangle Club event per quarter, in a perfect world, that would be super cool," Mundy said.
The brick-and-mortar bars and clubs that are the backbone of queer nightlife continue to survive where they can. Other approaches to celebrating queer togetherness, created and fostered by young people and those working to make spaces more accessible are gaining popularity as Seattle's queer community recovers from the effects of COVID-19.
News Editor Genny Sheara contributed to this article.
Leave a Comment