How Does Seattle U Hook Students?
Seattle University students have an array of reasons for committing to the university. Whether it be for a specific program, athletics, financial aid or wanting to submerge themselves in the exciting turbulence of city life—everyone is here under individual circumstances. But how does Seattle U advertise itself to prospective students and make the institution stand out among the chaos of overflowing inboxes? 
Given that Seattle U is a small, private liberal arts college, it doesn't have the same name recognition of some flagship state universities. This means that the admissions office has to get creative in the ways they advertise the university to prospective students and their families.
Katie O'Brien, the senior assistant director of admission and marketing, mentioned that one of the strategies they utilize to reach prospective students is communicating Seattle U's values through the authentic stories of current students. That way when new Redhawks arrive they feel that their experiences fit what they were told. She also described some of the ways students can experience and benefit from attending Seattle U. 
"Seattle is a huge part of the Seattle University experience. With the size of Seattle University, coupled with our location in the city, students have the adventure and opportunity that comes with living in a city and then the unique aspect of Seattle is that there's a tech hub here. So for professional opportunities, that's what we often try to highlight," O'Brien said. "Obviously we lead with academic excellence so that our students can understand that they're going to be challenged. It's going to be a place where they can grow holistically."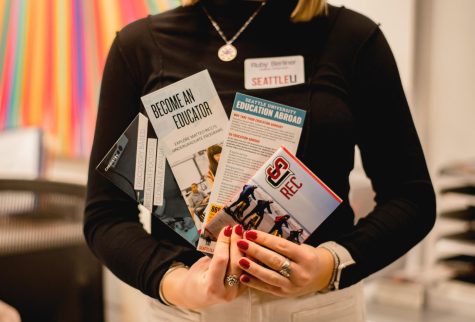 There were a total of 1,004 first time freshmen that enrolled at the university in fall 2022. There hadn't been over 1,000 students who committed to Seattle U since the 2018-2019 academic year, which was the last year before the COVID-19 pandemic had hit. 
Shifting from in-person college fairs to virtual information sessions posed challenges for the recruitment of future attendees, but the number of students applying to Seattle U never drastically dropped, even when the pandemic was in its peak. The 2020-2021 academic year had a total of 805 first time first-year students, whereas the 2019-2020 academic year had 930. 
Admissions is now able to recruit in-person again, and there are counselors assigned to specific territories across the U.S. that travel to high schools in order to better interact with those interested in attending Seattle U. Even post-COVID, making sure there are virtual options increases both accessibility and visibility for the university. 
Ella Ohlson, first-year international studies major, expressed that she didn't originally have Seattle U in mind and her final decision on where to attend was not what she had expected. After viewing Seattle U's website and gaining more information about the university, her interest in Seattle U piqued enough to apply.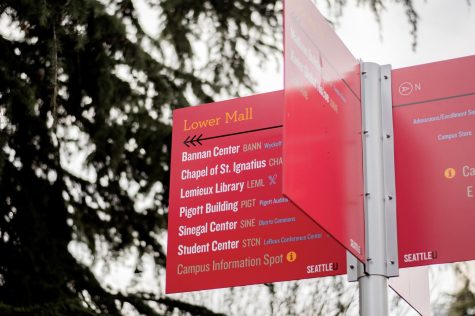 "It was kind of random, but I applied because I looked up schools in Seattle and saw Seattle University so it was really just a 'why not?' type of thing. They ended up giving me the most financial aid and so I decided to commit," Ohlson said. "I hadn't seen the campus yet, but I visited at the end of May and I fell in love immediately. Since being here I've come to really enjoy the city. The mountains and the temperate weather make it even better too, being someone who's from the Midwest." 
Upon committing to becoming a Redhawk, orientation programming helps enrolled students transition to Seattle U. By May 1 every year, orientation has a general idea of who will be in the incoming class and can begin communicating with future students. Mass welcome emails are sent out and infused with Seattle U lingo, the Hawks logo and exclusively Seattle U colors. The virtual sessions kick off shortly after. 
Before 2020, the university held a two-day on-campus orientation event in the middle of summer for accepted students, but the pandemic forced these events to be held over zoom. Despite the summer orientation events being virtual the past three years,, the orientation teams do their best to increase the energy and excitement as much as possible to build a sense of community before new Rewhawks arrive on campus. Virtual events also bring increased accessibility, as there are factors such as traveling and finances that prevented students from being able to attend in-person events before the academic year begins.
Lia Gonia, a fourth-year double major in communications and media and theater, has been an orientation leader (OL) twice and talked about the approach she had to incoming students. Both times Gonia has participated in orientation as an OL she faced the challenge of trying to welcome students virtually. 
"The whole point is for them to make friends and get comfortable, so offering a space that was welcoming [is something] I really tried to do. I feel like humor and comedy always [provides] that. I tried to be vulnerable with them, too, and talk about challenges I face or things I wasn't sure about because I think that got them to feel okay, like that's normal to feel that way," Gonia said. 
Jennifer Huffman, fourth-year criminal justice student at Seattle U, is a part of the only current class at Seattle U to have experienced an in-person orientation program. As a local Washington resident, Huffman was aware of Seattle U when she was in high school, but she did not become excited about attending the university until orientation.
"I was feeling really nervous but when I met people in my orientation group over the summer I started to feel more comfortable and excited to be on campus. I was able to make connections with people that are still some of my closest friends today," Huffman said.
When asked about the strategies that orientation programming uses for first-year students versus transfer students, Nicholas Cubita, the director of orientation programming, emphasized that transfer students need more personalized attention because of how their experience as incoming students is unique to that of first time first-year students. 
"We're trying to always find new ways to support transfer students differently. Not that first-year students don't have individual needs, but a lot of what we know about first-years is a bit more typical whereas transfers you can transfer in your first, second, third or fourth year to here and be coming from a community college or a large public [school]," Cubita said. "Their experiences are often so much more individualized."
Seattle U has a large transfer population and orientation programming is always trying to find new ways to support transfer students. During Fall Welcome, they are typically put into larger groups and paired with an orientation leader who has also shared the experience of transferring institutions. 
Peer-to-peer connections are some of the most effective forms of connection for incoming students and are a critical part of gaining a sense of community. Orientation leaders are there to help foster those connections in hopes that they can evolve into full-fledged friendships. 
Fourth-year students are the only current students that experienced Seattle U prior to COVID-19. In 2019, they were hit with complications of a global pandemic alongside all the typical anxieties that come with the first year at college. Now, graduation is approaching for the class of 2023. As Huffman looks to graduate in June, she reflects on her time at Seattle U throughout COVID-19.
"I was really excited for my classes coming to Seattle U. When COVID started winter quarter freshman year, a lot of the criminal justice and STEM classes I was eager to take, since I never got the chance before, were pushed online. Throughout my entire time at Seattle U I have taken 11 different science labs, eight of which were completely online even when the university began having in person classes again," Huffman said. "Now that I'm about to graduate and looking for post-college jobs, I've started to realize I feel extremely unprepared to work in the STEM field." 
Huffman is similarly feeling the impacts of distance learning, especially in majors where hands-on work is essential in building the necessary skills. 
In addition to Seattle U's location and admissions programming, the university's Jesuit mission is also a draw. However, compared to other Catholic universities, there is a lack of Christian iconography in university admissions materials. The word "Catholic" does not appear on the current front page of Seattle U's website, although there is a current events tab which occasionally includes events from the Institute for Catholic Thought and Culture. Gonzaga University, Washington state's other Jesuit university, does mention its Catholic identity on its website main page.
Seattle U welcomes new Redhawks every quarter, just as other Redhawks may choose to transfer out of the institution to pursue a degree elsewhere. With Spring Welcome approaching, one can expect to see some new faces circulating around campus in the coming quarter as they kick-off the start of their Redhawk journey.
Leave a Comment