Time Out Session: Riley Grigsby Reflects on Career at Seattle University
The Seattle University men's basketball team is looking to secure a bid to the NCAA tournament this year. Graduate student Guard and Forward Riley Grigsby is helping the team find success. Currently, Grigsby sits within the top three players in multiple categories including points, field goals and three-point field goals. He was also awarded two back-to-back Western Athletic Conference (WAC) Player of the Week titles last month. 
TO: You were named the WAC Player of the Week Jan. 17 and Jan. 23. How do you feel?
RG: I feel good. It's an honor to win because it means I've been playing the best basketball. I'm definitely going to keep it up.
TO: You will be playing in your 125th game at Seattle U, what does that number mean to you? 
RG: It means a lot because I came back here for my fifth year and I feel like I've done a lot for this program. That was my goal when I first got here, to turn this program around and turn it into a powerhouse, mid-major program. I feel like we are on the right trajectory to do that. 
TO: Seattle U received votes in the USA Today coaches poll, January 23. What does this mean to the team?
RG: It means a lot because it's national recognition that we're getting. I think it's big for the program because since I've been here, we haven't gotten anything like that. I don't know the last time this happened or if they've ever gotten anything like that before. People are noticing now, so it was important for us.
TO: As we get closer to March, what do you think the team needs to do to secure a spot in the NCAA tournament? 
RG: If we go to the WAC tournament and play our best basketball—everyone is on the same page, everyone is competing and playing how we know we can play—I think we can win and go to the NCAA tournament.
TO: Looking at the season so far, how do you think it has gone?
RG: I think it's been good. We went to Hawaii and had a tough little stretch there. We won the last game there and went on to win the first seven games of the conference. That definitely proved to us that we're a really good team. We lost two games [Jan. 26 and Jan. 28] against tough teams on the road. We know that it's a long season, and we still have nine more games of conference play. It's time to turn around, go 9-0 here, and head into the WAC tournament. 
TO: How has playing on the same team for your entire career contributed to your development and success as a player?
RG: Being able to grow each year with the same people, such as the coaching staff, who know how I play, has definitely helped me as a basketball player. They know what's going to make me better, how to help my game grow and how to use me on the floor with the different players that we have.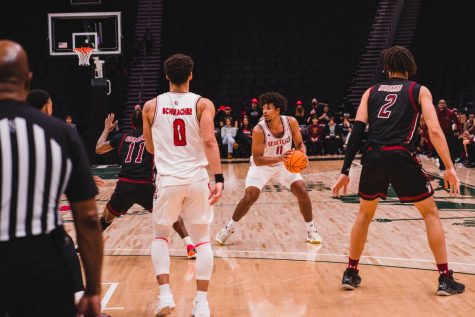 TO: Your dad, Al Grigsby, now works for the athletic department at Seattle U and was previously part of the coaching staff. Being from California, what does it mean for you to have his support here in Seattle?
RG: I definitely see him more and he has given me more input. He talks to me a lot more about basketball here than when he's back in California, but his support hasn't changed. He's still cheering for me. 
TO: You have earned academic awards as well, how do you manage to achieve success both on the court and in the classroom?
RG: Just being able to balance it all. The basketball season is long and it's tiring, but at the end of the day, we're also here for school. That's a commitment that I made to my teammates and the coaching staff, to get the best grades possible. So, I took that pretty seriously. Being able to plan my day out and stay on top of my work has allowed me to be successful in the classroom.
TO: How do you think you have grown as a person during your time here?
RG: Having the coaches that I've had has definitely helped me to become a better man. I've gone through a lot since I've been here. They have definitely helped me grow, not just on the court as a basketball player, but in off-the-court situations as well. I give it all to the coaches, they've led me down this path and I have grown every step of the way.
In just over a month, the team will head to Las Vegas, Nev. for the WAC tournament. There, Grigsby hopes to continue to be a major contributor to the team and hopefully come out with a title. 
Leave a Comment