Tech Layoffs and Business Closures Make Seattle's Future Uncertain
After operating for over 26 years and representing a prominent symbol in the Seattle retail scene, the Nike store in downtown Seattle officially closed its doors Jan. 19. While the Nike store previously located on Pine St. has not released an official reason for the closure, CBS speculates that it had something to do with increasing crime rates and homelessness downtown, which are exacerbated by the lack of affordable housing in the Seattle area. 
Following in Nike's footsteps, the Regal Meridian 16, a movie theater that has long been a staple of downtown Seattle, announced their early February closure. Similar to Nike, the business has chosen not to release an official reason behind their decision. 
With two major storefronts closing, Seattle residents like Seattle Times Opinion Columnist Jennifer Hemmingsen are starting to question what the future of the downtown retail scene will look like. Will tourism and travel in Seattle begin to decline without the presence of retail? Will store closures cause the economy to suffer? Will new strategies to address crime and homelessness be initiated?
Sean Reynolds, a real estate mogul and appraiser with Reynold and Kline Appraisal, located in Bellevue, explains that downtown Seattle is struggling from a financial and real estate perspective. 
"Downtown Seattle is struggling. First, we have Niketown that just abruptly closed. Then, you have Amazon not renewing a big office complex lease. Then there's Regal [Meridian 16] that just closed. A string of companies located in downtown Seattle are leaving the area after recovering from the pandemic," Reynolds said.
Business closures do not necessarily signal a decline in tourism and retail in downtown Seattle. Some businesses, including the Seattle Convention Center, expect just the opposite. The Convention Center, also located downtown, has announced plans to expand due to an increase in business. The expansion is part of their plan to recover from the pandemic. 
Chief Executive Officer of the Convention Center Jeff Blosser explained that the expansion is part of a plan to better accommodate and resource clients in a manner that the pandemic made hard to do. The Convention Center had been planning the expansion prior to the pandemic, but the process was slowed considerably.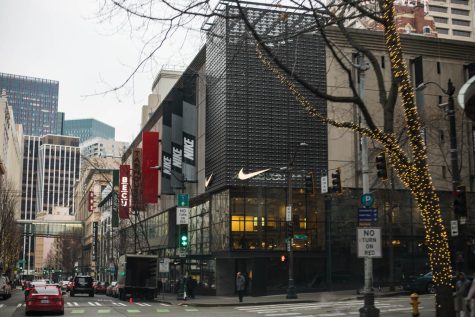 "The impotence around creating a second facility was so we could offer more dates and space to our clients coming to Seattle. We've been selling and booking the new summit facility since 2018. We hope this expansion will play an integral role in getting people jobs. We'd like to push the element that downtown is still a great place to work, live and play," Blosser said.
While the future of businesses in Seattle feels uncertain, the technology landscape in Seattle is also rapidly changing. Seattle is renowned for its technology and is known across the nation for its advancements in business and healthcare. In January, a number of prominent tech companies announced massive layoffs. Google laid off 12,000 employees nationwide, a decision that impacted Seattle-area positions. Earlier that same week, Amazon laid off 18,000 employees, 2,300 of which were in Bellevue and Seattle. Microsoft, another major source of tech jobs in the Seattle area announced a 10,000-person layoff, at least 878 of which were from their Redmond branch. With these most recent layoffs, questions have arisen about what careers in tech will look like in the future and if Seattle will lose its status as a tech hub. 
Masters of Computer Science major Ana Mendes works as a teaching assistant and interacts with students pursuing majors in similar fields. The availability of computer science jobs, along with the range and freedom they offered her, are what initially drew Mendes to Seattle. With the recent closures, that may change. 
"It's interesting because you have a lot of freedom to use your imagination and build. It's very different from other places that have engineering. I was hoping to stay in Seattle because of the knowledge it offers with all the technology companies." Mendes said.
The layoffs have impacted students' goals to pursue a career in technology in Seattle. However, Mendes does not think that the tech layoffs are isolated specifically in Seattle. She believes that there could be a potential nationwide crisis in the tech field. 
"I have noticed a lot of the companies that are usually hiring this time of year are not—especially from the bigger companies—that is very alarming," Mendes said.
Students are watching businesses like the Convention Center expand while others like Nike and Regal Meridian 16 close indefinitely. As the city they study in changes, the future of retail in downtown Seattle is uncertain.
Leave a Comment