Reshaping the Narrative
"Tonight is a big deal," Veronica Very said.
Students, faculty and friends gathered for Seattle University's Reverend Dr. Martin Luther King Jr. Day Celebration, not only to reflect on the life and work of King himself, but to engage in a dialogue about his legacy as a whole. Keynote speakers and couple Hiawatha D., whose piece '10:22 AM' is displayed in the Chapel of St. Ignatius, and Veronica Very, an artist and activist, shared how they seek to transform the narrative around Black American life and identity through their work.
The pair's focus on healing and its intersection with different kinds of storytelling is part of their work. 
"As Black women, we move around in our Black bodies, most often not being seen and most often being the only one. It is viscerally and medicinally healing to walk in a space and you actually can turn around and see nothing but yourself," Very said. 
Both Very and Hiawatha D. seek not only to promote representation, but to promote representation that is uplifting. Hiawatha explained how through his paintings, influenced by cubist and abstract artistic movements, he makes a purposeful choice to exclusively depict 
Black women in a way that does not center their stories on violence they've faced.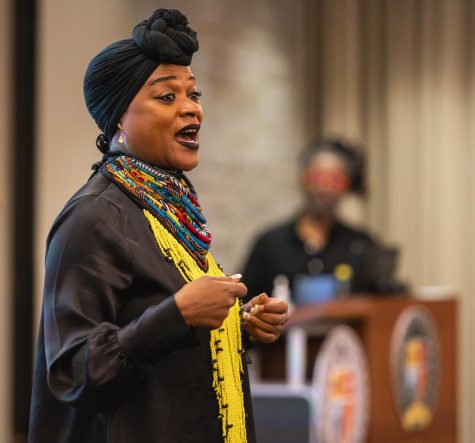 "I felt like I needed my own style. The absence of faces helps everybody see themselves in that image," Hiawatha D. said during the talk.
From activists to actresses to athletes, Hiawatha presented his portraits and shared how his artistic choices promote these ideas. He pointed out how in many depictions of Ruby Bridges, the focus of the image is on the angry crowds surrounding her rather than her own life and identity. In his own, Hiawatha D. visualizes an image of Bridges in which she is safe, powerful and the central figure of the piece.
Through her work, Very emphasizes the powerful intersection of radical love, light and liberation. Similarly to Hiawatha D., a fundamental part of this dynamic is being intentional with her storytelling and healing in order to not perpetuate stories of racism.
"We need to not just see the stories of us hanging from a tree being lynched or in the streets paved with blood. We need something that's going to help us look up," Very said.
Very also noted that Black children and young people have been exposed to trauma and paralyzing fear throughout American history, in a particularly pronounced way during the recent COVID-19 pandemic and George Floyd protests. She believes that working to create spaces and stories that are truthful and inspiring are an essential part of collective healing from racial trauma.
Very and Hiawatha began and concluded the event by greeting not only administrators and faculty, but meeting and talking to the students themselves. They underlined the fact that everyone is an artist in some way and the necessity of sharing individual stories. They also acknowledged the work of student groups on campus and encouraged the university community to support them.
The Office of Multicultural Affairs (OMA), the group on campus that organized the event, drew attention to the reverberations of these ideas across campus. Ashlee Day, OMA's assistant director, encourages Seattle U students to take the time to learn about and reflect on Reverend King's life and civil rights history.
"For students, particularly living here in Seattle, learn about the civil rights history of your community," Day said. "Seattle had its own Black Panthers, Seattle had its own advocacy, the Black Student Union (BSU) started here fifty years ago and has its own amazing history."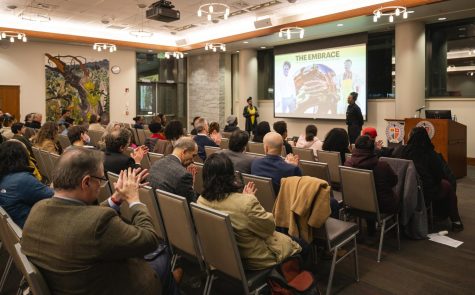 Gabby Rios, OMA's graduate program coordinator, also noted the responsibility of non-Black allies to educate themselves on Black American history. 
"It's good to attend events and listen to Black people, but I think a lot of the discomfort and ignorance is because you don't know the entire story," Rios said. 
The celebration and discussions weren't confined to history. Day drew attention to the work that Seattle U students are actively doing.
"Pay attention to what's going on. [BSU] is a way that your peers have furthered civil rights in their own community. Support the groups on campus that are trying to make a change here, or trying to uplift marginalized voices here. Be present, be supportive," Day said.
Leave a Comment