Makerspace Promotes Student Creativity
Nestled into the back of the Sinegal Center, Seattle University's Billodue Makerspace is open to students, faculty and staff for free use of otherwise expensive machinery. In the makerspace, the Seattle U community can engage in a number of different maker-related activities including sewing, fiber arts, bike maintenance, 3D printing, laser cutting, electronics, vinyl cutting and glass work. Open from 12 p.m. through 10 p.m. Monday through Thursday and 12 p.m. through 6 p.m. Friday and Saturday, the makerspace provides students with a new artistic outlet.
Makerspace employee Rachel Segrest considers themselves a "maker-person" and fits right into the creative environment of the makerspace. Part of their objective in working with the makerspace is to show people how to make seemingly complicated things, even though most of the students who utilize the makerspace are not design majors. 
"I don't have many students in here who are actually design majors. [We get] nurses, business students, kinesiology, creative writing etcetera," Segrest said.
One of the major benefits that the makerspace provides is access to what would be expensive machinery free of cost. Segrest regards this benefit as the most important component of the space. She also argues that by making complex crafts, students can learn lifelong skills. 
"A library is like a repository of knowledge, and the makerspace is also a repository of knowledge." Segrest said. "It's a different way of learning, but it's knowledge all the same." 
A common lesson taught to young people is that training the creative side of the brain is just as important as the logistical side. The makerspace is trying to incentivise students in non-creative academic programs to utilize the space alongside artists and engineers.
"It engages your mind and body in a different way," Segrest said. 
With so many creative avenues to pursue in the makerspace, it might be difficult to choose a favorite. Segrest has been enjoying using the embroidery machine because it can place any graphic design onto a compatible object. 
"It's a super fun and silly way of immortalizing your ideas," Segrest said.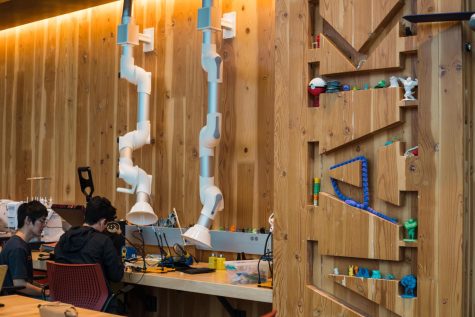 Fourth-year Electrical Engineering major Brittany Giangarra is a student worker at the makerspace. She followed the program from its old location in Bannan to the Sinegal Center. Giangarra shared the same struggle of pinpointing a favorite machine, but ultimately decided on the 3D printer or vinyl cutter. 
While the makerspace currently boasts a number of high-tech machines, curious students, staff and faculty are not limited by the current selection. Giangarra explained that it is possible to request new crafts or machines that may be installed if the demand is high enough. Giangarra is personally interested in woodworking, but the current makerspace lacks sufficient room.
"It would be really cool to collaborate with other departments so we can use their spaces," Giangarra said.
Fourth-year Public Affairs major Madison Wisnewski is a student worker at the makerspace. She recalled watching in awe as the makerspace was built and put together during her freshman year. 
"I was so eager to jump in on it because in college you have a lot less time and space to be creative…and getting paid for it is a dream," Wisnewski said. 
Wisnewski named the laser cutter as her favorite feature in the makerspace because it can make intriguing signage and structures while also mesmerizing the creator during the cutting process. 
While atmosphere fosters creativity, the resources the makerspace provides is their most valuable asset.
"It's whatever creators' dream. [They] have all the tools at their disposal," Wisnewski said. 
In the upcoming weeks, the makerspace will be hosting a number of trainings and workshops for the Seattle U community including a glass shards workshop on Jan. 20, a sewing, embroidering, vinyl and laser cutter training on Jan. 21 and a metal folk craft workshop on Jan. 23. Students who are interested in attending makerspace events can register at the link provided in the makerspace's Instagram's bio. 
Leave a Comment