Dragon Dance and Hidaka Taiko Kick Off Lunar New Year
Lunar New Year is one of the biggest celebrations for many Asian countries, including China, Korea, Vietnam, and Japan. Beginning this year Sunday, Jan. 22 and ending Sunday, Feb. 5, Lunar New Year starts with the first new moon of the lunar calendar and ends 15 days later, on the first full moon. Since this celebration is based on the moon cycles, the dates vary each year but the holiday often begins sometime between late January to February.
Using the Chinese zodiac, one of 12 animals is assigned each year based on the lunar calendar, traditionally beginning with the year of the rat. 2023 is the year of the rabbit, which brings longevity, peace and prosperity. 
To ring in the new year, Seattle University's Chinese Students and Scholars Association (CSSA) hosted its annual Lunar New Year Gala Sunday Jan. 15. 
CSSA is a culture-based club that mainly serves Chinese international students at Seattle U and works to integrate Chinese culture with Western culture. In addition to events like Sunday's gala, the association assists these students at the beginning of the school year by hosting a new student orientation, giving Chinese international students an opportunity to build community during their transition to life in Seattle. 
Tiffany Tu, a third-year finance major, is the vice president and treasurer of CSSA and explained Lunar New Year and a few traditions associated with the holiday.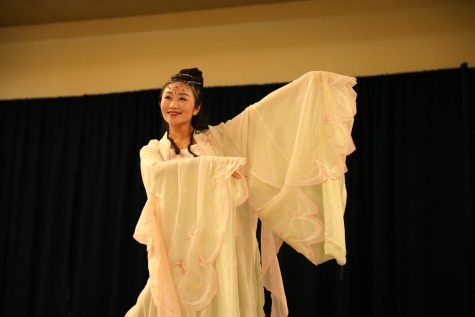 "Lunar New Year is one of the biggest holidays in China. It's like Christmas and Thanksgiving here," Tu said. "We would eat traditional foods, which vary depending on [what region you're from]. Typical dishes include sweet rice balls, fish, pork and fried rice. We also give out red envelopes with money in them to the younger generations."
Red envelopes are usually given to children by older relatives and are filled with money for good luck. However, the envelope itself is more symbolic than the money, as the color red symbolizes prosperity.
After approximately four months of planning, around 75 people attended the Lunar New Year Gala to partake in games, a buffet and traditional performances. 
Hiu Tam, a ​​fourth-year business marketing and humanities double major and a member of the event planning committee, was excited to see everyone's hard work come to fruition. 
The event was open to all students. Approximately half of the guests were Chinese international students and the other half were other e Seattle U community members. The gala was completely free to students and funded by donations from donors at the beginning of the year. CSSA President Betty Qian discussed additional logistics of the event.
"We catered from outside of school because we want to support Chinese-owned small businesses in the Seattle area," Qian said. "We are also going to have a total of around ten performances."
On the evening of Jan. 15, students dressed in formalwear—many in traditional Chinese clothing—and gathered in the Campion Ballroom. The theme of the night was red, a color that is said to bring good luck and prosperity, and the decorations of the room reflected Chinese culture. 
"This is very meaningful in terms of letting people know what the actual Chinese New Year is like," Tu said.
Attendees played games and were able to enter a drawing for prizes at the end of the night. There were performances from a few members of the club including traditional Chinese singing and flute playing. The Seattle U Hidaka Taiko Club also made an appearance. 
A dragon dance was also performed at the event, which was brought in by an outside organization. Dragon dances are commonly performed during the Lunar New Year and are known to ward off evil spirits and bring good luck and prosperity into the upcoming year. Chinese dragons are culturally significant symbols of wisdom, power and wealth. 
CSSA plans to bring additional events, like the Lunar New Year celebration, to Seattle U in order to promote traditional Chinese culture. 
"This is a great thing to have, especially for students who are from China and are attending school at Seattle U. It will make them feel like they're home," Tam said.
Leave a Comment